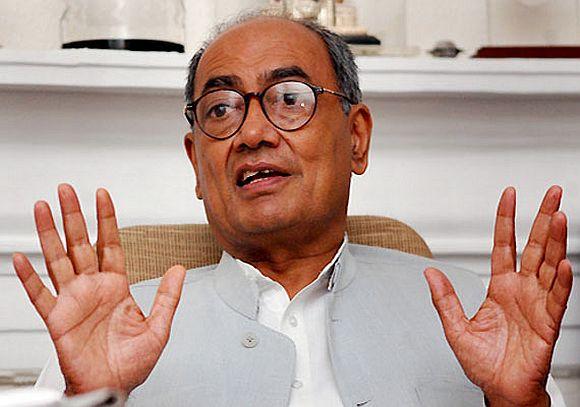 The Congress is searching high and low for a suitable candidate to take on Narendra Modi in the holy city. Illustration: Uttam Ghosh/Rediff.com
The Congress is desperately looking for a candidate to take on Narendra Modi in Varanasi.
The search criterion are simple: A suitable Brahmin candidate from the late Kamalapati Tripathi's family, failing which a weighty local nominee will do just fine.
A section of the Congress wants Rahul Gandhi and Sonia Gandhi to consider Digvijaya Singh for the seat.
After all, Diggy Raja has been a most vocal critic of the Sangh Parivar, and Modi in particular, while proudly claiming to be a true follower of 'Sanatan Dharma'.
Having bagged a Rajya Sabha seat for the next six years, Diggy Raja has little to lose in case of an adverse verdict.
An interesting thing from Diggy Raja's past is his closeness to several Hindu seers. Perhaps that will come in handy if he does take the plunge in Varanasi?
Yesterday, Sheela said: Delhi poll result reverberates in UP
Yesterday's Gupshup: The Sushma-Shivraj nexus: Should NaMo be worried?