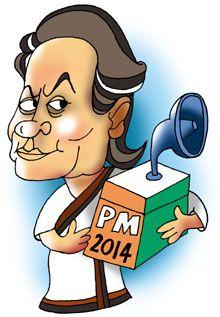 Will Priyanka Gandhi emerge as the surprise Congress candidate for the top job? Illustration: Uttam Ghosh/Rediff.com.
Sonia Gandhi's remark about naming the Congress party's prime ministerial candidate before the 2014 Lok Sabha polls has set a cat among the pigeons.
10, Janpath insiders claim it is part of Sonia's well-thought-out strategy to infuse a sense of confidence among Congressmen, allies and sympathisers alike and deflect attention from the party's assembly poll debacle.
Who could it be, Congressmen wonder.
The dark horse is Priyanka Gandhi, a vocal member of the Nehru-Gandhi family who is considered a charismatic personality.
In such a scenario, Rahul Gandhi will stay on as head of the party's organisational set-up, and the sister-brother duo will function as a team.
Can Priyanka take on Narendra Modi and Arvind Kejriwal?
If Priyanka declines the job, Sonia will have to choose from among the likes of P Chidambaram, Sushil Kumar Shinde or who knows, even Nandan Nilekani.