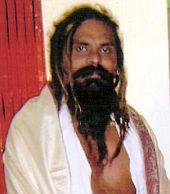 Mauni Baba, who had close proximity with veteran political leaders and celebrities and was considered to be the fourth link in the Shirdi Saibaba lineage, passed away due to cardiac arrest at Minnesota University hospital in United States, Baba's ashram sources said on Monday. He was 80.
"Babaji passed away on Saturday night. He had breathing problems leading to cardiac arrest," ashram chief Savithri told PTI.
"The body of baba, who had set up a 'cave ashram' for keeping his 'vow of silence' here in 1962, would be brought to the ashram and laid to rest amid casuarina trees near the holy cave...We are getting in touch with the embassy and ministries. It will take at least a week before the formalities are completed," Savithri said.
Baba had been observing 'Mauna Vrata' for the last 48 years on the advice of his guru Mehar Baba, who had also observed silence for 45 years till his death.
The spiritual leader had close links with eminent statesmen, celebrities and politicians including Indira Gandhi, Gulzarilal Nanda and Charan Singh.

"Indira Gandhi used to take advice from Baba on important issues," Savithri said. Nanda had once come to the cave ashram in 1972 and observed silence with the baba for a week.

Baba, whose real name was Thaivalappil Krishnan, had settled in the US in 1985 after spending 15 years in England. He was born at Pallikkunnu in Kannur to M K Achuthan and Yashoda and had his schooling in Udhagamandalam (Ootty).

During his study at Victoria College in Palakkad, he turned to spirituality and became a disciple of Mehar Baba. Baba, who used to communicate in sign language, had a large following in India and abroad. He was also considered an expert on gems and stones and celebrities used to consult him on precious stones to be worn by them in accordance with their birth charts.
Some of his devotees from the film industry had floated a production company called Baba Creations that had produced several films including Mohanlal-starrer Vadakkunnathan.