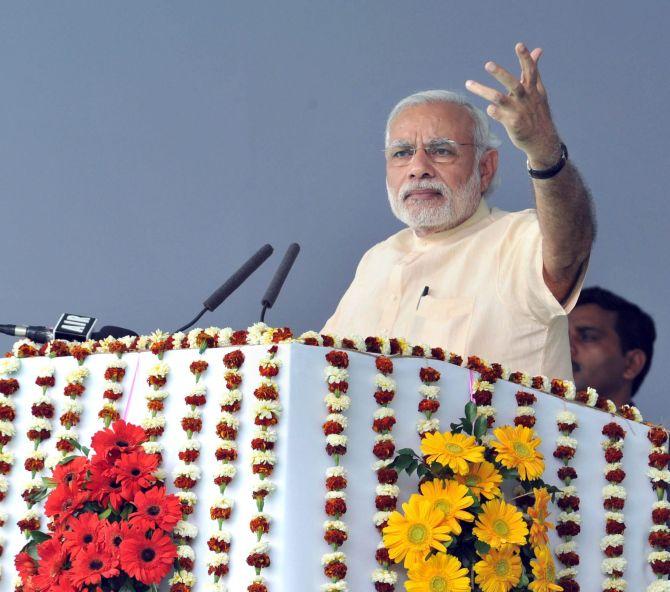 Prime Minister Narendra Modi speaks at the inauguration of the NISER campus in Bhubaneswar on Sunday. Photograph: PTI Photo

Sharply criticising project delays of the past that lead to huge cost overruns, Prime Minister Narendra Modi on Sunday said a new work culture of conceiving and completing projects before time is needed to boost economic growth.
Rejecting Congress' charge that projects he has been inaugurating in recent months were all started during their time, he said, as prime minister, he would have been happy if the projects were completed 15 years back and led to creation of jobs.
Dedicating to the nation Indian Oil Corp's Rs 34,555-crore refinery here, Modi said the government is targeting reduction in oil import dependence by 10 per cent by 2022 by creating policy environment that supports raising domestic output as well as by mixing bio-fuels like ethanol in auto fuels.
"It is very natural that I am happy to inaugurate projects. But, as prime minister of a country, I don't feel happy at all. I would have been happy if these works would have been completed 15 years back, when lakhs of people here would have got jobs," he said.
He added that projects in the country face obstructions in the form of court proceedings, tender process and sometimes agitations, making them very costly.
"For the development of the country, we all -- citizens, bureaucracy, industry and policy makers, have to give birth to such a culture where projects start on time, progress within the scheduled time, and finish within the pre-decided time so that country gets the benefit, the benefit comes before scheduled time," he said.
The government, he added, was 'trying to bring in this change so that there is no serious loss to the exchequer because of delay.'
Initiatives have to be futuristic and completed before the designated time period.
"Delays shouldn't occur," he said, adding that in the past, ideas originated 50 years ago, would take 10 years to put them on paper and conceived, a similar number of years to lay foundation stone and many more years before it is completed.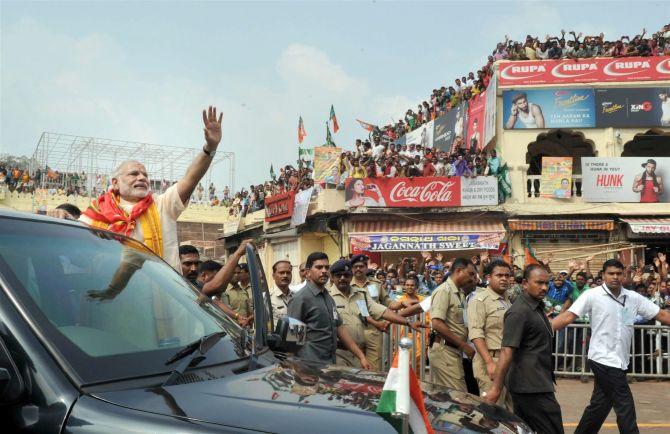 Prime Minister Narendra Modi waves at the crowd during his visit to Puri on Sunday. Photograph: PTI Photo
Earlier, after inaugurating the new campus of the National Institute of Science Education and Research at Jatni near Odisha's capital Bhubaneswar, Modi asked scientists to make innovation useful for the people and develop technology that is affordable to the masses with 'zero defects' and 'zero effect' on the environment.
"Everybody engaged in research may not get a Nobel Prize, but the real award for them is to make their invention useful for the common people," he said.
On the country's traditional knowledge, Modi said, "Dr Manjul Bhargava became one of the great mathematicians by gathering knowledge from scriptures. His father was a Sanskrit scholar. We should connect the traditional knowledge with science and technology."
"Our priority should be to make science and technology affordable to the masses with zero-effect and zero-defect," the prime minister said, adding that what he meant by 'zero-effect' was that it should not have any adverse impact on environment and be free from side effects.
He said Odisha had abundant coal reserve. Therefore, affordable, cheap and green technology should be developed so that coal gasification could be developed here.
Noting that India's ocean and sky remained untapped, Modi asked the scientific community to explore the resources and utilise them for the benefit of the people.
"Why did our forefathers describe the ocean as 'Ratna Garva'. This is because of the wealth in the ocean. The scientific research should be in the field of marine areas," he said.
On space research, he said India had already made its presence felt in space technology through the Mars mission. He recalled when scientists began research on space technology, there was no sufficient logistic to support them. Still they were successful.
While stressing on energy conservation and generation of cheap energy, the Prime Minister said it had been a great challenge for the scientists to produce cheap solar energy.
The technology should be developed for the same so that the poor people across the country could benefit.
"If 100 (smart) cities use light emitting diode bulbs, the country will save 20,000 megawatts of power. A small technological advance could save crores of rupees," Modi said and added that efforts were on internationally to further develop renewable energy.
He also called upon the scientists to create wealth from the wastes being generated in cities.
Noting that scientific temper should be infused among the students, he called upon the authorities of NISER to interact with science teachers in schools and students so that they were attracted to the subject and could devote time on innovation.
Modi, however, expressed displeasure over not finding any greenery in the NISER's new campus though it has developed beautiful infrastructure and laboratories and libraries. He asked the authorities to make the campus green.
Among those present at the function were Odisha Governor S C Jamir, Chief Minister Naveen Patnaik and Union ministers Jual Oram and Dharmendra Pradhan.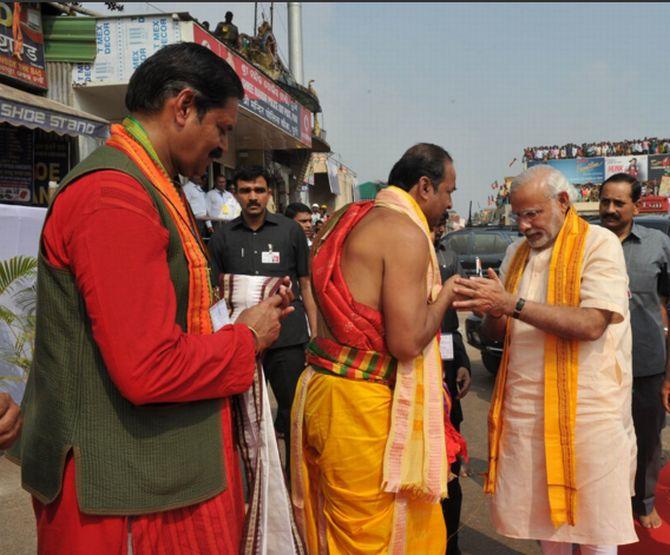 Modi after visiting Lord Jagannath temple in Puri, Odisha on Sunday: Photograph: @narendramodi/Twitter
Later, he offered prayers at the LordJagannathTemple in Puri and said he was touched by the warmth and affection shown by the people.
Modi, who was accompanied by priests and local Bharatiya Janata Party leaders, spent more than 30 minutes inside the temple and entered the sanctum sanctorum to seek blessings of the Lord.
"This is the first visit of Modi to the temple after becoming prime minister. Earlier, before the 2014 general elections, Modi had vowed to come here again if his desires are fulfilled. As he has become prime minister, Modi came to express his gratitude to the Lord," said a priest accompanying him.