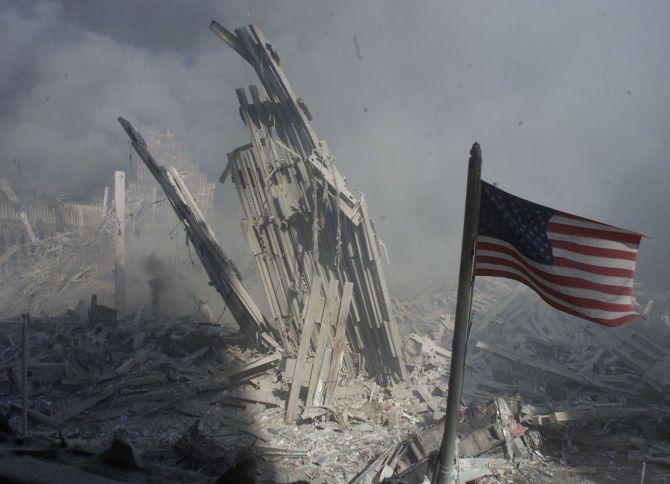 Prime Minister Narendra Modi on Sunday remembered the "contrasting images" of 2001 terror attack in New York and Swami Vivekanada's historic speech in Chicago in 1893 in which he had talked about universal brotherhood and harmony.
"11th September...two contrasting images come to the mind. Today we pay tributes to all those who lost their lives in gruesome 9/11 attacks.
"On this day in 1893, Swami Vivekananda delivered his historic speech in Chicago & won many hearts & minds," Modi wrote in tweets.
He said Swami Vivekananda's speech in Chicago had "demonstrated the strength of India's rich culture & the power of universal brotherhood and harmony."
On this day in 2001, terrorists used planes as missiles to carry out attacks at the iconic Twin Towers of World Trade Center and three other places.
IMAGE: While everything around it was flattened, this American flag continued to flutter in the wind after the destruction and the way US saw terrorism. Photograph: Peter Morgan/Reuters