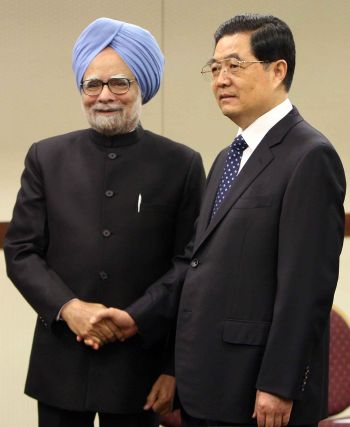 Prime Minister Manmohan Singh on Thursday met Chinese President Hu Jintao and discussed the entire gamut of bilateral issues, particularly trade and investments.
Singh met Hu in Brasilia on the sidelines of the India-Brazil-South Africa and Brazil-Russia-India-China Summits and the two leaders are understood to have discussed ways to further cooperation in issues of global interest.
Welcoming Singh, Hu shook hands with him and posed for photographs.
The Chinese president said he will warmly welcome his Indian counterpart Pratibha Patil when she visits Beijing next month. Singh also conveyed India's grief over the death of 617 people in the devastating earthquake in China on Wednesday.
"People of India have learnt with great sorrow the destruction caused by the earth quake which has led to loss of lives of Chinese citizens. On behalf of the people of India, I convey deep condolences," he said.
Global issues like climate change and economic recovery also came up for discussions during the meeting. The Indian delegation included National Security Adviser Shivshankar Menon and Foreign Secretary Nirupama Rao.
The leaders are also believed to have discussed the progress made on the boundary question. The two countries have a mechanism to deal with the boundary dispute under which special representatives from both countries have held 13 rounds of talks so far. Ahead of the talks, Singh had yesterday India and China were working very hard to find a "practical" and "pragmatic" solution to the boundary question and its resolution would take time.
"Well we have the border problem and that problem has to be resolved. We are working very hard to find to have a practical, pragmatic solution to that problem," he said.
On the overall Sino-India relations, he had said the economic content of the relationship has increased significantly, with China today being India's largest trading partner.
Image: Prime Minister Manmohan Singh (left) with Chinese President Hu Jintao on Thursday | Photograph: Jay Mandal