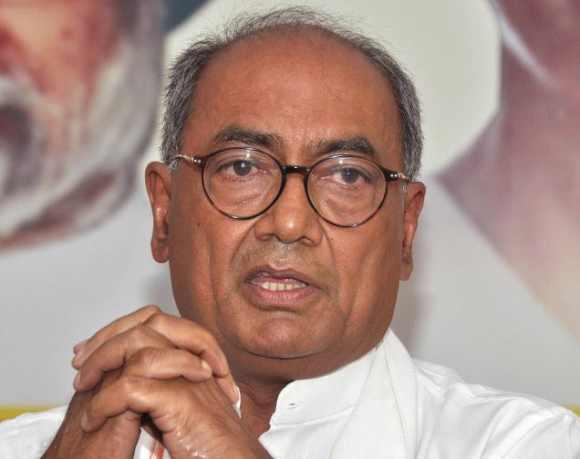 Launching a scathing attack on Prime Minister Narendra Modi for being silent on Lalit Modi row and other controversies, Congress General Secretary Digvijaya Singh on Sunday alleged that he was helping the former Indian Premiere League chief in Enforcement Directorate cases against him.
"Every Sunday he (Narendra Modi) talks about 'Mann ki Baat', but doesn't answer the basic questions which have emerged over the past fortnight ever since the Lalit Modi controversy came up. My charge is that Narendra Modi is helping Lalit Modi. My charge is that he has promised Lalit Modi that he will be bailed out of all the cases in which he is being investigated by the ED," Singh told media persons.
Stressing that Congress has raised these questions repeatedly, Singh said the Bharatiya Janata Party has no answers. "Let Narendra Modi come out clean on this."
"They (BJP) talk of morality and accountability, but when it comes to morality and accountability to be practiced by the BJP, they said that what we say is absolute truth," he said.
On Union Home Minister Rajnath Singh's statement that only ministers in UPA will resign and not those of National Democratic Alliance, the Congress leader termed it as arrogance.
"It is arrogance related to a fascist character which is a face of fascism which BJP stands for," he alleged.
The prime minister, who loves to be in the media and tweets on issues, is keeping quiet on key issues, he said.
"We would like to know from him his relationship with Lalit Modi. We would like to know from him on the controversy surrounding Lalit Modi involving External Affairs Minister Sushma Swaraj and Rajasthan Chief Minister Vasundhara Raje and what action he has taken," Singh demanded.
"We would also like to know from Narendra Modi on the educational qualification of Union ministers Smriti Irani and Ram Shankar Katheria. We would also like to know on the controversy over education qualifications of Maharashtra's Education Minister Vinod Tawde and also over whether another Maharashtra Minister Pankaja Munde followed the tendering procedure as prescribed," he said.
"But, Narendra Modi is silent," he said.
On the BJP attacking Congress over Lalit Modi's tweet that he had "run into" Priyanka Gandhi and her husband Robert Vadra at a London restaurant, Singh said, "Is this the only defence of the BJP that they have come out to defend themselves for the gross impropriety committed by Sushma Swaraj and Rajasthan Chief Minister Vasundhara Raje."
"Firstly, Priyanka Gandhi has denied this. Even if what Lalit Modi is saying is correct that they met in a restaurant, has Priyanka Gandhi or Robert Vadra given something in writing to help Lalit Modi. They are not members of Congress party," Singh said.