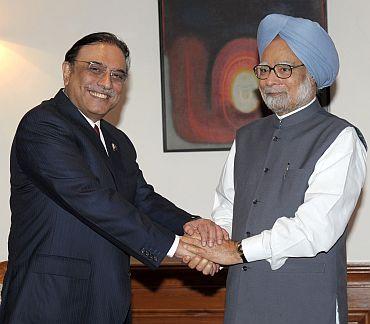 Cranking up pressure on Pakistan, Prime Minister Manmohan Singh on Sunday made it clear to President Asif Ali Zardari that action needs to be taken against Hafiz Saeed and other perpetrators of the Mumbai attacks, which will be a key factor to judge progress in bilateral ties.

Terrorism figured prominently during Singh's 40-minute one-on-one meeting with Zardari at the Prime Minister's Race Course road residence.

"The leaders discussed the problem of terrorism which is a major issue by which the Indian people will judge progress in bilateral relationship," Foreign Secretary Ranjan Mathai told media persons in New Delhi.

Singh told Zardari that it was "imperative" to bring the perpetrators of Mumbai attacks to justice and prevent activities aimed against India from Pakistani soil.

"In this context, the Prime Minister also mentioned the activities of Hafiz Saeed (the founder of banned terror outfit Lashkar-e-Tayiba)," Mathai said.


On the Saeed issue, Zardari said that the matter needed to be discussed further between the two governments.

The leaders noted that Home Secretaries of the two sides were to meet shortly and they would discuss this issue further.

Zardari mentioned the need for all issues, including Sir Creek, Siachen and Kashmir to be addressed, Mathai said.

"Both felt that we need to move forward step-by-step," the foreign secretary said.

The prime minister also appreciated the steps taken by Pakistan to take forward trade ties by moving to the negative list regime.

PIB PHOTO