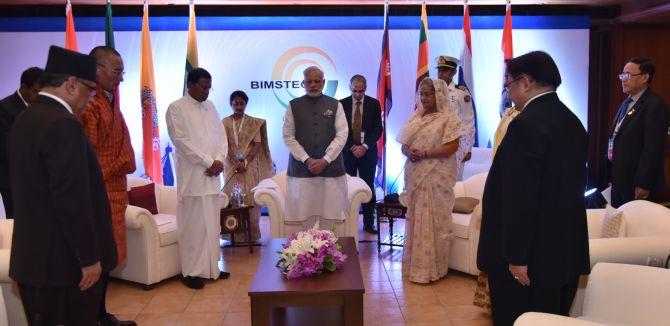 IMAGE:

Prime Minister Narendra Modi with BIMSTEC leaders in Goa on Sunday

. Photograph: PIB India.
In a veiled attack on Pakistan, Prime Minister Narendra Modi on Sunday said Islamabad embraces and radiates the darkness of terrorism and terrorism has become its 'favourite child'.
Addressing the BRICS-BIMSTEC (Brazil, Russia, India, China, South Africa- Bay of Bengal Initiative for Multi-Sectoral Technical and Economic Cooperation) outreach summit, Prime Minister Modi said that terrorism, radicalisation and transnational crimes, pose grave threats to all the countries of the group.
"Geographical barriers and borders pose no limitations on those who wish to harm our societies. In South Asia and BIMSTEC, all nation states barring one are motivated to pursue a path of peace, development and economic prosperity for its people. Unfortunately, this country in India's neighbourhood embraces and radiates the darkness of terrorism," the prime minister said.
"Terrorism has become its favourite child and the child in turn has come to define the essential character and nature of its parents. The time for condemning the state sponsored terrorism is long gone," he added.
The prime minister called on the member states and the world community to stand up and act boldly against terrorism and those who nurture it.
"To those who nurture the philosophy of terror and seek to de-moralise mankind, we must send a clear message to mend their ways or be isolated in the civilised world," he said.
The PM also said that the BRICS and BIMSTEC have been shaped by different context.
"Together we represent almost two thirds of humanity. But we are joined by common vision and peace, stability and development. We are also united by similar challenges and concerns that shape our domestic choices and international partnership," he said.
Other world leaders too voiced concern against terrorism and vowed to fight it collectively.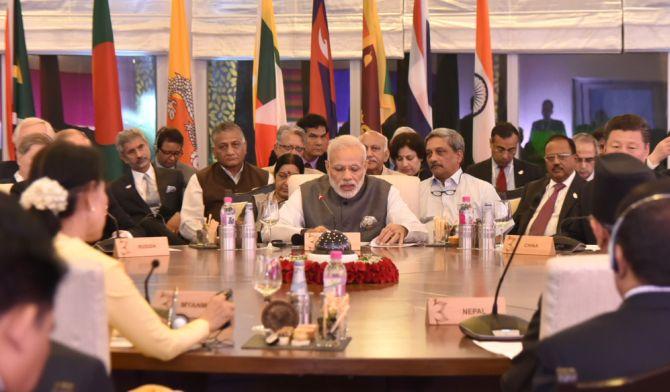 IMAGE: PM addresses BRICS-BIMSTEC outreach summit in Goa. Photograph: PIB India
Addressing the meet, Bangladesh PM Sheikh Hasina said, "We all must join hands to deal with terrorism, violent extremism."
Bhutan's Prime Minister Tshering Tobgay said, "Terrorism remains a grave threat to global peace, security and stability."
"We are here at a time when our host India has over the past several months suffered frequent terror attacks. Bhutan strongly condemns these terror attacks, and stand in solidarity with India and like minded countries in fight against terror," Tobgay said.
"Rising terrorism has become a source of common concern. We need to stand together against all forms of violent extremism. We wholly sympathise with people of India with regard to terror attack in Uri not so long ago," said Myanmar Foreign Minister Aung San Suu Kyi.
Nepal's Prime Minister Pushpa Kamal Dahal, addressing the summit, said that 'we must collectively condemn, fight against threat of terrorism in all forms and manifestations'.
Russian President Vladimir Putin said, "We want to fight terrorism together, we all will collectively work on it."
The PM also asserted that the BIMSTEC region is prone to natural disasters.
"Environmental protection and disaster management are areas where BRICS- BIMSTEC partnership will benefit millions. We share equally in problems and solutions of interconnected world. A spirit of cooperation and collaboration between us can be a powerful change agent," he said.
The BIMSTEC is an international organisation involving a group of countries in South Asia and South East Asia. These countries are Bangladesh, India, Myanmar, Sri Lanka, Thailand, Bhutan and Nepal.