Jordan has executed two prisoners, including a would-be female suicide bomber from Al Qaeda, a Jordanian government spokesman announced early Wednesday morning.
Sajida al-Rishawi and Ziad al-Karbouli were executed at dawn Wednesday, government spokesman Mohammed al-Momani said. Al-Rishawi has been on death row for her role in a triple hotel bombing in the Jordanian capital Amman in 2005 that killed dozens.
The Jordanian government had been negotiating with Islamic State militants to swap one or both of the condemned prisoners for a Jordanian air force pilot whose plane was shot down last month.
The executions came only hours after IS released a video that purportedly showed the Jordanian fighter pilot, Lt Muath al-Kaseasbeh, being burned alive in a cage. Jordan had vowed a swift and lethal response for the atrocity.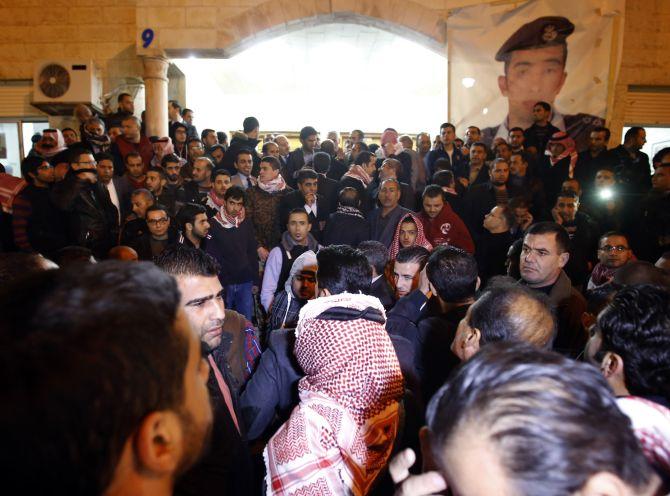 Protesters gather to demonstrate against the Islamic State after a video was released showing the pilot, Mouath al-Kasaesbeh, being burnt alive. Photograph: Reuters
Angry crowds had gathered outside the home of the Jordanian pilot's relatives following the release of a video that allegedly shows his brutal execution at the hands of the Islamic State.
The public outrage comes after the terror group shared a video that purports to show the pilot, Lt Muath al-Kasasbeh, in an orange jumpsuit in an outdoor cell before being set on fire.
The brutality of the execution has prompted calls for retribution by the protesters.
The spokesman for the Jordanian armed forces, Mamdouh al-Ameri, confirmed al-Kaseasbeh's death and vowed "punishment and revenge".
King Abdullah of Jordan has addressed the nation on television calling the pilot's killing an act of "cowardly terror" by a deviant group which bears no relation to Islam. He asked for the nation to remain united.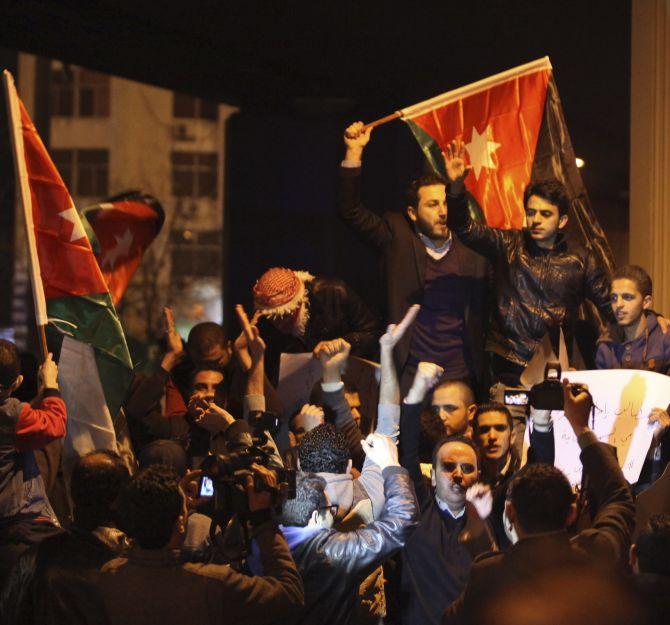 The protesters demanded revenge against the IS. The protesters carried posters reading, 'We demand to ban terrorist ideology'. Photograph: Ahmad Abdo/ Reuters
A Jordanian army spokesman said the country would get "revenge" for al-Kaseasbeh. "The military forces announce that the hero pilot, Muath al-Kaseasbeh, has fallen as a martyr, and ask God to accept him with the martyrs," armed forced spokesman Mamdouh al-Ameri said on Jordanian television.
"While the military forces mourn the martyr, they emphasise his blood will not be shed in vain. Our punishment and revenge will be as huge as the loss of the Jordanians."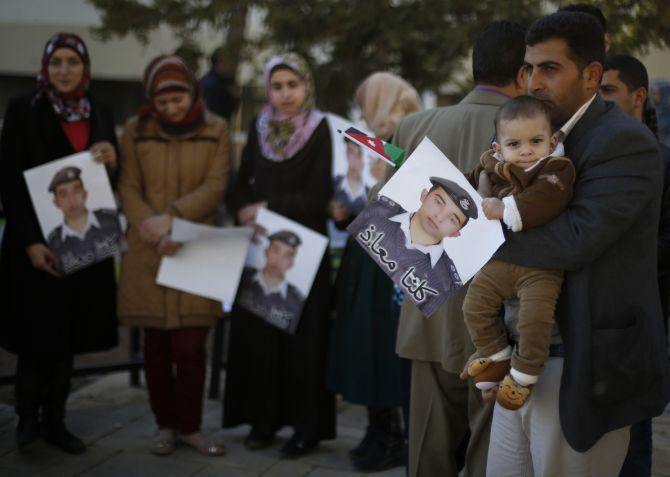 Jawdat Safi carries his son, who is holding a picture of Safi's brother, Jordanian pilot Muath al-Kasaesbeh. Photograph: Muhammad Hamed / Reuters
World leaders react
British Prime Minister David Cameron tweeted his condolences: "Lieutenant Moaz al-Kasasbeh's sickening murder will only strengthen our resolve to defeat IS. My prayers are with his family tonight."
Japan's Prime Minister Shinzo Abe also condemned the apparent execution by the Islamic State group of a Jordanian pilot as "unforgivable", days after the murders of two Japanese hostages.
"It was an unforgivable, outrageous act. I strongly condemn it," Abe said. "When I think about the feelings of his family, I am rendered simply speechless. Representing the Japanese government and people, I express here our sincere condolences," Abe said.
"Japan is with Jordan at this difficult time," he stated, offering "sincere solidarity". "I am infuriated by these inhumane and despicable acts of terrorism," he said.


United States President Barack Obama has said that the video shows the barbarity of the IS that has seized swathes of territory in Iraq and Syria. "Today, we join the people of Jordan in grieving the loss of one of their own, First Lt Moaz al-Kasasbeh, cruelly and brutally killed by ISIL (Islamic State of Iraq and the Levant) terrorists," he said in a statement.
Obama later met King Abdullah II of Jordan at his office.
Along with his compatriots and other Arab and international members of the anti-IS coalition, al-Kasasbeh, was in the vanguard of the effort to degrade and defeat the threat posed by the terror group, Obama said. "Al-Kasasbeh's dedication, courage, and service to his country and family represent universal human values that stand in opposition to the cowardice and depravity of ISIL, which has been so broadly rejected around the globe. As we grieve together, we must stand united, respectful of his sacrifice to defeat this scourge," he said.
"Today, the coalition fights for everyone who has suffered from ISIL's inhumanity. It is their memory that invests us and our coalition partners with the undeterred resolve to see ISIL and its hateful ideology banished to the recesses of history," Obama said.
"It's just one more indication of the viciousness (and) barbarity of this organization," he told reporters in a brief public appearance. "This organisation is only interested in death and destruction," he said when asked about the video.
Earlier, Secretary of State John Kerry welcomed senior diplomatic representatives from nearly 60 nations, including more than 35 Washington-based ambassadors, from partner countries in the global coalition to counter the IS.
The plenary meeting of the global coalition to counter the IS "was an opportunity for coalition partners to reaffirm our shared resolve to address this common threat and discuss how to strengthen, accelerate, and integrate our contributions to coalition efforts," the state department said.