Seven thousand.
That's the number of children that have died owing to gun violence since the Sandy Hook school massacre in December 2012 in the United States of America.
And to mark this solemn moment, citizens took to the grounds of the US Capitol and placed 7,000 pairs of shoes on its front lawn -- a pair for every child killed by gun violence.
The impromptu memorial, coordinated by the global activist org Avaaz, is designed to serve as a visual representation of all the young lives lost.
The shoes used for the demonstration include the shoes of children who lost their lives to guns, shoes of celebrity activists like Alyssa Milano, Susan Sarandon and Bette Midler and shoes of ordinary citizens from all over the country who want to help send a message to lawmakers.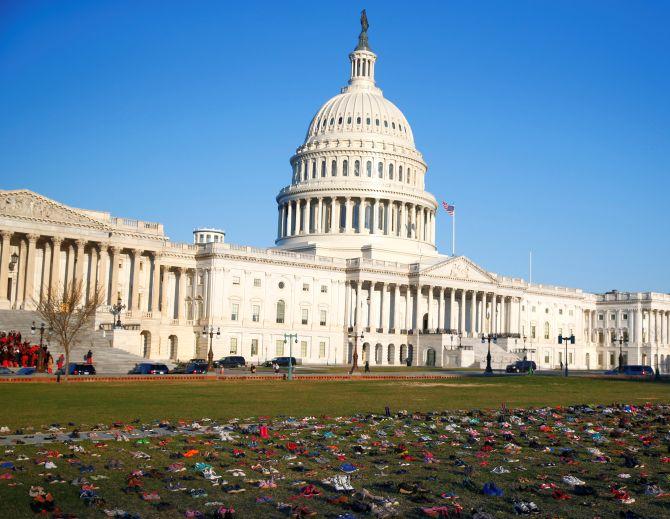 The memorial comes just a day ahead of a planned nationwide school walkout honouring the victims of last month's shooting at Marjory Stoneman Douglas High School in Parkland, Florida. Students across the country plan to walk out of their classrooms for 17 minutes to commemorate the 17 students and staff members who were killed in the February 14 massacre. Dozens of activists stood in front of the shoes, holding signs with slogans like "#NOTONEMORE" and "7000 KIDS KILLED".
All photographs: Eric Thayer/Reuters

The aim of the memorial was to put more pressure on state and federal lawmakers to tighten rules on gun ownership. "There's nobody in those shoes, it's like the emptiness in our hearts from gun violence," said Tom Mauser, 66, of Littleton, Colorado, whose 15-year-old son Daniel was killed by two gunmen at Colorado's Columbine High School in 1999 along with a dozen other people.

Researchers have estimated that 1,300 children in the US die each year after being shot, and another 5,790 are injured.
Avaaz came up with the 7,000 figure by multiplying the estimated rate of fatalities by the five years and three months that have passed since the Sandy Hook shooting in December 2012.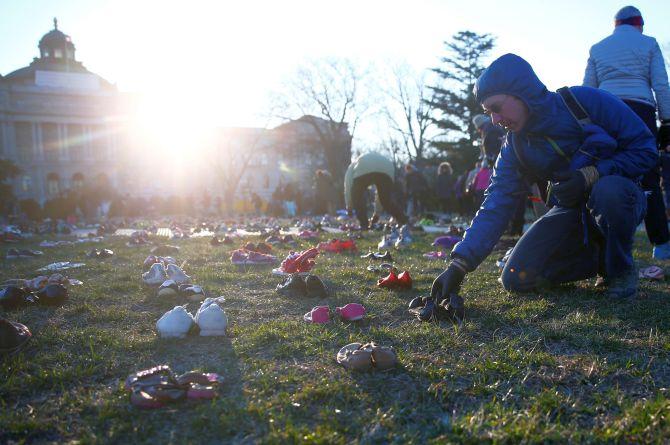 "What we're saying is killing has to stop," Avaaz deputy director Emma Ruby-Sachs said. "The majority of gun owners want gun control and we're putting lives of these children at the feet of Congress and saying, 'Catch up, act now, let's end this.'"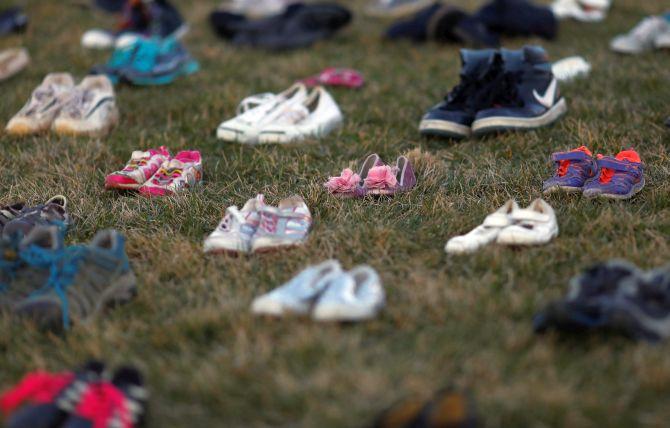 Alyssa Milano, Bette Midler, Vanessa Bayer, Chelsea Handler and Susan Sarandon are among the celebrities who donated shoes for the memorial.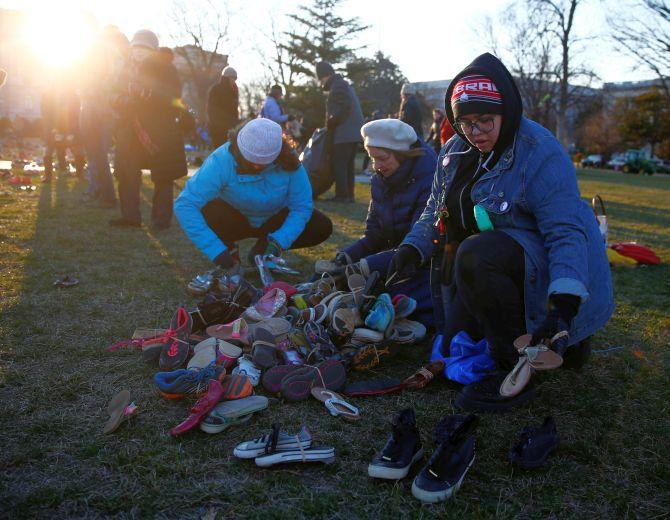 The shoe memorial is reminiscent of a monument on the Danube River near the Hungarian Parliament in Budapest commemorating thousands of people, including Jews, killed by fascists in the 1940s.
Many Canadian cities have marked the National Day of Remembrance and Action on Violence Against Women on December 6 with similar"shoe memorials."