National Democratic Alliance nominee M Venkaiah Naidu was on Saturday elected as the next Vice President of India by securing over two-thirds of votes leaving opposition candidate Gopalkrishna Gandhi far behind.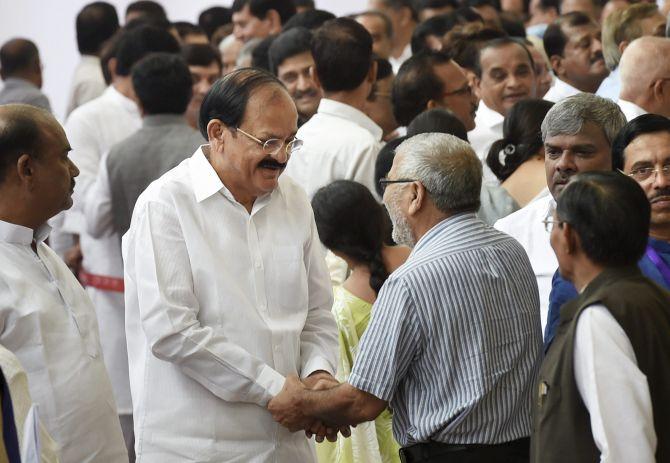 IMAGE: Vice-president-elect Venkaiah Naidu at the Parliament House. Photograph: Kamal Singh/PTI Photo
Naidu got 516 votes out of total 771 votes cast while Gandhi could only manage 244 votes. Of the total 771 votes polled, 11 were found to be invalid.
Although 785 MPs are there in both the Houses of Parliament, 14 MPs could not vote.
"Coming from an agricultural background, I never imagined I would be here. Agriculture has no proper voice in Indian polity," India's vice president-elect told PTI.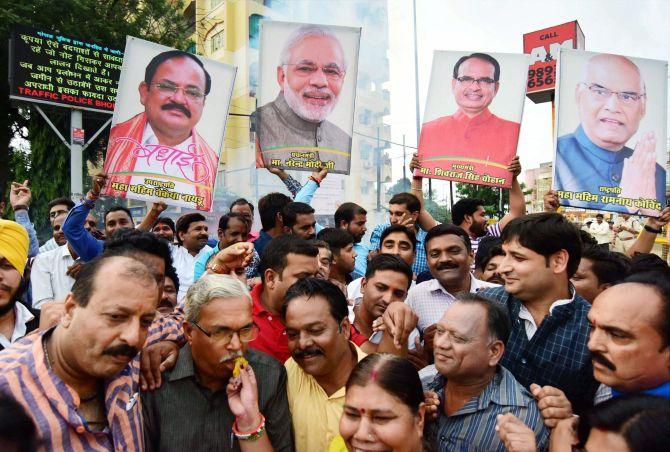 IMAGE: BJP workers celebrate the victory of Venkaiah Naidu in Bhopal on Saturday. Photograph: PTI Photo

"I am very humbled. I am also thankful to the Prime Minister and all party leaders for their support. I will seek to utilise the vice presidential institution to strengthen the hands of the president and secondly uphold the dignity of the Upper House," he added.
Naidu will be the 13th person to hold the second highest Constitutional post.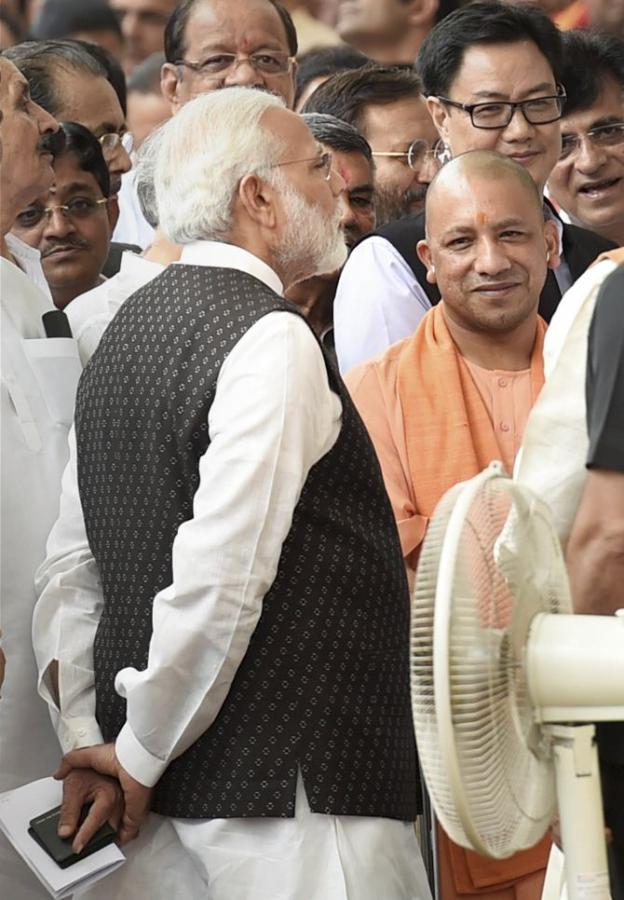 IMAGE: Prime Minister Narendra Modi and UP Chief Minister Yogi Adityanath during the vice presidential election in the Parliament house, in New Delhi on Saturday. Photograph: Kamal Singh/PTI Photo
The strength of the electoral college comprising both elected and nominated MPs of Rajya Sabha and Lok Sabha is 790.
There are two vacancies each in the Lok Sabha and the Rajya Sabha.
In the 2007 VP poll, incumbent Hamid Ansari had polled 456 votes, Najma Heptullah 222 votes and Rashid Masood 075 votes.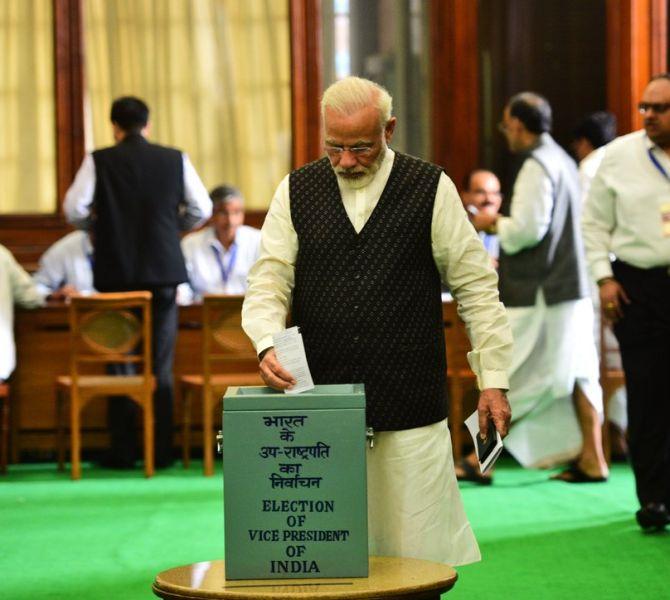 IMAGE: Modi casts his vote. Photograph: @PMOIndia/Twitter
In the 2012 polls, Ansari had bagged 490 and NDA nominee Jaswant Singh 238 votes.
With Saturday's election, those holding the three top positions in the country --the president, the vice-president and the Prime Minister --come from the Bharatiya Janata Party.
Last month, Ramnath Kovind became the first BJP leader to win presidential poll defeating opposition's Meira Kumar.
Naidu will be the second BJP leader to become vice-president after Bhairon Singh Shekhawat (2002-2007).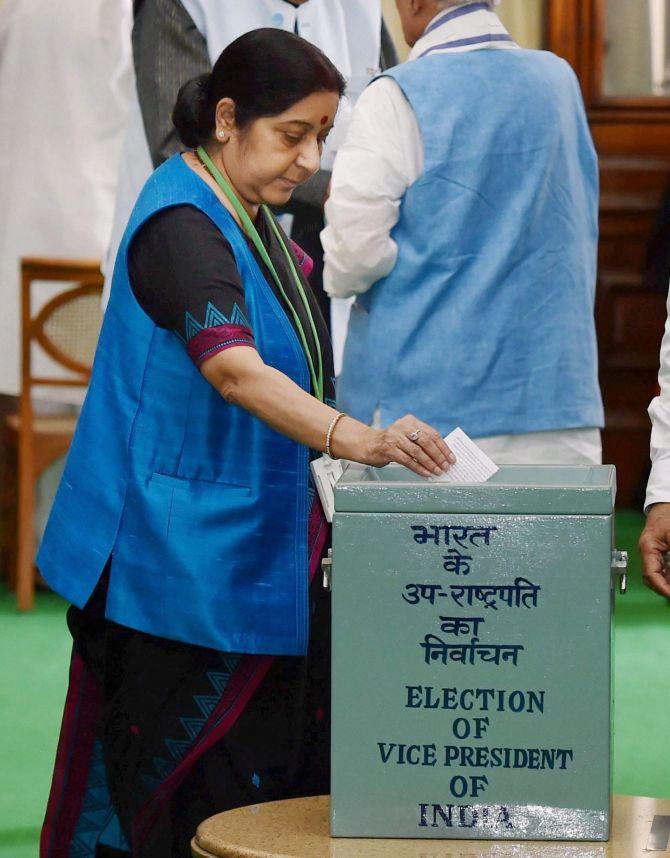 IMAGE: External Affairs Minister Sushma Swaraj casts her vote. Photograph: Kamal Singh/PTI Photo
Earlier, voting for the election ended with 98.21 per cent of members of Parliament exercising there franchise.
Assistant returning officer Mukul Pandey said at the closing of voting process, 771 out of 785 MPs had cast their vote.
Two Bharatiya Janata Party leaders -- Sanwarlal Jat and Vijay Goel -- are hospitalised and could not vote, BJP leaders said.
Apart from them, two MPs from the Congress, two from the Indian Union Muslim League, four from the Trinamool Congress, one from the Nationalist Congress Party, one from the Pattali Makkal Katchi and two Independents were also absent.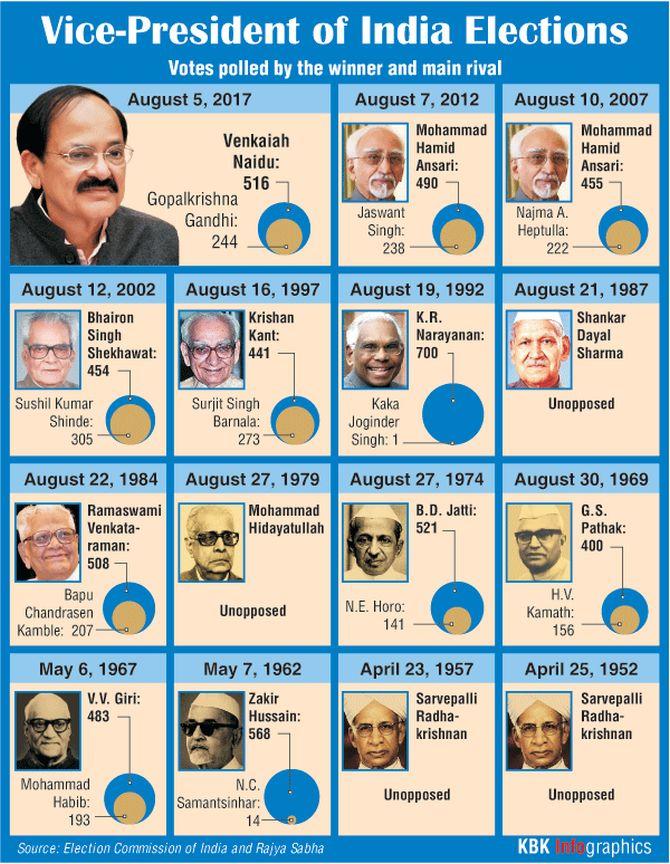 Kunal Ghosh, Tapas Paul, Pratima Mondal and Abhishek Banerjee from the TMC didn't vote.
Similarly, Mausam Noor and Ranee Narah from the Congress; Udayan Raje Bhonsle from the NCP; Ambumani Ramadoss from the PMK didn't cast their vote.
From the IUML, Abdul Wahab and P K Kunhallikutty, while Anu Agha and Naba Kumar Saraniya are Independent MPs who did not vote.
One BJP Lok Sabha MP is barred from voting following a judicial pronouncement.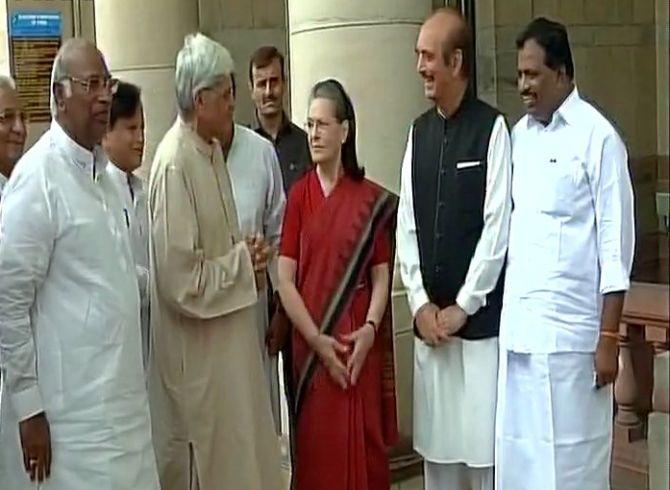 IMAGE: From left, Congress leader Mallikarjun Kharge, opposition vice-presidential nominee Gopalkrishna Gandhi, Congress president Sonia Gandhi, Leader of Opposition in Rajya Sabha Ghulam Nabi Azad and others during the voting process. Photograph: ANI
"Earlier in the morning, the first hour recorded a sizeable turnout of MPs waiting to cast their vote," Pandey said.
Prime Minister Narendra Modi and Venkaiah Naidu, a Rajya Sabha member, as well as Uttar Pradesh Chief Minister Adityanath, a Lok Sabha member, were among the first to cast their ballot.
In fact, the prime minister was standing in queue even before the voting hall opened at 10 am.
Congress vice president Rahul Gandhi, his party MPs Jyotiraditya Scindia, Deepender Singh Hooda and Sushmita Dev also voted to elect the next vice president.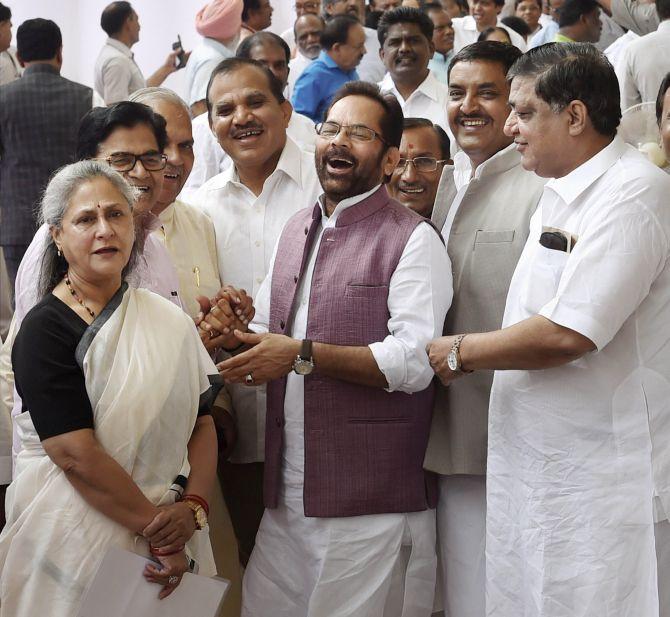 IMAGE: Minister of State for Parliamentary Affairs Mukhtar Abbas Naqvi with SP MPs Jaya Bachchan, Ram Gopal Yadav and Naresh Agarwal during the election at Parliament House. Photograph: Kamal Singh/PTI Photo

Congress president Sonia Gandhi cast her vote, accompanied by Gopalkrishna Gandhi. Unlike Naidu, Gopalkrishna Gandhi was not a member of either House of Parliament, and hence could not vote in the election.
He was supported by 19 parties, including the Janata Dal-United and the Aam Aadmi Party.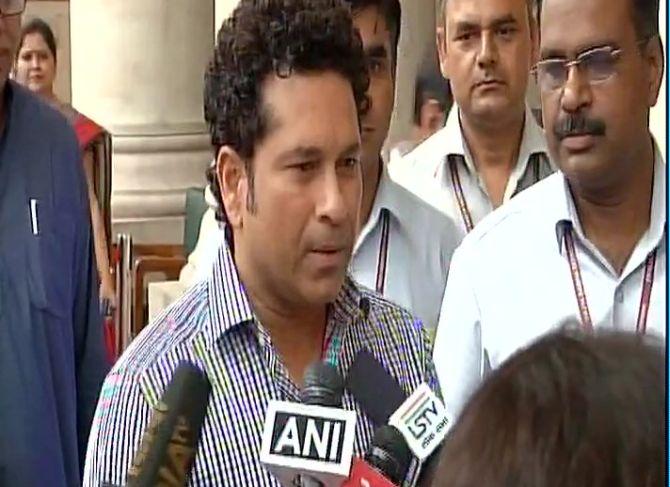 IMAGE: Rajya Sabha MP Sachin Tendulkar after casting his vote.
Photograph: ANI
Ghulam Nabi Azad, the Leader of the Opposition in the Rajya Sabha, his deputy in the Upper House, Anand Sharma, Leader of the Congress in the Lok Sabha Mallikarjun Kharge, were also present.
With numbers favouring Naidu, his victory was almost certain.
Cricket legend Sachin Tendulkar and actor Rekha, who have often been criticised for their low attendance in the Rajya Sabha, also cast their votes.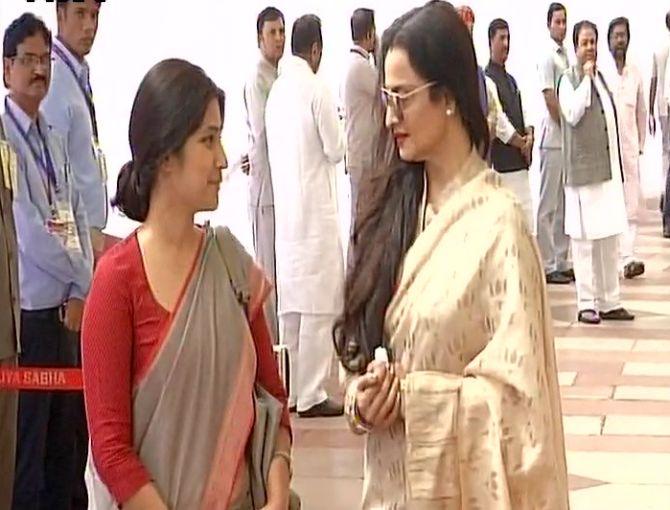 IMAGE: Samajwadi Party MP Dimple Yadav, left, with Rajya Sabha MP Rekha at the Parliament house during voting.
Photograph: ANI
The two nominated MPs of the Upper House were accompanied to the voting room by Congress' Rajya Sabha MP Rajeev Shukla.
Dressed in an elegant cream saree, Rekha arrived around 11.15 am and after casting her vote, she had a brief chat with Dimple Yadav, Lok Sabha MP and wife of Samajwadi Party president Akhilesh Yadav.
Tendulkar arrived later. "Not only here, but whenever voting takes place, every citizen should vote," the Little Master told reporters after casting his vote.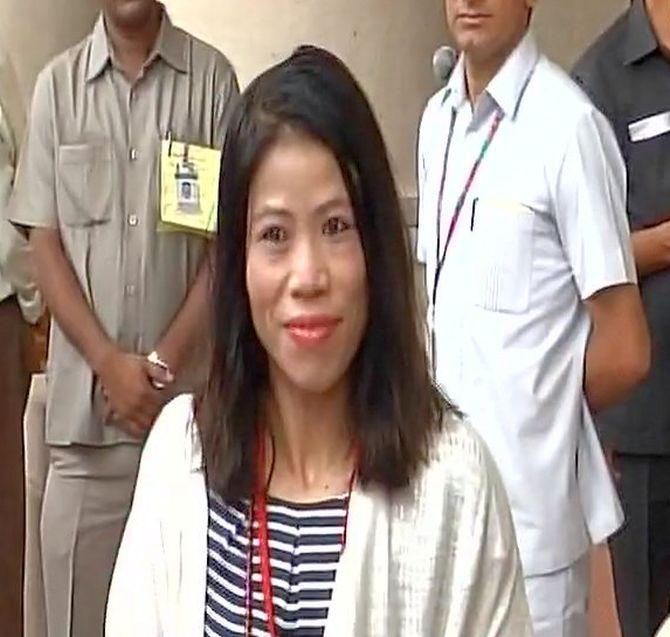 IMAGE: Boxer and Rajya Sabha MP Mary Kom casts her vote. Photograph: ANI
Tendulkar, an MP since 2012, has an attendance of 7 per cent while Rekha, also a member since 2012, has clocked only 5 per cent attendance, according to research body PRS Legislative.
In the past, Samajwadi Party MP Naresh Agarwal had said Tendulkar and Rekha should resign if they were not interested in attending the House.
Boxer Mary Kom and BJP leaders Roopa Ganguly and Subramanian Swamy, the three other nominated members in the Rajya Sabha, also cast their votes.