Thanks to his hardline Hindutva image, Adityanath's selection as UP CM came as a surprise to many.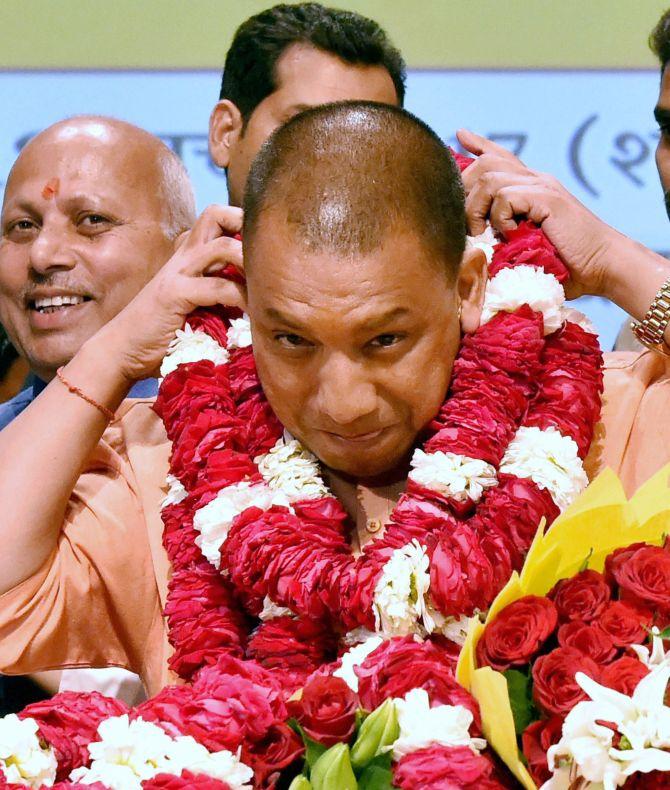 IMAGE: Yogi Adityanath after his election as leader of the BJP legislature party in Lucknow, March 18, 2017. Photograph: Nand Kumar/PTI Photo
Yogi Adityanath, the controversial mascot of hardline Hindutva, will be the next chief minister of Uttar Pradesh.
In a move that surprised many, the 44-year-old five-term MP from Gorakhpur was elected the Bharatiya Janata Party legislature party leader at a meeting of the newly elected MLAs, a week after the BJP won a resounding three-fourth majority in the key Hindi heartland state, making a combeback to power after 15 years.
Speaking after his election, Adityanath said he would follow Prime Minister Narendra Modi's sabka saath, sabka vikas slogan.
State BJP chief Keshav Prasad Maurya, who was himself in contention for the top job, first announced Adityanath's election.
Maurya, the MP from Phulpur in Allahabad, will be deputy chief minister apart from senior BJP leader and Lucknow Mayor Dinesh Sharma.
Later, addressing the media, Union Minister M Venkaiah Naidu, who along with BJP General Secretary Bhupendra Yadav was present at the meeting as central observers for the election, told a press conference that Adityanath's name was proposed by Suresh Khanna, an 8-term MLA, and seconded by 10 others.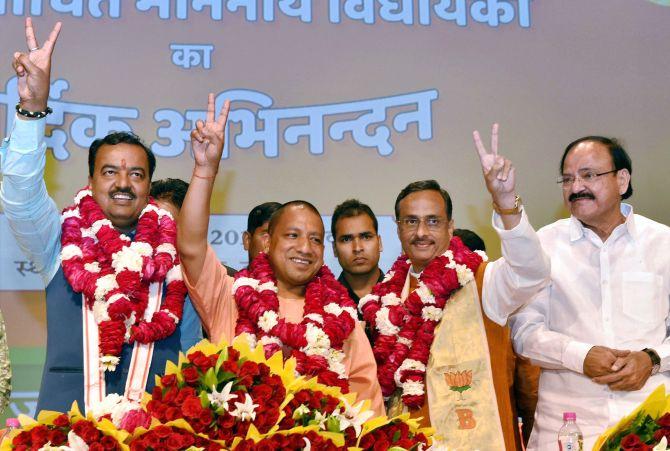 IMAGE: Adityanath, centre, Keshav Prasad Maurya, left, and Dr Dinesh Sharma. Union Minister M Venkaiah Naidu is also seen. Photograph: Nand Kumar/PTI Photo
Even after the proposal was made, Naidu said he asked the 312 newly elected BJP MLAs if they wanted to propose anybody else for the post, but they all backed Adityanath unanimously.
Adityanath, Naidu said, then said he needed two deputy CMs to assist him in the gigantic task, following which it was decided that Maurya and Sharma would hold the posts.
As the meeting was about to begin, an element of surprise gripped the venue when Adityanath reached the Lok Bhavan opposite the imposing UP assembly complex.
Midway through the meeting, Sharma was asked to attend the deliberations.
None of the three -- Adityanath, Maurya, Sharma -- is a legislator in UP.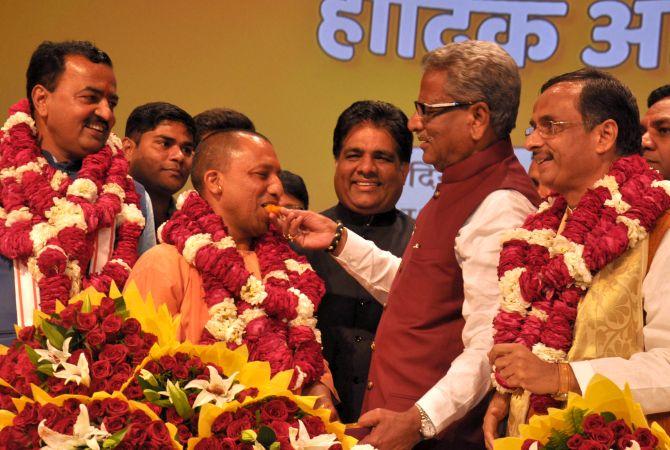 IMAGE: BJP General Secretary O P Mathur feeds Adityanath a laddoo after his election as Maurya and Dr Sharma look on. Photograph: Sandeep Pal
As soon as it was decided that the saffron-robed Gorakhpur MP would hold the reins of the state, party leaders and MLAs rushed to the dais with sweets and garlands.
Adityanath will be the 21st UP chief minister and the fourth from the BJP.
He will be sworn in on Sunday, March 19, at a ceremony at the Kanshiram Smriti Upvan at 2.15 pm. Prime Minister Narendra Modi and BJP President Amit Shah will be present.
"I am thankful to Governor Ram Naik who invited me to form the government in UP," Adityanath said in his first brief media interaction at Raj Bhavan.
"I am confident that the state will march on the path of development," the chief minister-elect said, adding that his efforts would be to provide "good governance" in the state.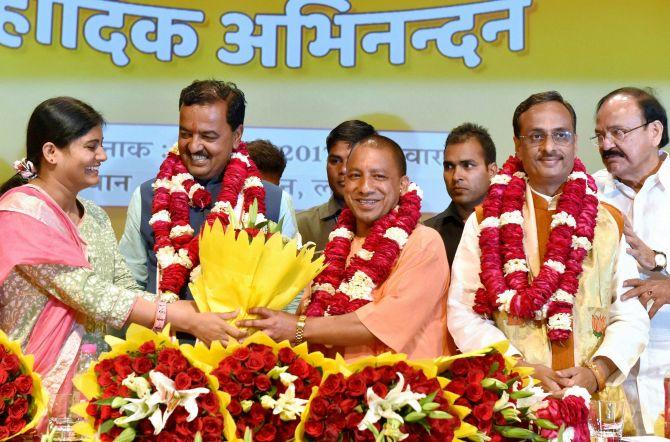 IMAGE: Union Minister of State for Health and Family Welfare and Apna Dal leader Anupriya Patel greets Adityanath, Maurya and Dr Sharma. Photograph: Nand Kumar/PTI Photo
The BJP played down Aditynanath's Hindutva hardliner image. "That image may be with the media, but he has been elected again and again (to the Lok Sabha)," BJP National Secretary Sidharth Nath Singh told reporters soon after the Gorakhpur MP's election as the BJP legislature party leader.
"He stands for development and that is the agenda we have got and we will will stick to the agenda," added Singh who has been elected as an MLA from Allahabad.
Adityanath's election, he said, was no surprise as he was chosen by the elected MLAs democratically and unanimously.
Mukhtar Abbas Naqvi, the Union minority affairs minister, defended the BJP's choice, saying Adityanath will prove his critics wrong by his developmental work and emerge as the best chief minister.
"He has been in public life for a long time. He will realise the prime minister's commitment of inclusive growth in Uttar Pradesh," Naqvi said.
Rejecting apprehensions of Adityanath being a hardline Hindutva leader, Naqvi claimed he was a "hardline leader of inclusive development".
"I know him personally for 20 years," the minister added. "He takes everyone along. He will definitely prove all wrong."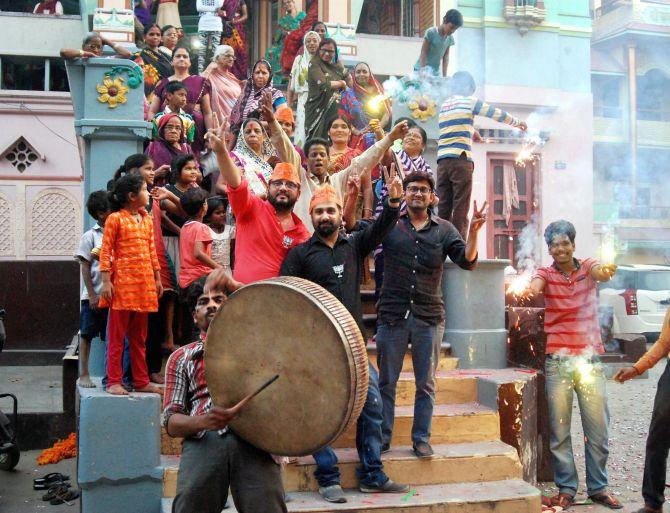 IMAGE: BJP workers celebrate Adityanath becoming UP CM. Photograph: PTI Photo
Criticising Adityanath's selection as UP chief minister, senior Congress leader M Veerappa Moily felt "It is a big assault on secularism in the country. Maybe the BJP or RSS would like to endorse their cause of Hinduism. India is not Hinduism. Hinduism is not India."
"India is built above castes and religions and Vasudhaiva Kutumbakam (the world is one family) is the very foundation of our secular society. It is the biggest assault ever done on secularism," Moily added.
Senior Congress leader Salman Khurshid, in a tribute to the new UP chief minister, put out a poem entitled Tribute to new CM of UP.
In a tweet, Khurshid said, 'No more pretence! Yogi Adityanath to sit where (Gobind Ballabh Pant, UP's first chief minister Pantji, (Narain Dutt Tiwari) NDT, (Hemwati Nandan) Bahugana et al once sat.'