National Geographic has announced the winners of its prestigious Travel Photographer of the Year photo contest for 2017.
And the images are just breathtaking.
Sergio Tapiro Velasco of Mexico was awarded the prestigious grand prize for his awe-inspiring image of the moment an erupting volcano was hit by a bolt of lightning. He has won a 10-day trip for two to the Galápagos Archipelago with National Geographic Expeditions, for his incredible shot.
In addition to the grand-prize winner, top photos were selected in three categories -- Nature, Cities and People -- from more than 15,000 entries from participants in more than 30 countries.
Here are the top photos from the major categories this year.
(Please click on the images for high-resolution photos)
---
NATURE
The power of nature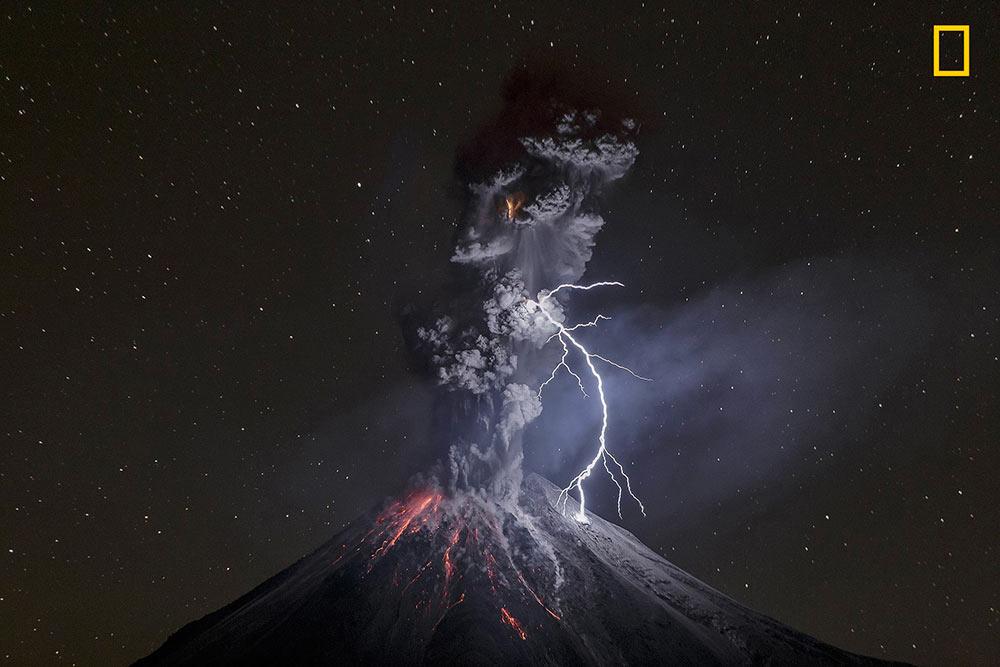 Powerful eruption of Colima Volcano in Mexico on December 13, 2015. That night, the weather was dry and cold, friction of ash particles generated a big lightning of about 600 metres that connected ash and volcano, and illuminated most of the dark scene. On last part of 2015, this volcano showed a lot of eruptive activity with ash explosions that raised 2-3 km above the crater. Most of night explosions produced incandescent rock falls and lightning not bigger than 100 meters in average.
Photograph: Sergio Tapiro Velasco/National Geographic Travel Photographer of the Year

---
To Live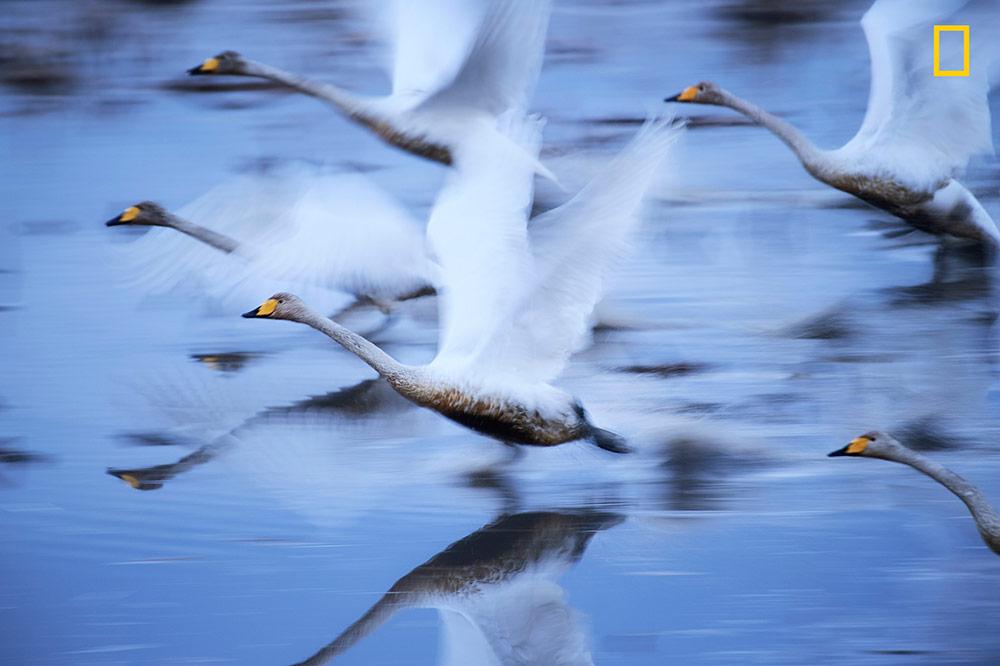 Swans who live vigorous even in mud.
Photograph: Hiromi Kano/National Geographic Travel Photographer of the Year
---
Crocodiles at Rio Tarcoles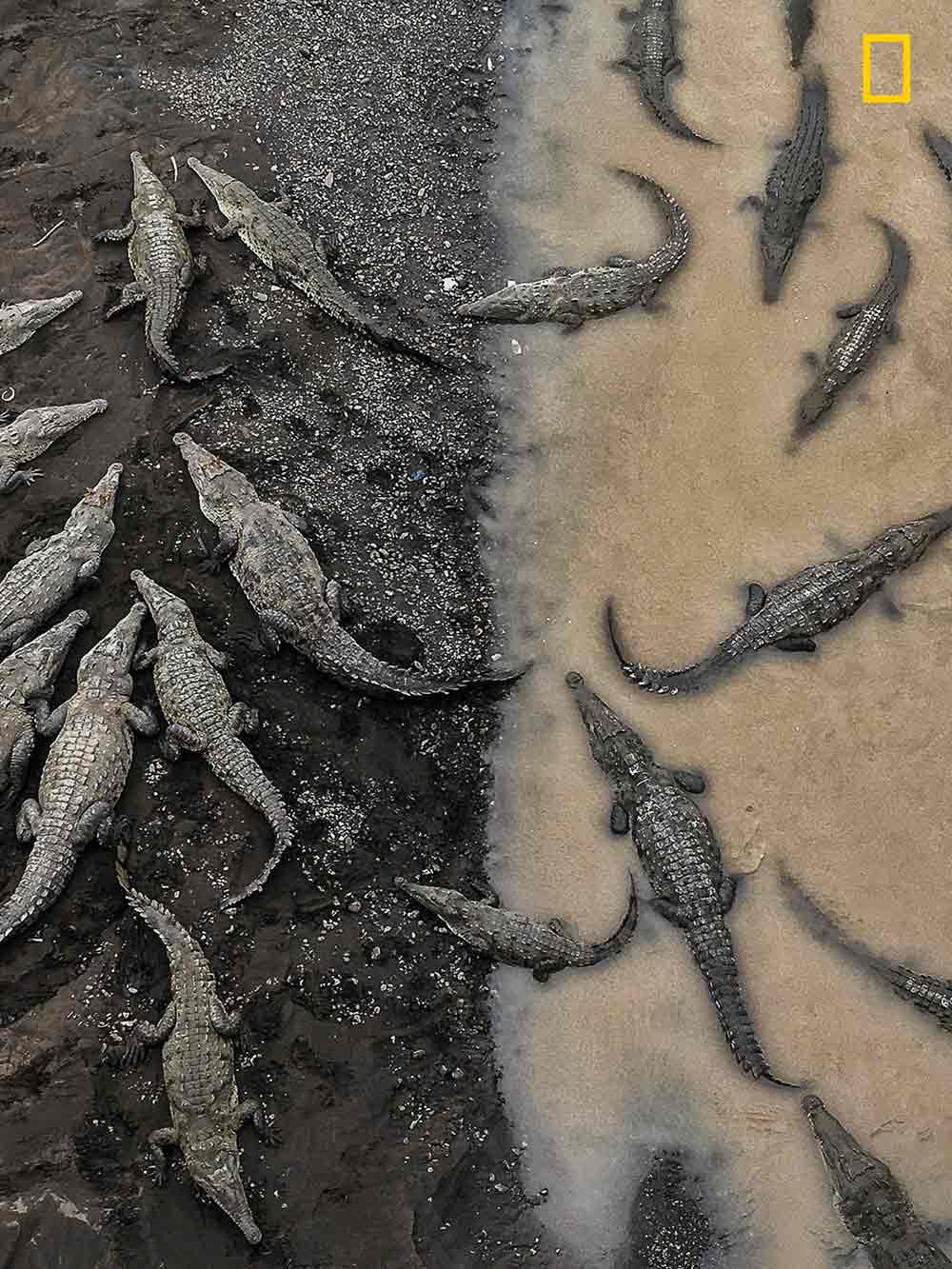 This image was captured in Costa Rica when I was travelling from Monteverde to Playa Hermosa. As you cross over this river, you can stop and peer over the edge of the bridge. Below, reside over 35 gigantic crocodiles, relaxing on the muddy banks of the river. I wanted to capture the stark difference between the crocodiles on land and in the water. In the murky waters, the body contours of these beasts remain hidden, and one can only truly see their girth as they emerge from the river.
Photograph: Tarun Sinha/National Geographic Travel Photographer of the Year
---
Marble Caves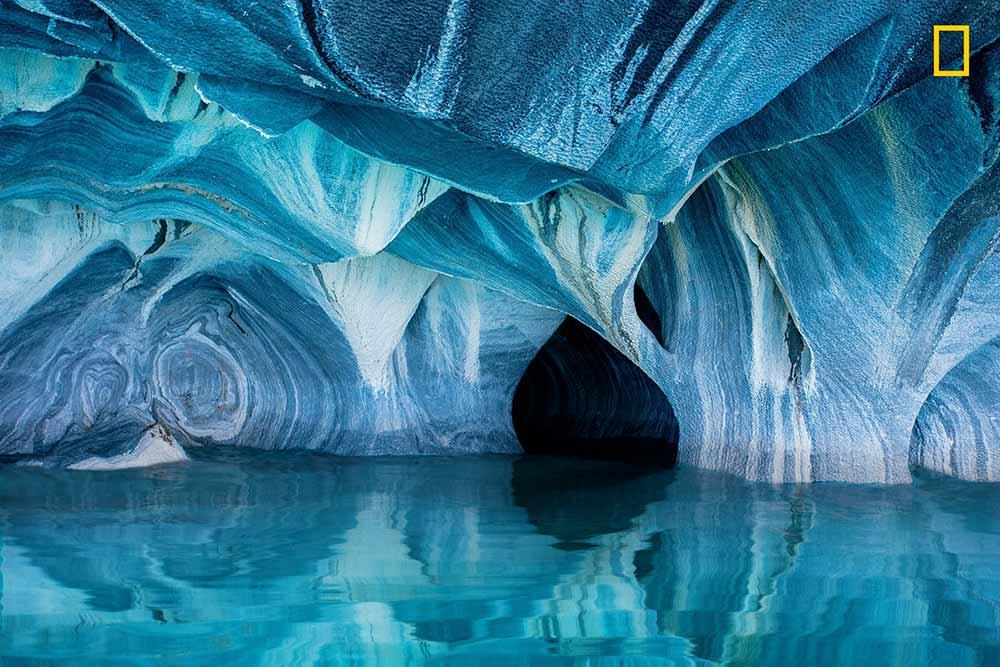 The marble caves of Patagoina.
Photograph: Clane Gessel/National Geographic Travel Photographer of the Year
---
Forest of the Fairy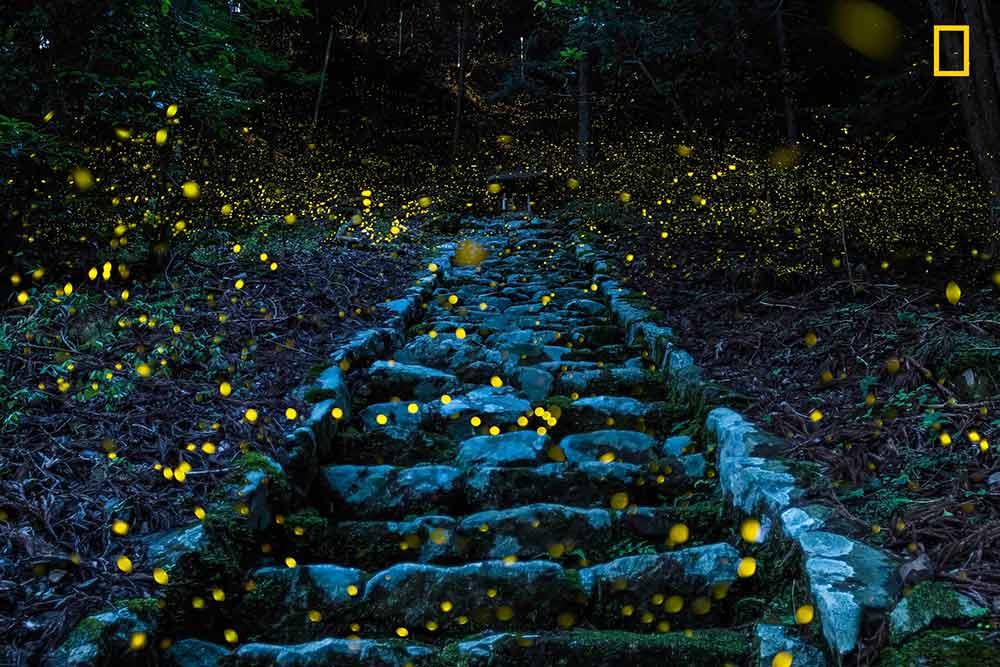 Shooting in the forest this photograph was taken in the evening hours of a humid early summer day in the forest of a small remote village in the Tamba area of Japan. It beautifully captures the magical atmosphere of Princess fireflies carpeting a stairway leading to a small shrine revered by the local people.
Photograph: Yutaka Takafuji/National Geographic Travel Photographer of the Year
---
Mt Bromo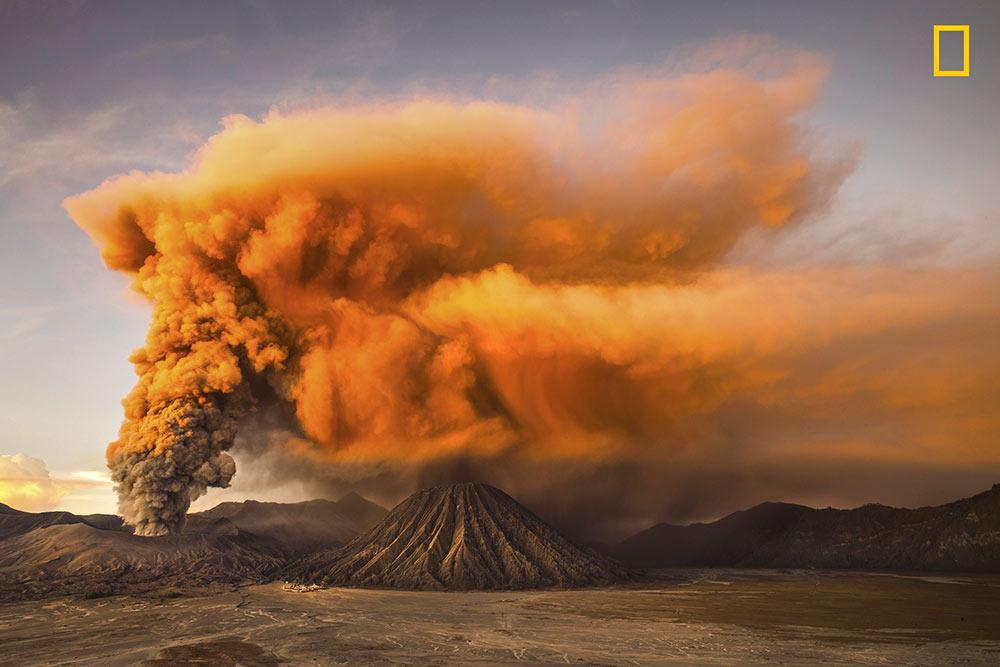 MountBromo volcano is a small, but active volcanic cinder cone on Java, Indonesia. Early 2016, I happened to be in Mt Bromo during the increase of seismic activity and triggered the alert status to the second highest.
Photograph: Reynold Riksa Dewantara/National Geographic Travel Photographer of the Year
---
In Your Face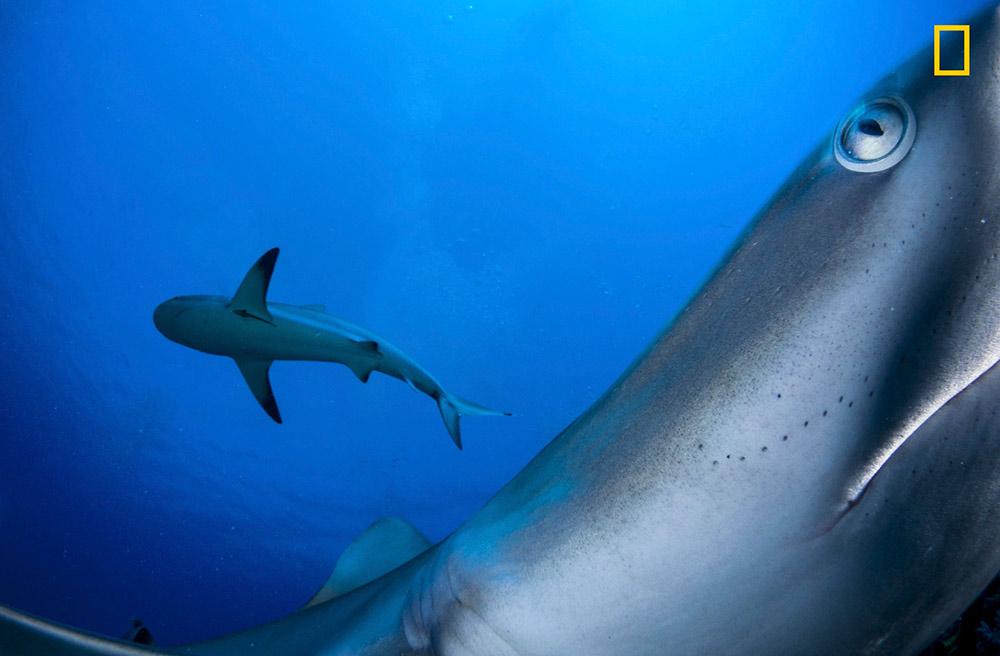 Caribbean reef sharks are usually shy so I placed my camera on a rock where I know they frequent and used a remote trigger to click away as they came in and bumped my camera around..
Photograph: Shane Gross/National Geographic Travel Photographer of the Year
---
CITIES
Levels of reading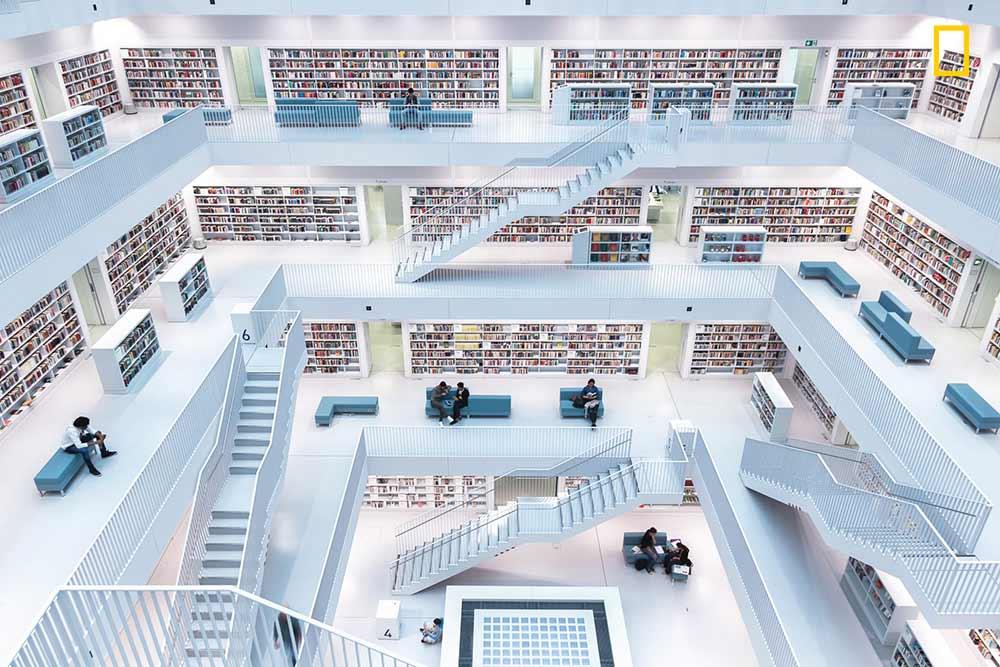 The modern interior of the city library in Stuttgart. With its wide-open space in the central, where natural light comes from through the windows on the top, it has a very unique atmosphere, where you can broaden your knowledge.
Photograph: Norbet Fritz /National Geographic Travel Photographer of the Year
---
Walled City #08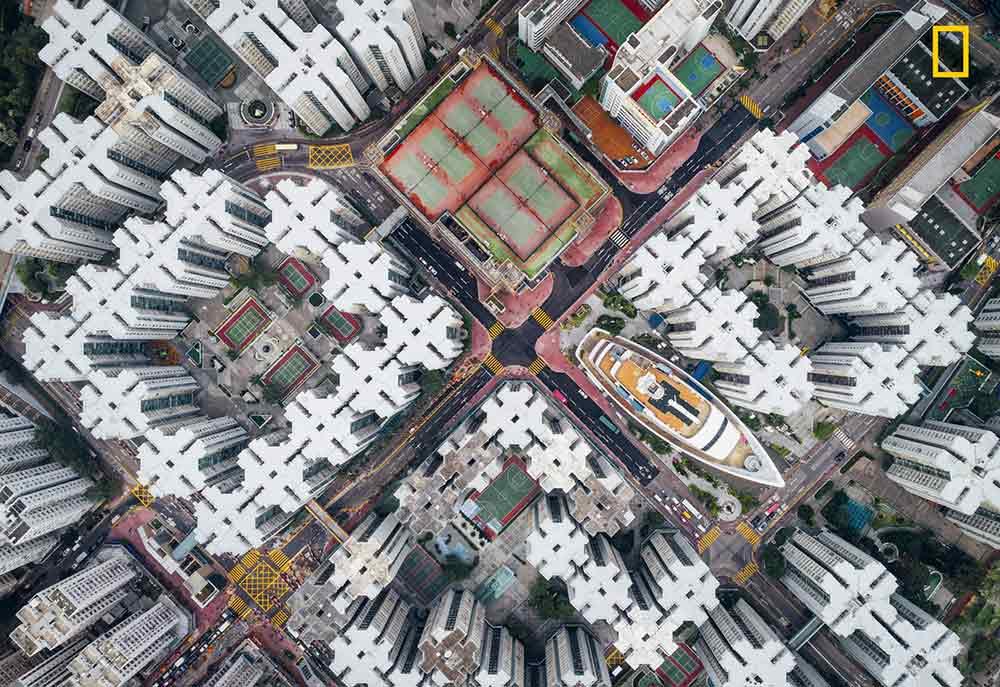 The Kowloon Walled City was the densest place on Earth. Hundreds of houses stacked on top of each other enclosed in the centre of the structure. Many didn't have access to open space. This notorious city was finally demolished in 1990s. However, if you look hard enough, you will notice that the city is not dead. Part of it still exists in many of current high density housing apartments. I hope this series can get people to think about claustrophobic living in Hong Kong from a new perspective.
Photograph: Andy Yeung/National Geographic Travel Photographer of the Year
---
Henningsvaer Football Field
This football field in Henningsvær in the Lofoten Islands is considered one of the most amazing fields in Europe, and maybe even in the world. The photo was taken during a 10-day sailing trip in Norway in June 2017. We arrived to Henningsvær after a week of sailing through the cold and rainy weather. Upon our arrival, the weather cleared up. I was really lucky that the conditions were suitable for flying my drone, and I managed to capture this shot from a height of 120 metres.
Photograph: Misha De-Stroyev/National Geographic Travel Photographer of the Year
---
Colourful apartment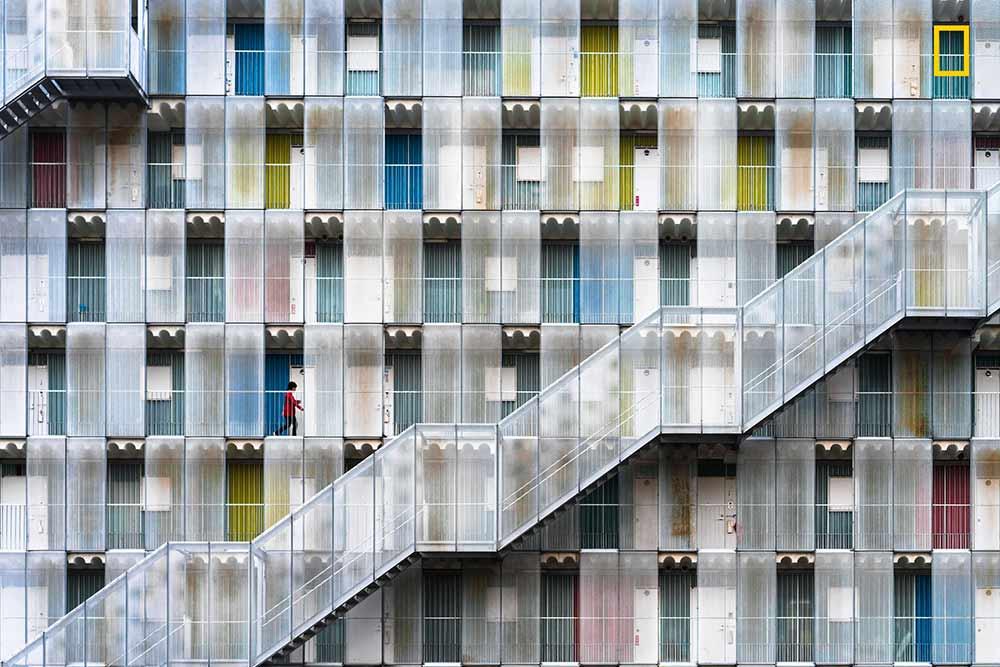 This building is apartment complex in Gifu Prefecture of Japan. It is very colourful, but it is an ordinary collective housing where ordinary people can live.
Photograph: Tetsuya Hashimoto/National Geographic Travel Photographer of the Year
---
Al Ain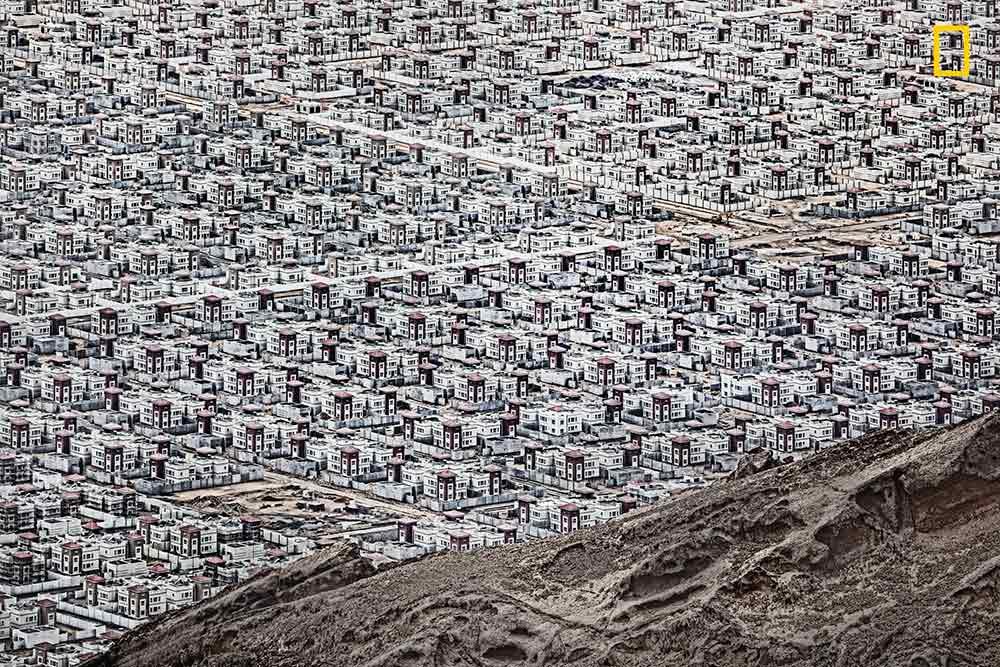 New city on the desert.
Photograph: Andrzej Bochenski/National Geographic Travel Photographer of the Year
---
PEOPLE
Worship
This photo was taken in Konya. Willing Dervish in an historical place of Sille KonyaTurkey. The 'dance' of the Whirling Dervishes is called Sema and is a symbol of the Mevlevi culture. According to Mevlana's teachings, human beings are born twice, once of their mothers and the second time of their own bodies.
Photograph: F Dilek Uyar/National Geographic Travel Photographer of the Year
---
Interesting moment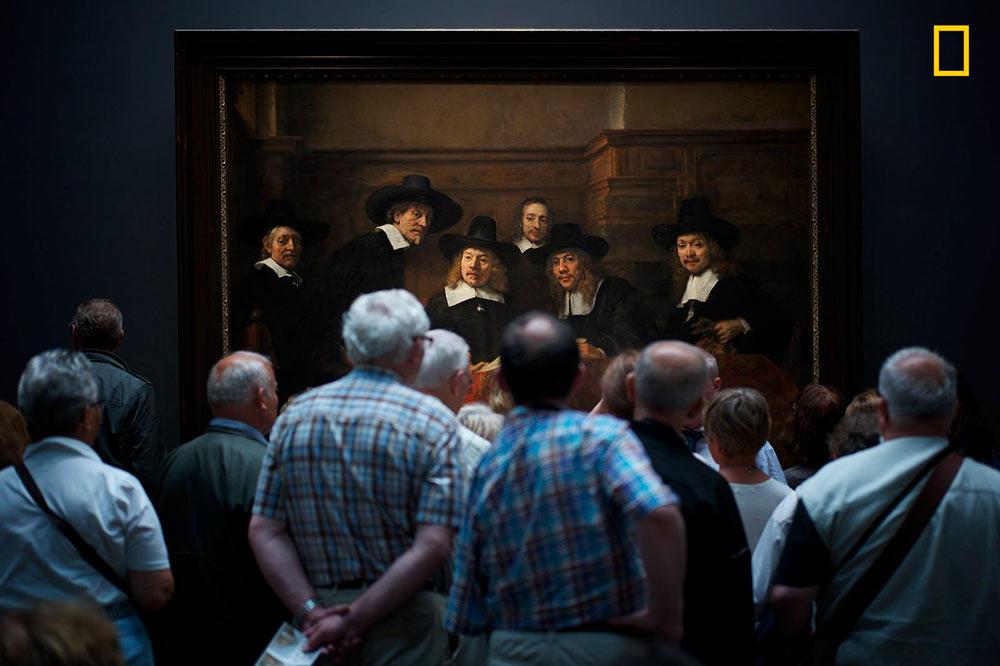 Museum visitors curiously watching Rembrandt's painting "Syndics of the Drapers' Guild " where it gave the illusion that the people on the paintings too are curiously watching the visitors.
Photograph: Julius Y/ National Geographic Travel Photographer of the Year
---
Under The Wave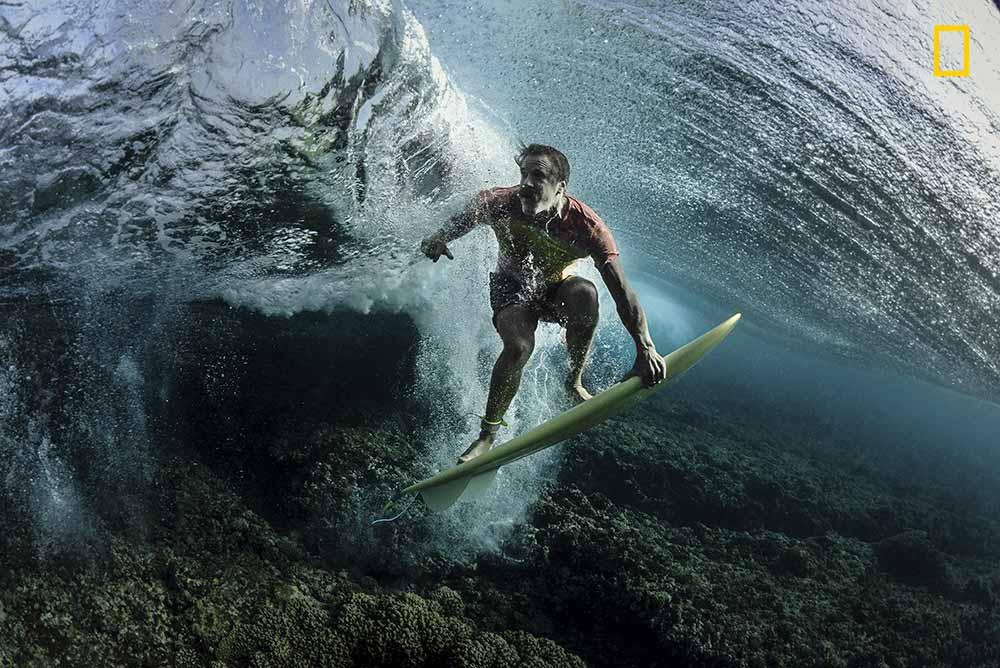 I recently travelled to Tavarua, Fiji to do some surf photography with pro surfer Donavon Frankenreiter at Cloudbreak. I'm always looking for new angles and perspectives. The usual surf shots have all been done so we decided to get a little creative. Makes you look twice.
Photograph: Rodney Bursiel/National Geographic Travel Photographer of the Year
---
Bridging Generation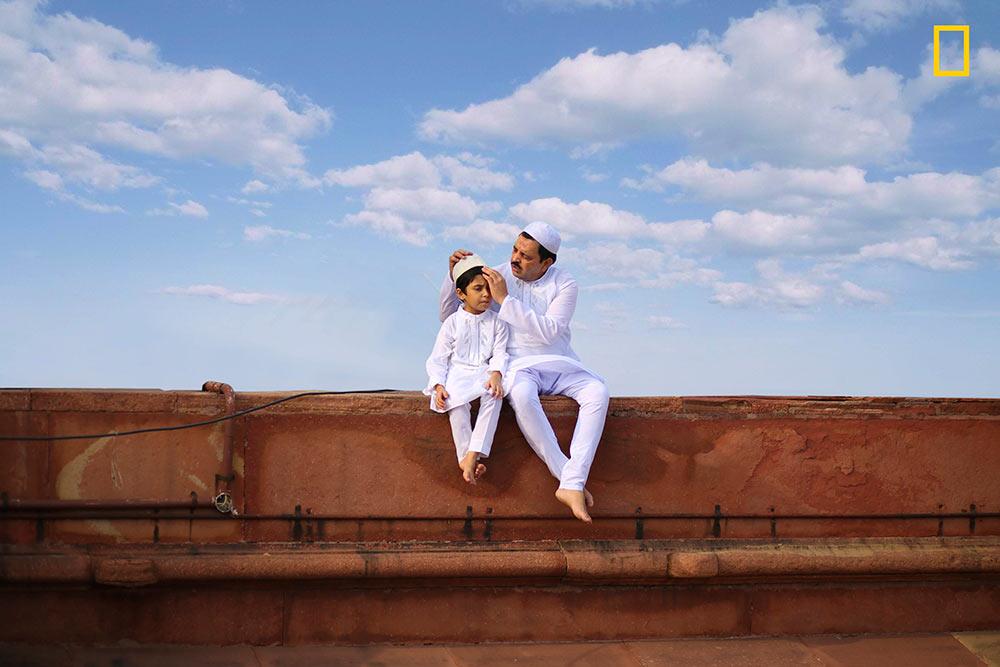 A beautiful photo of a father and son sitting in white traditional attire with beautiful blue sky on the day of Eid al-Fitr in a mosque in New Delhi, India. The photo shows the beautiful bond which these two generation have been building up in a very simple and lovable manner.
Photograph: Jobit George/National Geographic Travel Photographer of the Year
---
The Man's Stare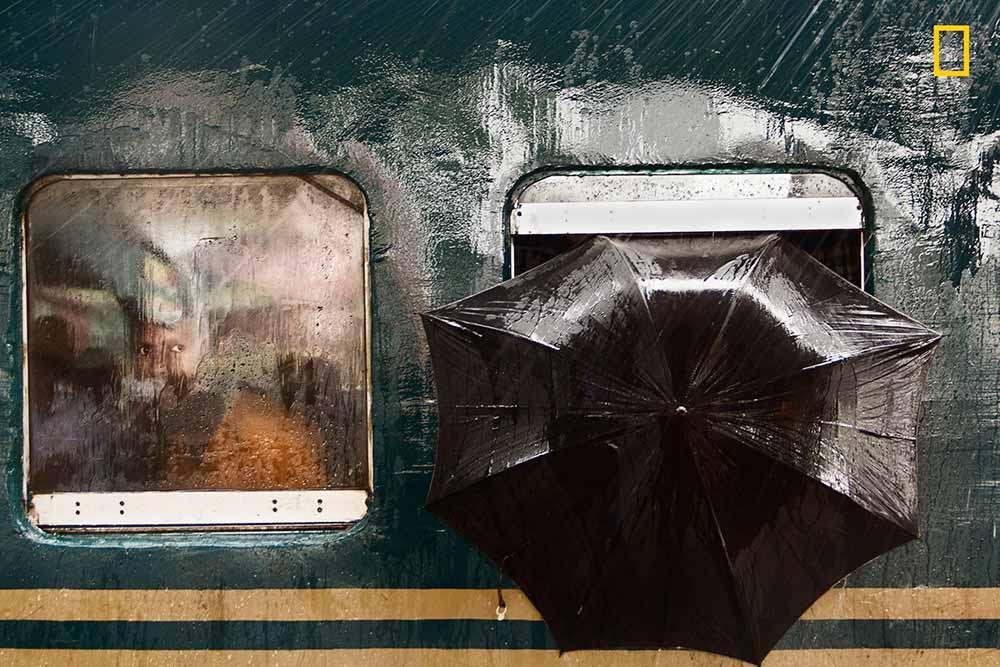 The photo was taken on July 23, 2016 at Tongi Railway Station, Gazipur, Bangladesh. I was there for taking photos and waiting for a moment. A train from Dhaka toward another district has reached and stopped at the platform for 5 min for lifting passengers. It was huge raining. Suddenly I found a pair of curious eye was looking at me through the window and on his left an umbrella has been put for protect the rain. I got the moment.
Photograph: Moin Ahmed/National Geographic Travel Photographer of the Year
---
Blessings at Besakih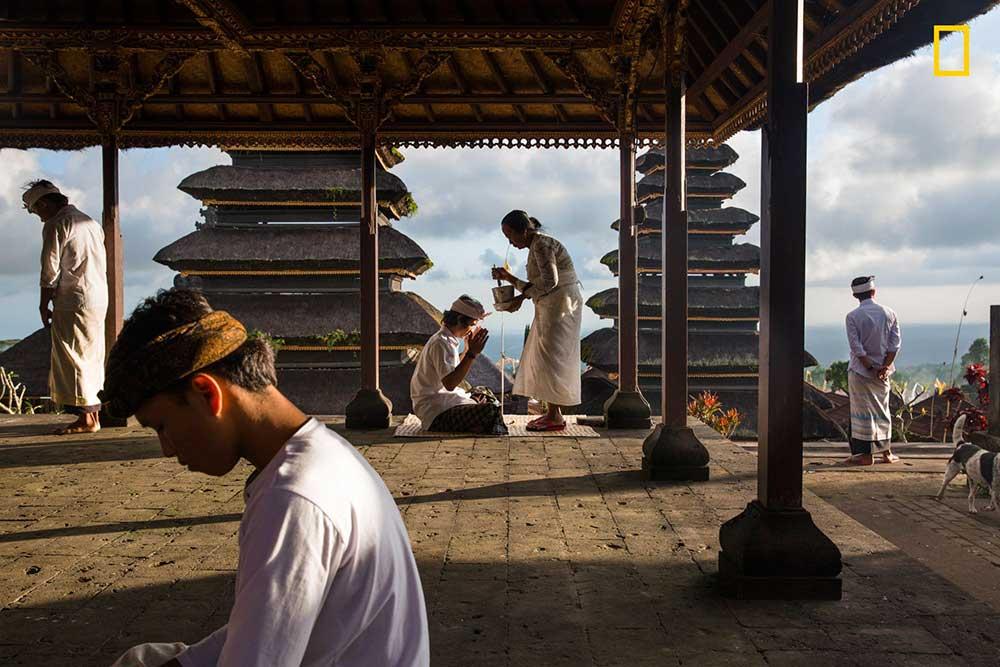 BesakihTemple has been known as Bali's 'MotherTemple' for over 1000 years and is perched 1000 metres high on the southwestern slopes of MountAgung. Here Balinese often come to offer up prayer and take blessing from the temple priests or 'Pemangku' who reside there.
Photograph: Michael Dean Morgan/National Geographic Travel Photographer of the Year