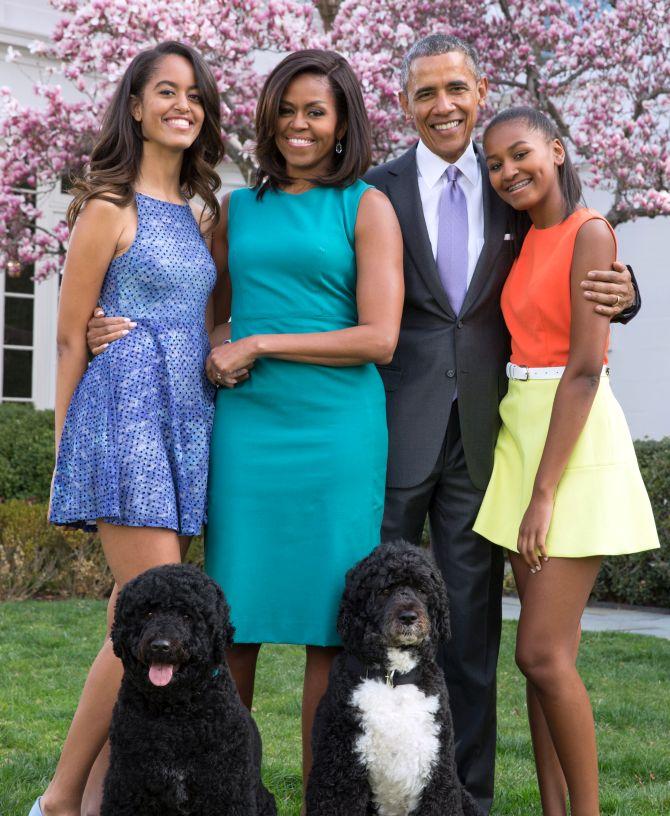 Barack Obama is a president we all will miss.
As Obama departs office, his wit, his charisma, his oratory skills, his optimism are all qualities we will remember him by.
He was a great Commander-in-Chief, but he was also a great dad and a great husband and these photos will surely give you some #familygoals.
When President Barack Obama took office in 2009, Malia and Sasha were just 10 and seven years old, respectively; with Sasha being the youngest child to live in the White House since JFK, Junior. The Obamas -- Barack and Michelle -- have been able to wonderfully balance raising their two daughters with a normal childhood in an extraordinary setting.
Photograph: Jason Reed/Reuters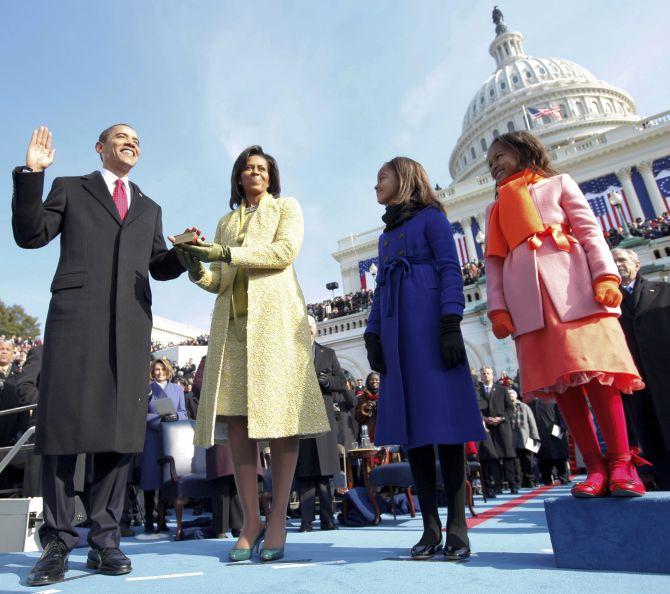 The family has always remained tight knit. Here's Barack being sworn in as the 44thUS president back in 2009. Don't Malia and Sasha look like two cute patooties?
Photograph: Chuck Kennedy/Reuters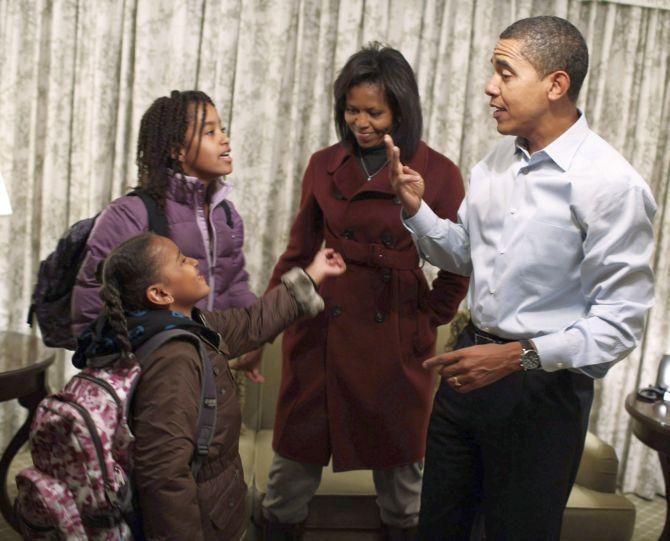 Never mind the fact that he was Commander-in-Chief and she was First Lady, Michelle and Barack are ever the doting parents. From spending time with the kids, to getting them ready for school, the Obamas were hands-on parents.
Photograph: Callie Shell/Reuters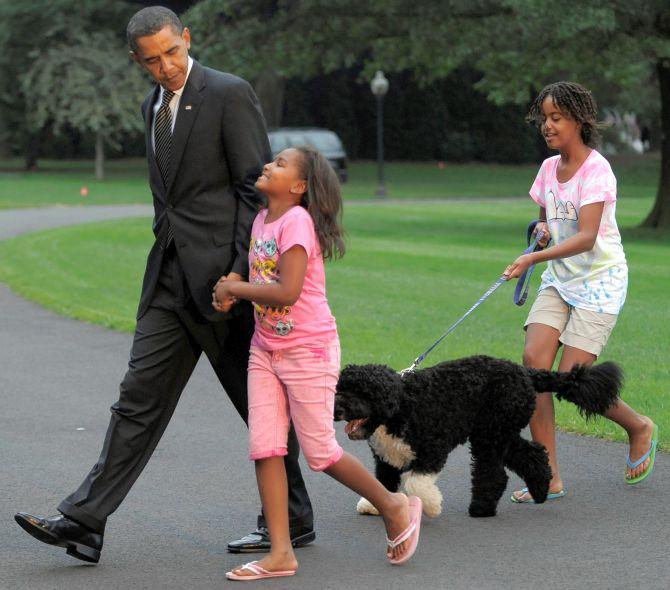 One of the things, Obama said he looked forward to after his visits abroad were spending time with his daughters and his pooches -- Bo and Sunny. The Portuguese Water Dogs have barely known life outside of the privileged confines of 1600 Pennsylvania Avenue.
Photograph: Mike Theiler/Reuters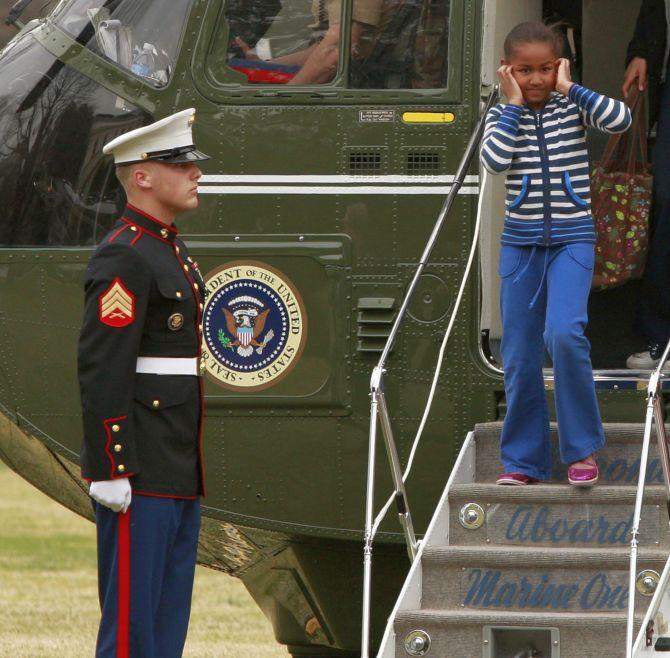 It's not everyday that a young kid gets to be on a helicopter! But, being the kid of the US president has perks and Sasha, Barack's younger daughter, has enjoyed quite a few of them. However, the chopper ride, we think, wasn't one of the perks she enjoyed.
Photograph: Jason Reed/Reuters
A smiling Obama and Sasha take a dip in the Gulf waters off Alligator Point in Panama City Beach, Florida. Thank god, there weren't any alligators in the water!
Photograph: Pete Souza/The White House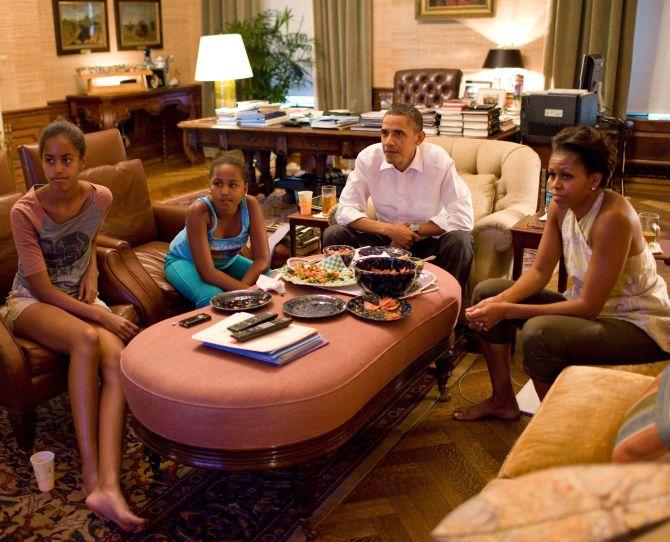 A family that watches football together, stays together! Obama's love for sports in known all over! Here's the family catching up on some America versus Japan football (or as they say in America -- soccer) action during the World Cup in 2011.
Photograph: Pete Souza/White House/Reuters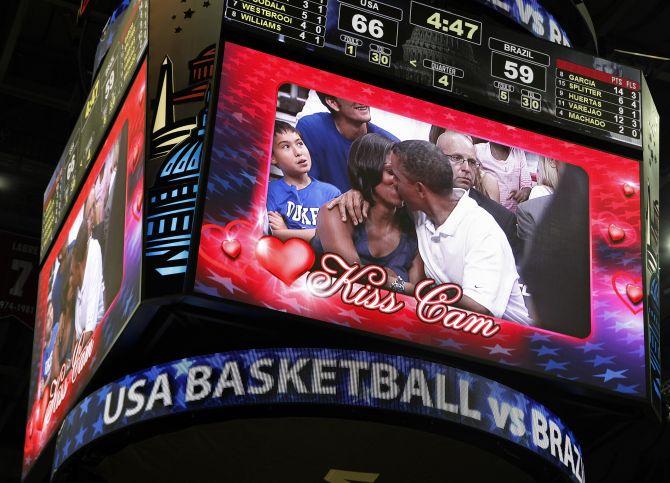 The Obamas have been unlike any other First US family. From being candid, to even displaying their romance for the world to see, the Obamas haven't been shy. Barack kissing Michelle and it being captured on the kiss cam during a basketball game remains a source of inspiration for all couples, the world over.
And we have to say… they look like good kissers!
Photograph: Jonathan Ernst/Reuters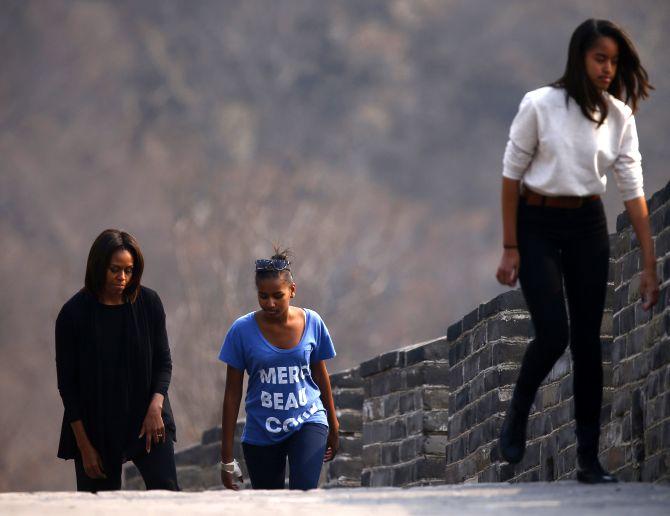 They might be 'daddy's little girls' but Malia and Sasha share a close and loving bond with their mom too. Back in 2014, the daughters and Michelle travelled to China together sans Barack. Their trip included a visit to the Great Wall of China in Beijing.
Photograph: Petar Kujundzic/Reuters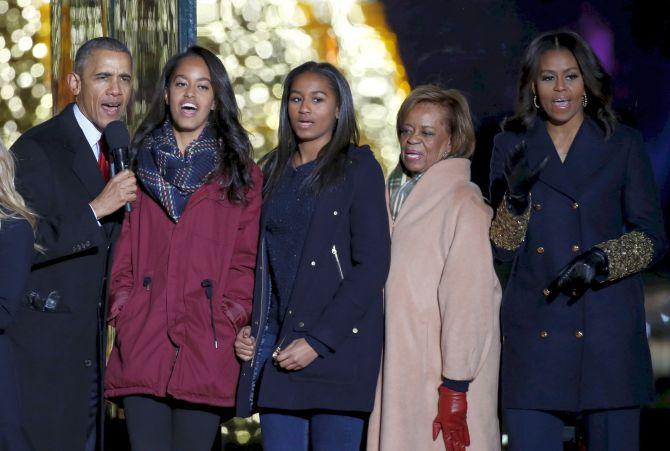 Obama has shown off his musical talents and it seems that the love for music didn't stop at Barry alone. His kids and wife, along with grandmother Marian Robinson sing carols during the national Christmas Tree Lighting and Pageant of Peace ceremony.
Photograph: Yuri Gripas/Reuters
In his farewell speech in Chicago, Obama paid honour to his daughters saying, "Of all that I have done in my life, I am most proud to be your dad. You are smart, and you are beautiful, but more importantly, you are kind, and you are thoughtful, and you are full of passion. And you bore the burden of years in the spotlight so easily."
We gotta agree with Obama… Malia and Sasha have made it all look so effortless.
Photograph: Kevin Lamarque/Reuters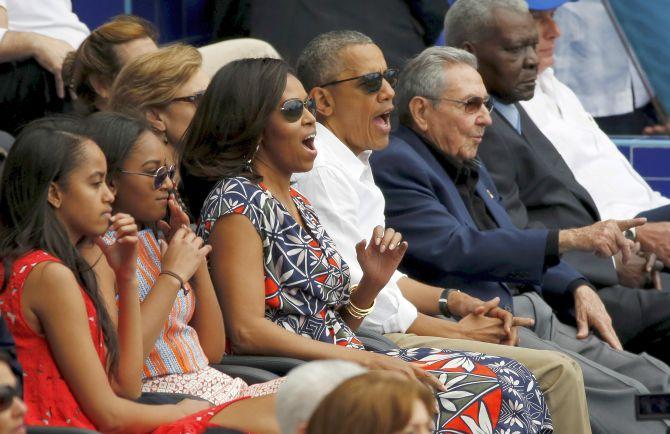 The Obama family enjoyed their holidays together may it be Cuba or any other country!
Photograph: Jonathan Ernst/Reuters