A suicide bomber has killed at least 28 people at a Shia Muslim mosque in the Afghan capital Kabul, police say.
At least 35 more people were wounded in the blast at the Baqir ul Olum mosque in the west of the city.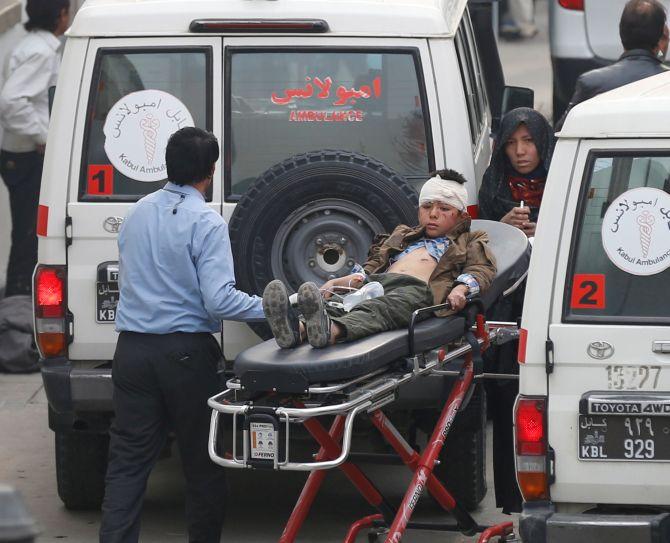 IMAGE: An injured boy is transported to a hospital after a suicide attack in Kabul. Photograph: Mohammad Ismail/Reuters
The attack came as worshippers gathered for a religious ceremony.
It is not yet clear who was behind the blast but Afghanistan's Shia have faced a series of sectarian attacks in recent months claimed by the Islamic State Sunni Muslim militant group.
Monday's bombing took place during a service to commemorate the death of Imam Hussein, the Prophet Muhammad's grandson and Shia martyr.
Witness Ali Jan said: "I was in the mosque, the people were offering prayers.
"Suddenly I heard a bang and windows broke. I had no idea what had happened. I rushed out screaming."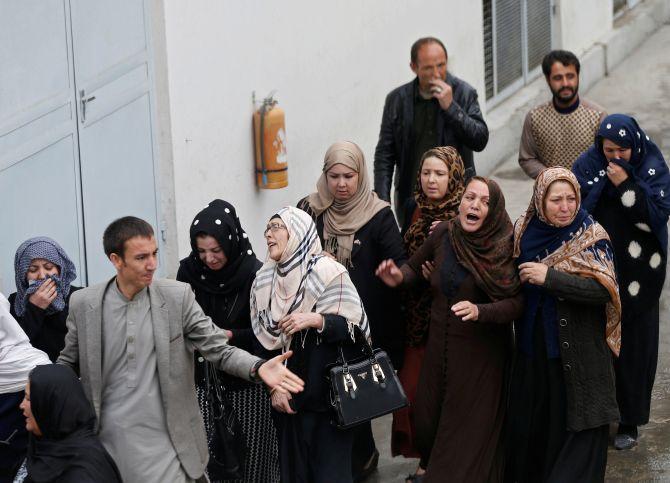 IMAGE: Relatives of victims mourn at a hospital after a suicide attack in Kabul. Photograph: Mohammad Ismail/Reuters
Bloody sectarian rivalry between Sunni and Shia Muslims has been relatively rare in Afghanistan, which is a majority Sunni country.
Government chief executive Abdullah Abdullah condemned the attack as a sign of barbarism but said Afghanistan should not fall victim to "enemy plots that divide us by titles".
"This attack targeted innocent civilians -- including children -- in a holy place. It is a war crime and an act against Islam and humanity," he said in a message on his Twitter account.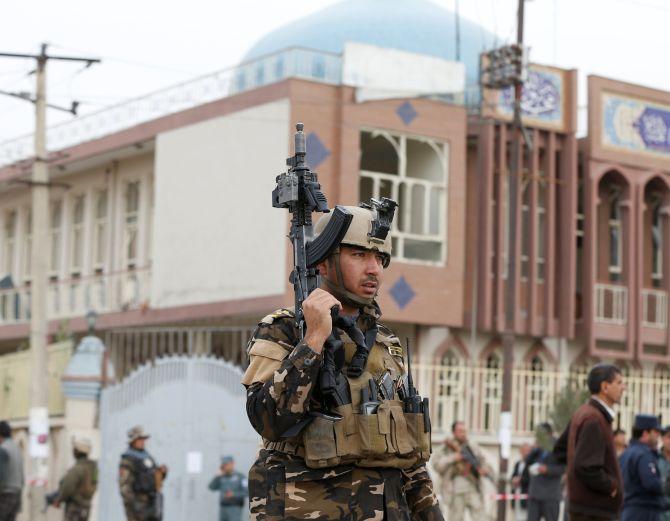 IMAGE: fghan security forces keep watch in front of a mosque where an explosion happened in Kabul. Photograph: Omar Sobhani/Reuters
An attack in July, claimed by Daesh, killed 80 people at a Shia protest march in Kabul.
More than 100 people were injured and at least 25 killed in twin Islamic State-claimed blasts using ambulances in Samarra and Tikrit in Iraq.