A teacher and a student were shot dead in a murder-suicide at an elementary school in San Bernardino, California.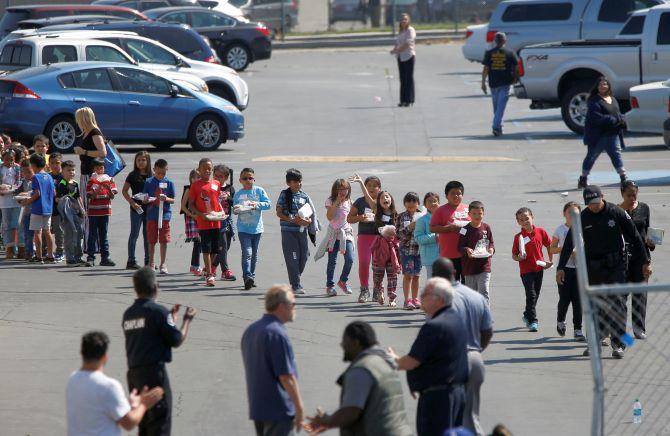 IMAGE: Students who were evacuated after a shooting at North Park Elementary School walk past well-wishers to be reunited with their waiting parents in San Bernardino, California. Photographs: Mario Anzuoni/Reuters
Another child caught in the crossfire was rushed to a hospital and said to be in critical condition.
"This does appear to have been a murder-suicide with both male adult and female adult victim succumbing to injuries, with the male succumbing to a self-inflicted gunshot wound," Lieutenant Mike Madden of the San Bernardino Police Department told a news conference on Monday.
"We had two students who were tragically injured and are listed as critical at this stage in area hospitals."
Police later confirmed that one of the students, eight-year-old Jonathan Martinez, had died.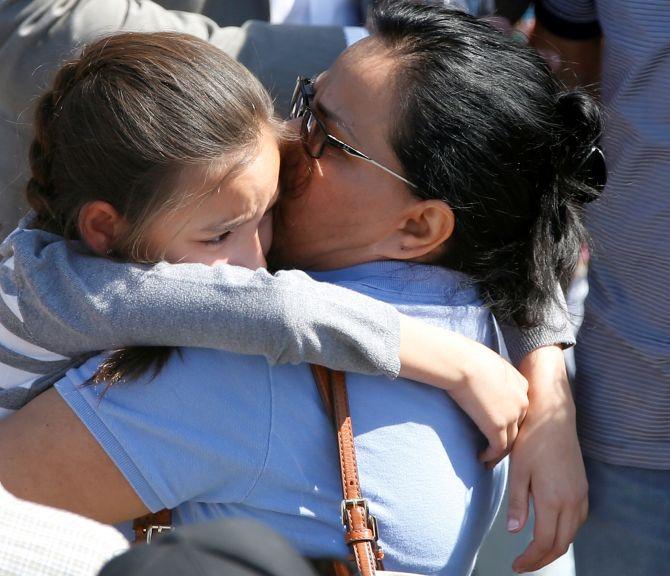 IMAGE: A student embraced her mother after the shooting got over.

Police identified the gunman as local resident Cedric Anderson, 53, and said the teacher, Karen Elaine Smith, also 53, was his estranged wife.
Students at North Park Elementary School -- which has around 500 students between kindergarten and sixth grade -- were transported to a nearby campus.
"Police operations are continuing to secure the area. However, we do believe the threat is down," city Police Chief Jarrod Burguan said.
Some parents, who rushed to the scene of the shooting immediately after news of it broke on Monday morning, were able to go home with their families straight away.
One young student described being evacuated from her class after being reunited with her mother outside the school.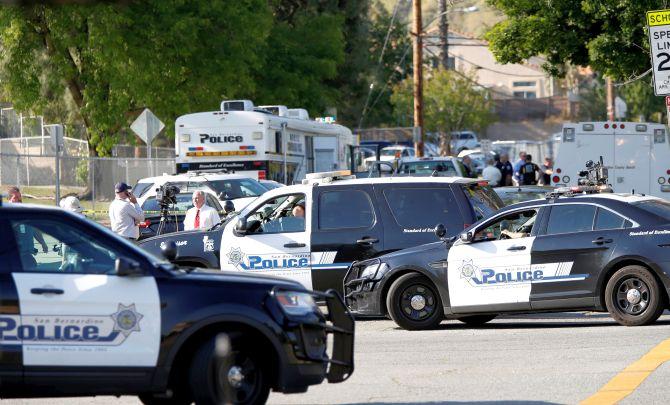 IMAGE: Police vehicles are pictured after the shooting.
"All of the kids started running out. It was pretty scary," the child said through tears.
San Bernardino was the site of a mass shooting in December 2015 that left 14 people dead at a holiday party at the Inland Regional Center.
The shooters -- married couple Syed Rizwan Farook and Tashfeen Malik -- were killed hours later in a police shootout.
The shooting comes as San Bernardino has seen a major increase in violence.
There were 62 slayings in San Bernardino in 2016 -- a 41% increase from the year before.