Former United States President Bill Clinton spoke at his 10th convention, but this time, it was in a different role: He was the first husband to give a speech on behalf of his wife as the nominee of a major party.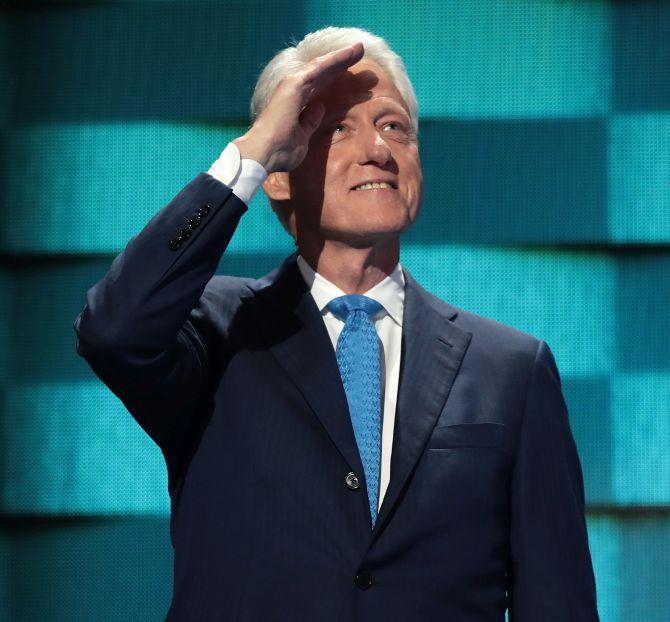 IMAGE: Former US President Bill Clinton delivers remarks on the second day of the Democratic National Convention. Photograph: Drew Angerer/Getty Images
Making a strong case for his wife Hillary's presidency bid, charismatic former United States president Bill Clinton on Wednesday narrated his personal story with "a girl" he met in 1971 to emphasise that she is "uniquely qualified" for the top job and the "best change-maker" he has ever known.
"Hillary will make us stronger together. You know it because she spent a lifetime doing it," Bill said in his address to the Democratic National Convention in Philadelphia, hours after the party nominated his wife Hillary as its presidential candidate for the November elections.
"She is still the best darn change-maker I have ever known," the 69-year-old former president said in a mesmerising speech, asking his countrymen to vote and elect Hillary as the next US president.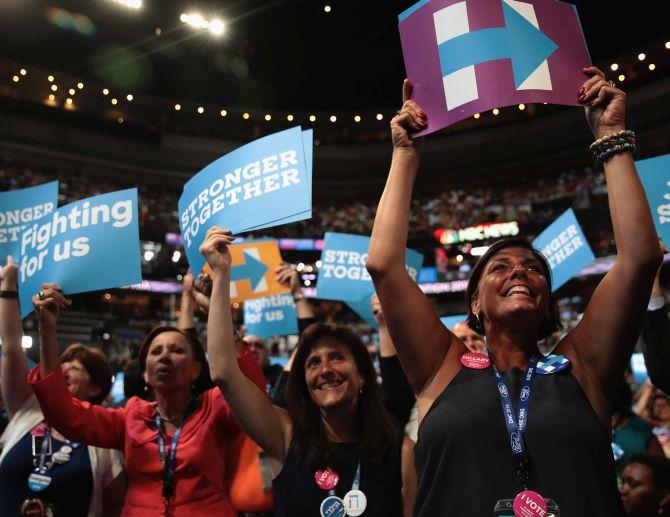 IMAGE:

Delegates hold up signs and cheer on the second day of the Democratic National Convention. Photograph:
Win McNamee/Getty Images
Scripting history, the 68-year-old former secretary of state became the first woman to win the presidential nomination of a major US party as she secured the backing of the Democrats to set up an epic clash with Republican rival Donald Trump in the November polls.
Bill, who was the 42nd president of the US from 1993 to 2000, said, "Hillary is uniquely qualified to seize the opportunities and reduce the risks we face. And she is still the best darn change-maker I have ever known. You could drop her into any trouble spot, pick one, come back in a month and somehow, some way she will have made it better. That is just who she is".
Hillary, he argued will make US stronger.
"You know it because she's spent a lifetime doing it. I hope you will do it. I hope you will elect her. Those of us who have more yesterdays than tomorrows tend to care more about our children and grandchildren," Bill argued.
"The reason you should elect her is that in the greatest country on earth we have always been about tomorrow. You children and grandchildren will bless you forever if you do," the former US President said.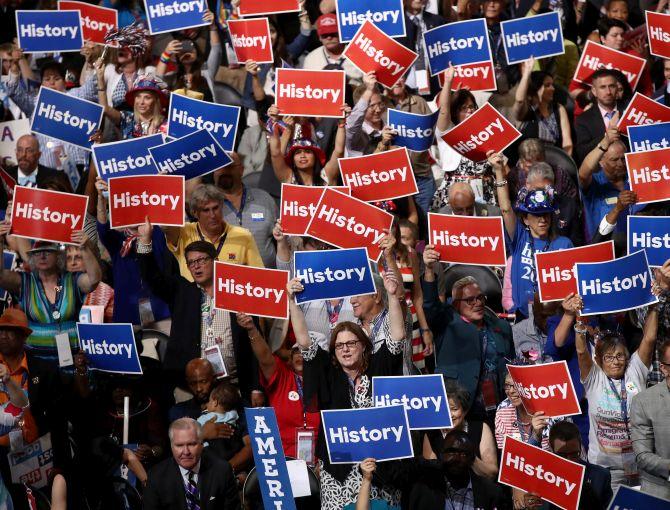 IMAGE: Chants of 'History' broke out after Hillary was elected as the Democratic presidential nominee. Photograph:

Drew Angerer/Getty Images
Without even once taking Trump's name, Bill said the opponent is made up while his spouse is real.
"One is real, the other is made up," he said amidst cheers from the audience.
"You just have to decide. You just have to decide which is which, my fellow Americans. The real one had done more positive change-making before she was 30 than many public officials do in a lifetime in office," Bill said.
"The real one, if you saw her friend Betsy Ebeling vote for Illinois today has friends from childhood through Arkansas, where she has not lived in more than 20 years, who have gone all across America at their own expense to fight for the person they know," he said.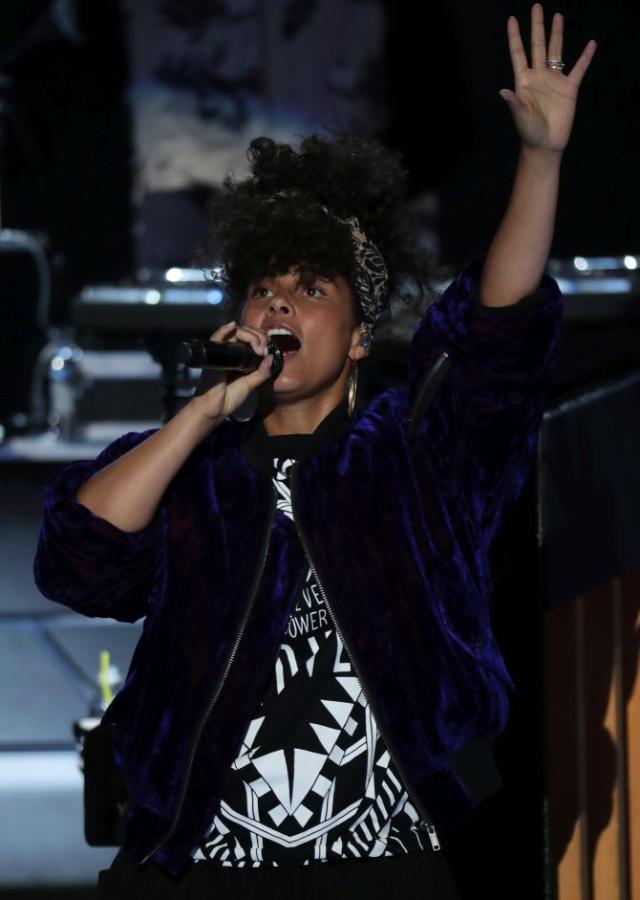 IMAGE: Alicia Keys performed at the convention with a message of gun control. Photograph:

Alex Wong/Getty Images
Bill also narrated his personal story of how he met his wife to highlight her qualities.
"In the spring of 1971 I met a girl," Clinton told his cheering Democratic supporters in this city.
In the next 42 minutes, Bill, through the little-known personal stories with Hillary, tried to carve out a picture of his wife as one who could be the most qualified person to lead the country for the next four years.
"The real one calls you when you're sick, when your kid's in trouble or when there's a death in the family. The real one repeatedly drew praise from prominent Republicans when she was a senator and secretary of state," Bill said.
"So what's up with it? Well, if you win elections on the theory that government is always bad and will mess up a two-car parade a real change-maker represents a real threat," he said.
IMAGE: Meryl Streep spoke at the convention citing a number of other women who achieved firsts, like Sandra Day O'Connor, the first female Supreme Court justice, and Geraldine Ferrero, the first female on a major party ticket. Photograph:

Drew Angerer/Getty Images
If elected in the November 8 polls, Hillary would become America's first female president and commander-in-chief.
"So your only option is to create a cartoon, a cartoon alternative, then run against the cartoon. Cartoons are two-dimensional, they're easy to absorb. Life in the real world is complicated and real change is hard. And a lot of people even think it's boring," Bill said.
"Good for you, because earlier today you nominated the real one. Listen, we've got to get back on schedule. You guys calm down," the former US president said.