He's known for his hugs, but this was one Prime Minister Narendra Modi was not expecting.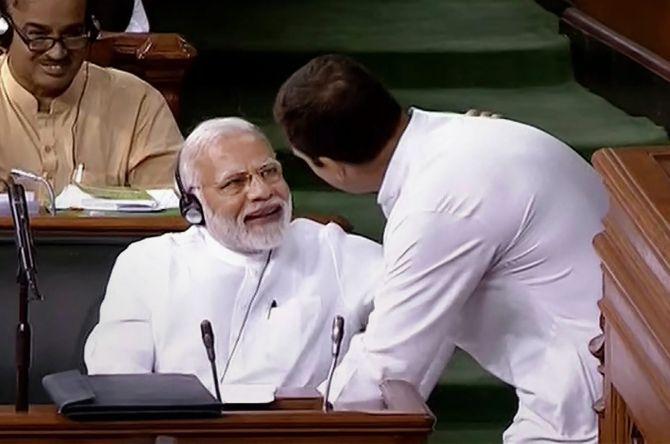 After a no-holds barred and scathing criticism of Modi on several issues including Rafale jet deal, Congress president Rahul Gandhi walked across to the prime minister and hugged him, a gesture which took the Lok Sabha members by surprise.
WATCH: When Rahul caught everyone by surprise
Modi, who initially looked non-plussed and did not stand up to hug him, recovered quickly and called Gandhi back and patted him on the back.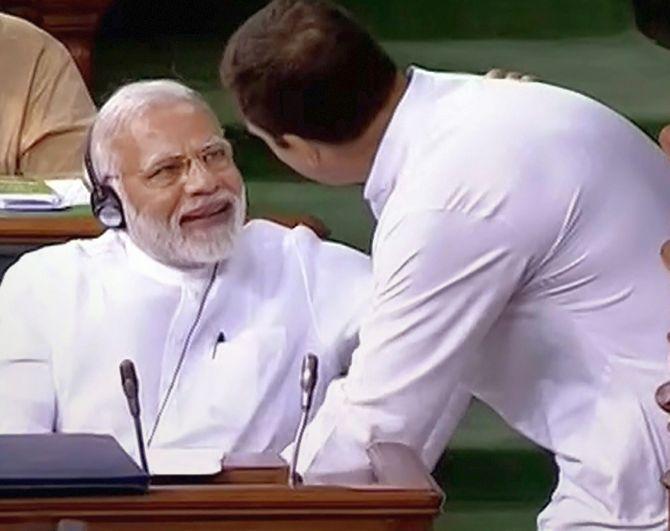 "This is what it means to be a Hindu," Gandhi said after coming back to his seat amid a big applause from his party members, including his mother Sonia Gandhi and other leaders present.
Sharply criticised for his reported remarks that 'Congress is a Muslim party', Rahul Gandhi said, "Prime Minister Modi, BJP… have taught me what it means to be a Congress person, the meaning of being a real Indian, and what it means to be a real Hindu. For this, I thank them."
He also said his opponents may hate him, call him 'Pappu' but he has no anger, hatred against the PM and the Bharatiya Janata Party.
Gandhi was also seen winking and smiling after going back to his seat.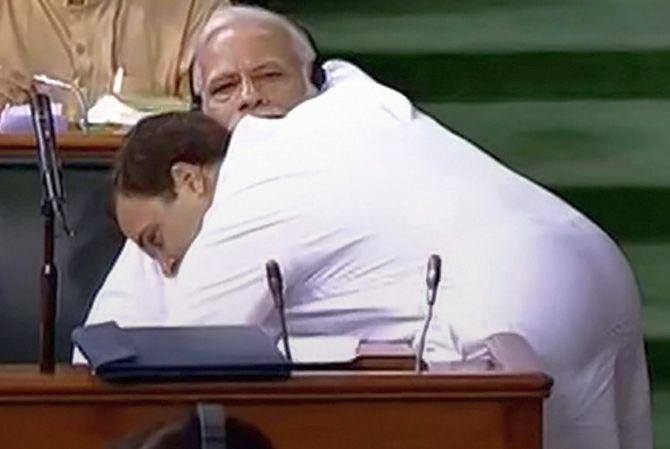 However, Lok Sabha Speaker Sumitra Mahajan reprimanded Gandhi for giving a hug to the PM as a 'drama' and said everyone must maintain decorum in Parliament.
Mahajan said she was not opposed to Rahul hugging any individual but everyone has to maintain decorum in Parliament.
"We have to maintain decorum as an MP. Outsiders cannot maintain decorum. I want that everyone should live in harmony. No one is my enemy, Rahul is like my son," she said.
Without taking anyone's name, the Speaker said she did not like the hug as 'he (Modi) is the prime minister'.
"There is a decorum for every Parliamentarian. I am also a mother. At that time he was the Prime Minister. We should maintain the decorum of the House. I thought what drama was happening," she said, apparently referring to Rahul's hug.
Referring to the Rahul's hug, Home Minister Rajnath Singh said the incident reminded him of the 'Chipko Movement', a forest conservation movement in Garhwal Himalayas where people embraced the trees to prevent them from being cut.
"Chipko movement has started in Parliament. This is not good," Singh said.
With ANI inputs