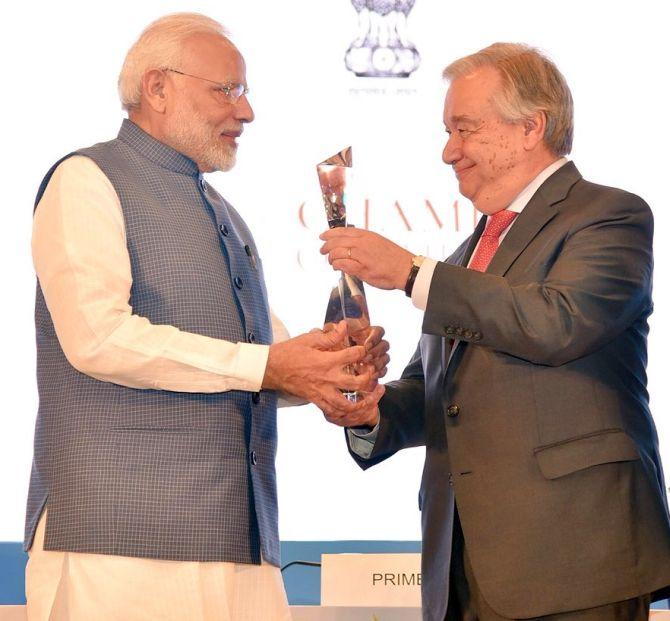 A clean and green environment is at the root of his government's policies, Prime Minister Narendra Modi said in New Delhi on Wednesday as he was presented the UN's Champions of the Earth Award by United Nations Secretary General Antonio Guterres.
Modi and French President Emmanuel Macron were jointly awarded the UN's highest environmental honour for their pioneering work in championing the International Solar Alliance and promoting new areas of cooperation on environmental action, according to a statement from the United Nations Environment Programme (UNEP).
In his address, Modi said climate and calamity are linked to culture, and it will be difficult to avoid calamity as long as concerns for the climate do not become a part of culture.
From agriculture and industrial policies to building houses and construction of toilets, the need for a clean environment has been driving his government's programmes, Modi said.
India's commitment to environment has only increased, he said, adding that his government is working to bring down 'emission intensity' by 20-25 per cent in the next two years against its 2005 figure and by 30-35 per cent by 2030.
"We have also pledged to get rid of single-use plastics by 2022," he said in his speech.
Citing ancient Hindu shlokas and texts, the prime minister also referred to India's traditions to assert that respecting nature had always been part of Indian society.
He said his government has succeeded in changing people's behaviour accordingly, an apparent reference to 'Swachhta Abhiyan' (cleanliness mission).
The honour bestowed on him is a recognition of Indian tribes living in forests who respect trees more than their lives, its fishermen who capture only as much fish as they need to earn their living and farmers whose lives are intertwined with the cycle of seasons, he said.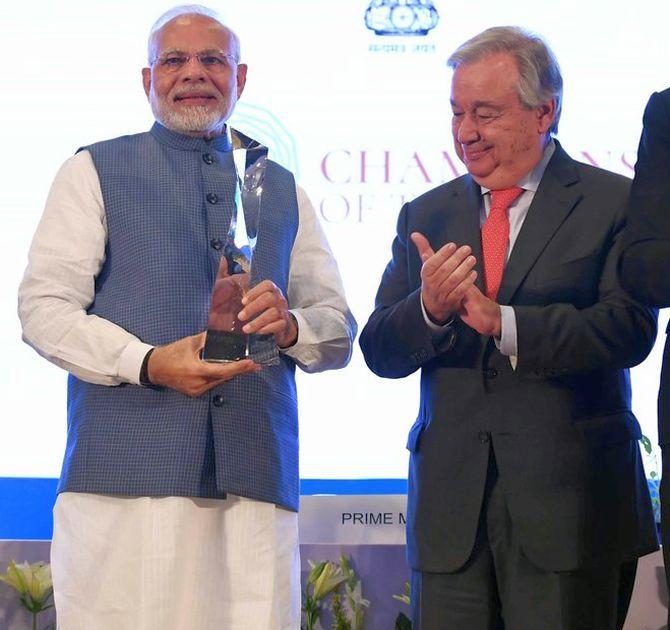 Photographs: Press Information Bureau
It is also an honour for Indian women who have worshipped trees as gods. 'Reuse and recycle' have always been a part of their lives, the prime minister said.
Indians have always treated nature as a living organism, he said.
The poor are the worst victims of climate change, he said, adding that his government has been pursuing policies to further quicken the rate of economy growth to give them a life of dignity.
Crores of people have come out of extreme poverty in the past few years, Modi said.
Cutting-edge technology and renewable energy are the basis of his government's 'smart city' project, while 'per drop, more crop', soil health card and organic farming are a priority in agriculture, he said.
Modi said he had spoken about 'climate justice' during the Paris agreement, which was signed in 2016 with an aim to deal with climate change.
The whole world has committed to it but a lot needs to be done to execute it on the ground, he added.
The UN Secretary General said technology is on the side of those who believe in a green economy.
"We are recognising a statesman who embodies true leadership. In PM Modi we have a leader who realises the issue of climate change and understands the benefits of climate action. He knows the problems and also works to solve them.
"A green economy is a good economy. Technology is on the side of those who believe in a green economy. Those who believe in a grey economy have a grey future," Guterres said.
External Affairs Minister Sushma Swaraj said the prime minister had asserted on the world stage that India would always adhere to its commitments and complete various targets before time.
"It is such a thought process that is being honoured today. PM Modi has always believed that we can conserve our environment and move on the path of development. I remember him saying if we face power shortage we will look to the rays of the Sun and work on solar energy," she said.
"The award is a fitting recognition of his leadership towards making our world a cleaner place. He was firm that the agreement in Paris has to stay and the world must come together," she added.
The Union Minister for Environment, Forest and Climate Change, Harsh Vardhan, said that the government has introduced several policies and programmes and Swachh Bharat Mission has been one of the world's biggest people's movements successful in making remarkable strides in cleanliness and sanitation, in environmental protection and uplift of the poor and downtrodden.
"Today, our villages are becoming cleaner and deaths due to diarrhoea are history. The government has pledged to eliminate single use plastic by 2022," Harsh Vardhan said.
Referring to the 'Green Good Deeds' -- a societal movement to protect environment and promote good living in the country, the Environment Minister urged the people to undertake one 'Green Good Deed' everyday.
Champions of the Earth is the highest UN honour in the field of environment. The award recognises outstanding figures from public and private sector as well as civil society, whose actions have brought about a positive impact and a transformation on environment.
The Champions of the Earth award was launched in 2005 and is presented in five categories -- Lifetime Achievement, Policy Leadership, Action and Inspiration, Entrepreneurial Vision and Science and Innovation. Since its inception thirteen years ago, the awards have recognised 84 laureates.