In a 'non-political interview' with Bollywood actor Akshay Kumar, Prime Minister Narendra on Wednesday spoke about his life, family and other 'non-political' issues.
Here are some of the highlights of the chat.
'Mamata sends me personally-selected kurtas and sweets '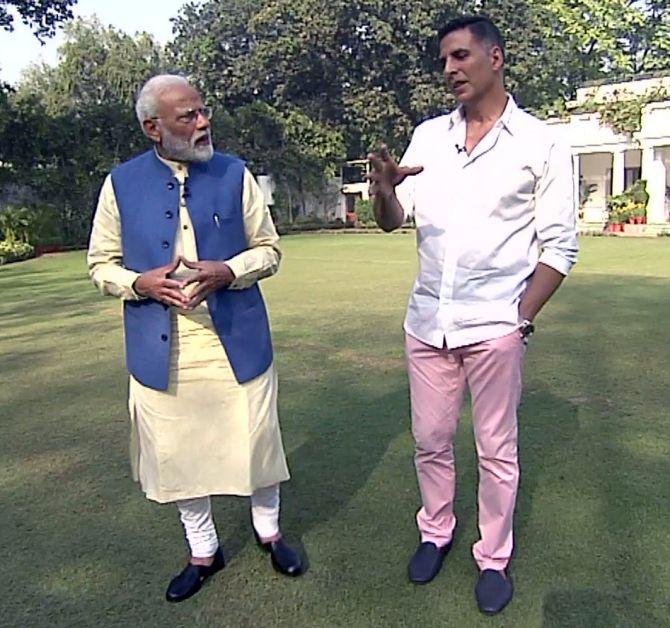 Prime Minister Narendra Modi said that he has many "good friends" in the opposition and added that West Bengal chief minister Mamata Banerjee sends personally-selected kurtas and sweets to him.
"I have many good friends in the Opposition. We do eat food together once or twice a year. Long time back when I was not even the chief minister (of Gujarat), I had gone to Parliament for some work. There Ghulam Nabi Azad and I were having a friendly conversation," Modi said.
"When we came out media people asked, how can you be friends with Azad as you belong to the RSS. Ghulam Nabi gave a good answer: Hum dono saath khade se, bola dekho bhai bahar jo aap log sochte ho, aisa nahi hai. Shayad ek family ke roop me hum log jitne jude hue hain sabhi dal ke log, wo shayad bahar kalpana nahi kar sakte (While we two were standing, he said that what you people think outside, it's not like that. Maybe the way we the people of all the organisations are connected as a family it can't be imagined outside)," he further added.
"Mamata didi saal me aaj bhi mujhe ek-do kurte wo khud select karne jati hain (Even today Mamata herself selects one-two kurtas for me in the year). She sends one-two kurtas for me. Even Bangladesh Prime Minister Sheikh Hasina sends sweets to me three-four times in a year especially from Dhaka. When Mamata didi got to know this, then she also sends sweets for me one or two times in a year," he added.
Interestingly, Mamata has mostly been critical about Prime Minister Narendra Modi-led National Democratic Alliance government and has openly opposed their various initiatives including goods and services tax and demonetisation.
On Sunday, Mamata had accused Modi of causing hardships to the people through demonetisation and said the electorate in West Bengal will pay back by not casting a "single vote" for him.
The hour-long interaction between the prime minister and the 'Khiladi' star was on a non-political theme, delving into the life of Narendra Modi as the PM.
'Never dreamt of becoming PM'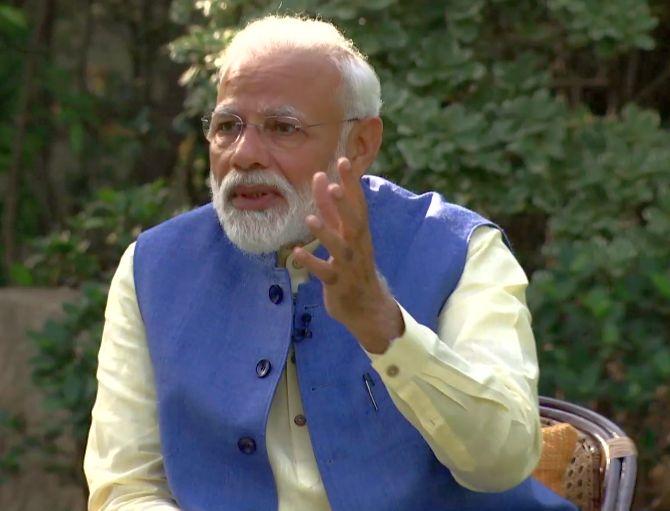 Talking about his childhood, Modi said he never dreamt of becoming the prime minister because he had a very humble beginning.
"I never thought of coming this far because as a child I had not seen anything beyond the village. The journey started and the country took me along," he said.
Talking about his family background, Modi said, "If you look at my family background, my mother would have distributed the jaggery in the neighbourhood if I had got a good job. In my personal views, being a prime minister seems very unnatural because my background does not go with current politics."
"I am surprised that so many people are giving me love and respect," he added.
There must be a lot of peace in your family because of me: PM to Akki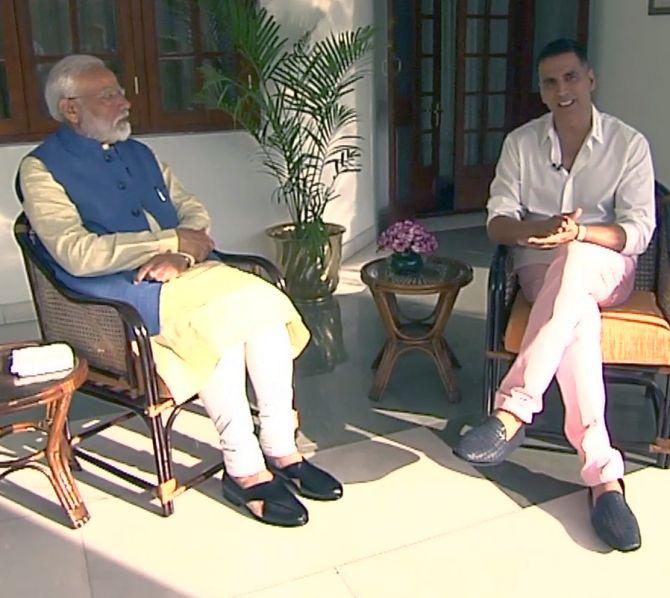 During the interview, Modi admitted to Akshay that he keeps a track of the social media and follows the tweet of the star couple.
Twinkle Khanna, who is quite active on the micro-blogging site, usually puts out humourous tweets.
In 2017, she criticised the Modi government for imposing hefty taxes on sanitary pads.
"I read yours as well as Twinkle Khanna's tweets. The way she vents anger at me, I can understand there must be a lot of peace in your family," said the PM.
He added that he met Twinkle Khanna's grandfather Chunnibhai Kapadia several years ago during a programme in Mumbai.
"There was a big drought in Gujarat, so we used to do social service and run a buttermilk centre. It was then I met her maternal grandfather Chunnibhai, who gave us a huge donation. We had a lengthy discussion."
Later Khanna reacted on Twitter, saying," I have a rather positive way of looking at this. Not only is the Prime Minister aware that I exist, but he actually reads my work."
Secret behind Modi's energy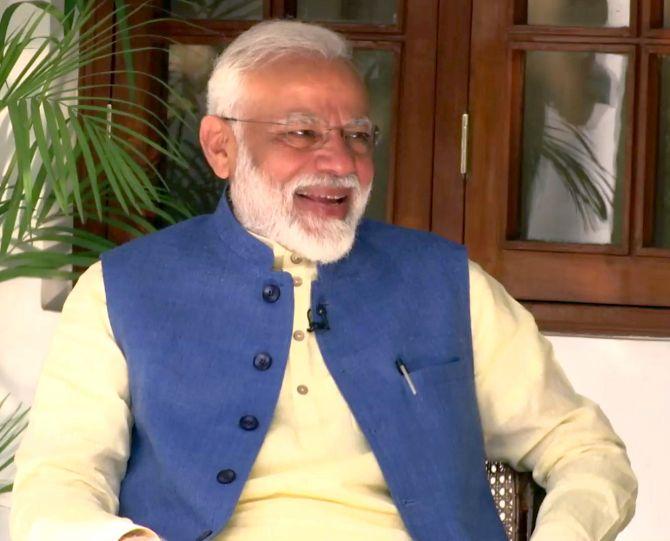 Unlike the current generation which turns to allopathic medication for even something as small as cold, cough or headache, Prime Minister Narendra Modi relies on Ayurveda.
Modi said instead of rushing to doctors he swears by simple home remedies.
He shared his personal 'nuskas' which he uses to combat common cold, take care of his skin and sooth body pain.
The treatment of common cold and cough always lies in simple home remedies. PM Modi revealed that he treats his cold by drinking hot water and observing a fast to get rid of the illness.
"If I get cold, I drink warm water, without adding anything to it. I also go on fasting for about two days," he said.
PM Modi also spoke about the benefits of mustard oil when battling cold and said, "I use mustard oil to treat my cold. I warm it a bit at night and put a few drops in my nostrils at night. It burns a bit, but it helps. The oil clears my congestion in just two days."
So take a cue from the PM and started drinking warm water when suffering from cold because it will definitely help sooth your blocked nose and sore throat.
When it comes to medications, Prime Minister Modi tends to choose the way which has the least possibility of side effects. PM Modi sticks to Ayurveda.
"You will be surprised to hear, I have lived such a tough life. I have never depended on a doctor or expensive medicines," Modi said.
Modi also spoke about the benefits of Assamese Gamosa and how he used to always carry it with him while walking for long distances.
"I always used to carry Assamese Gamosa with me while walking for long distances especially in mountainous regions to sooth my foot pain. I used to tie it on my feet and add a small wood stick in between it to sooth the pain."
Modi also shared the benefits of using castor oil for skin.
"I went on Kailash Yatra a couple of years back. Total distance was about 1000 kms, I had to walk for this long. A lot of other people were there with me. They were using very expensive products to take care of their skin. I just had raw castor oil with me and I used to only use that," PM Modi said.
"After six days their skin started burning. Nothing happened to me so they asked me what do you use to take care of your skin, I told them I do nothing special just use castor oil. Then every night people used to take a few drops of castor oil from me," he added.
Apart from simple home remedies and Ayurveda, Modi also stressed upon maintaining a healthy lifestyle, eating on time and consuming a healthy diet. He also gave tips on anger management issues.
'I enjoy memes on me'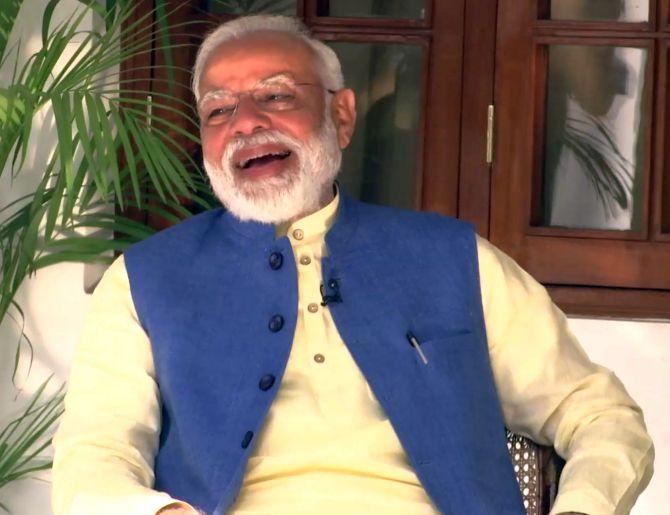 Modi said that he enjoys watching memes made on him and appreciates the creativity.
"I enjoy it. I see 'Modi' less in it and creativity more... The biggest benefit of social media for me is that I get to see and understand the creativity and psyche of the masses. Social media gives me something which is entirely different from what is otherwise available," Prime Minister Modi said.
"There are few people who intentionally do it. At that time if you keep yourself stable, then that person's intentions fail. If you react and respond to them, then they get happy," he added.
This is how Modi manages his anger
Modi said that he never gets angry.
Modi told Kumar that he believes that anger entails negativity.
"I do not express my anger as it leads to negativity," he said.
"Over the years I have trained myself in a way that I don't express anger, instead, I try to get best out of the situation by inspiring others," he added.
On being asked by Kumar that PM Modi is known for his strictness, He said, "I am strict and disciplined but I do not get angry or insult any person."
He asserted that "being strict, disciplined and getting angry are two different things."
The PM further explained, "If something unpleasant happens, then I write about it on a piece of paper and then tear that paper. I repeat the process again till the time I calm down. By doing this I feel that I have vent out my anger, in the end I tear that away."
'Was never very attached to my family'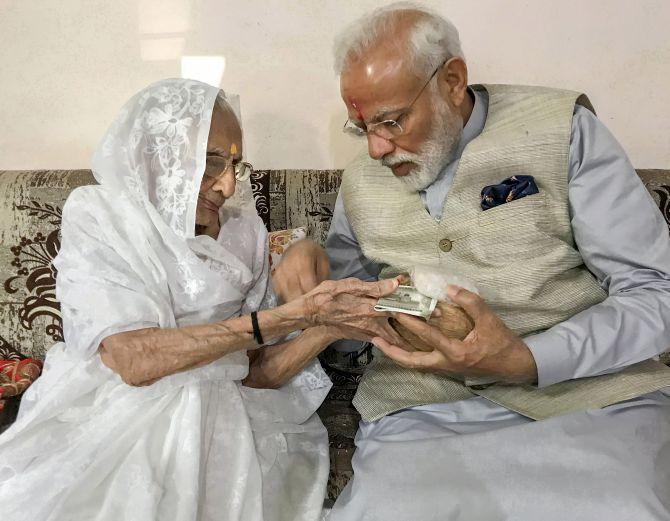 Modi said that he does not live with his family because he grew apart from them at an early age.
The prime minister said that he is not attached to anyone but his mother.
"If I had left my home after becoming the prime minister then I could have missed my family. But I left my home at a very young age and was never very attached to my family," he said.
"I called my mother here, to spend some time with her, but I was not able to do that due to my hectic schedule. I could only manage to share meals with her sometimes as I was busy...Even my mother felt that I have a very tight schedule and it is not possible for me to spent time with her," he added.
When Obama told Modi to 'sleep hard'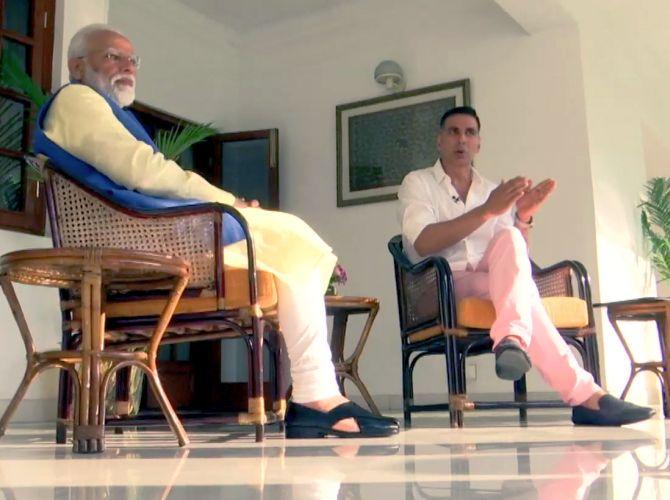 Modi also talked about his friendship with former United States president Barack Obama.
"When President Obama and I met, he expressed concern about my sleeping patterns. He asked me why I sleep so less," Modi said.
He added, "(Obama) bole tu aisa kyun karta hai? Tujhe aaj pata nahi hai yeh tera nasha hai kaam ka. Tum karte rahoge. Lekin tum bohot apna nuksan kar rahe ho. (Obama told me that I am a workaholic and that I am harming myself)."
"Whenever he (Obama) meets me, he asks whether I have increased my sleep timing or not," Modi said.
Why does Modi avoid humour?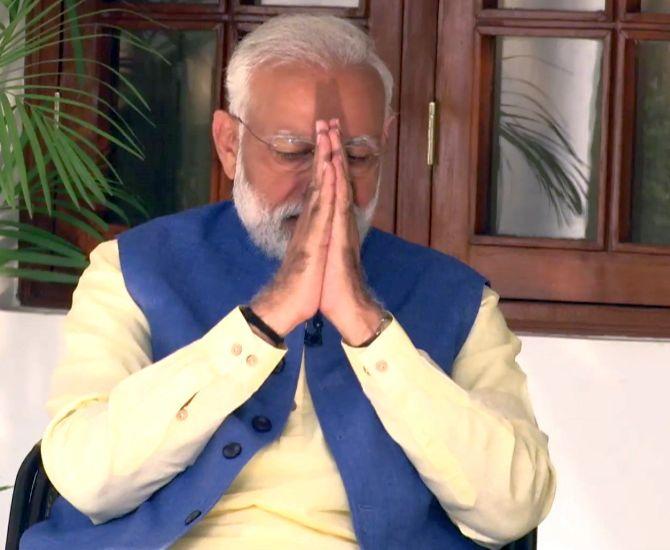 Modi said that he avoids using humour as he fears that his comments could be twisted and misinterpreted.
"I have always used humour to lighten a difficult situation. But nowadays I fear that my words will be twisted and misinterpreted," he said.
"I still joke around with my friends and officers," he added.