The families of the two slain Central Reserve Police Force jawans from Haryana on Wednesday demanded that the government give a free hand to the security forces to deal with the Naxalites.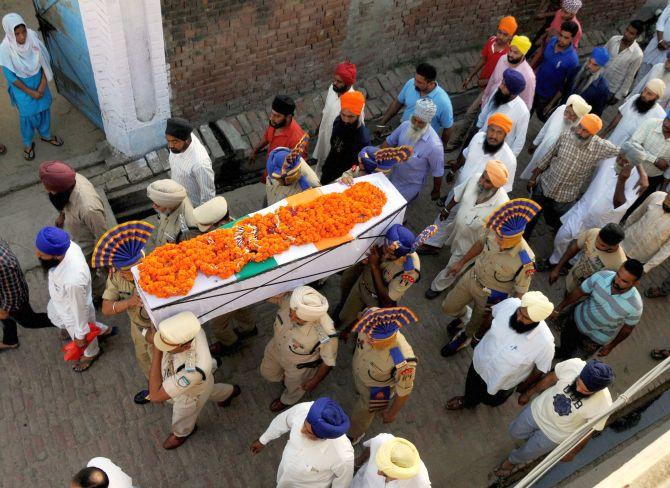 IMAGE: CRPF martyr Inspector Raghbir Singh being carried during his funeral in village Sathiala, some 50 km from Amritsar on Tuesday. Photograph: PTI Photo
As the last rites of CRPF ASI Naresh Kumar and Constable Ram Mehar, killed in the Naxal attack in Chhattisgarh's Sukma, were conducted with full state honours, the families demanded that the government deal with the Naxalites with an iron hand.
The bodies of the two martyrs, wrapped in the tricolour, were brought in bedecked vehicles to their native villages and a large number of people including from neighbouring areas paid homage.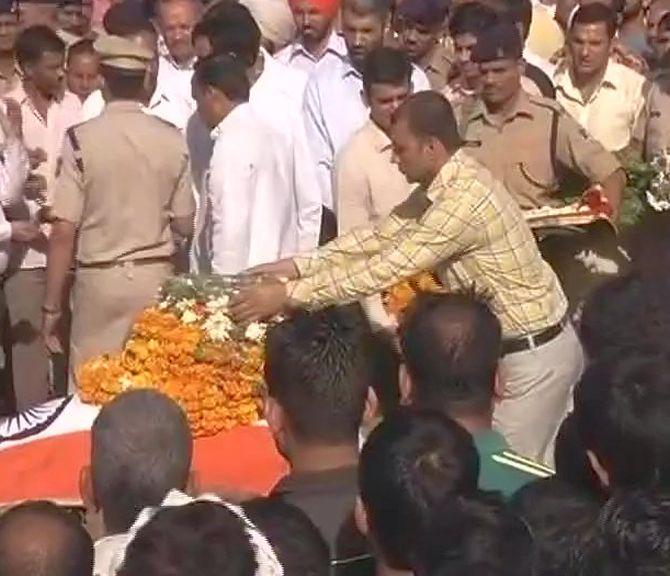 IMAGE: People pay floral tributes to CRPF jawan Ram Mehar who was killed in Naxal attack Chhattisgarh's Sukma district. Photograph: ANI
A gun salute was also given to them as a mark of respect.
ASI Kumar hailing from Jainpur village in Sonipat district of Haryana, and Constable Mehar, native of Kheri Man Singh village in Karnal district, were killed on Monday.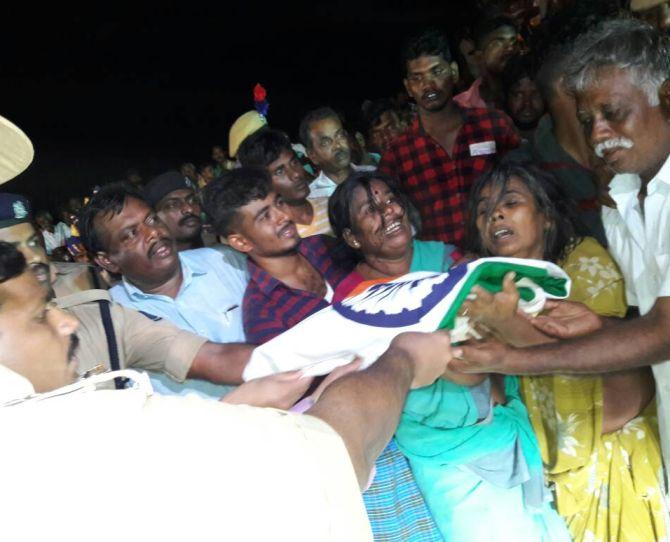 IMAGE: A CRPF official hands over the tricolour to family members of CRPF martyr Alagupandi at his village near Madurai. Photograph: CRPF/Twitter
Haryana ministers Kavita Jain and Karan Dev Kamboj were among others present at the cremation of the two martyrs at Sonipat and Indri in Karnal, respectively.
MLAs of the area, senior CRPF officials and those of the civil and police administration were also present at Sonipat and Karnal.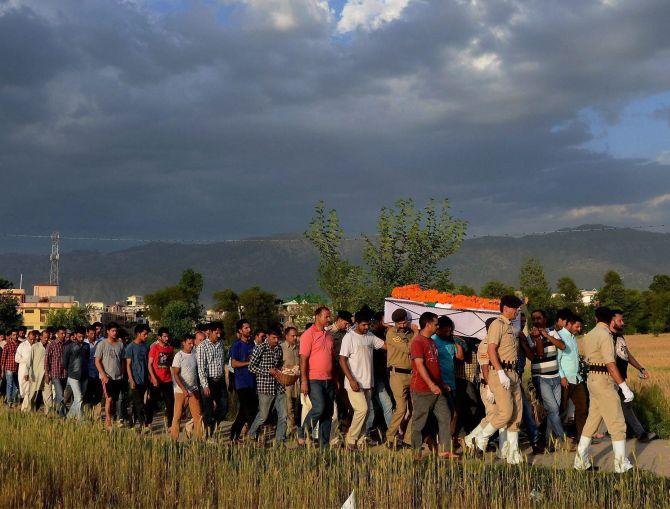 IMAGE: Relatives and family members carry body of martyr Surender Thakur at his native place, Ner Chowk Mandi. Photograph: PTI Photo
While consoling the family members of the martyr, Kavita Jain broke down and termed the Sukma attack as an act of cowardice.
Kamboj told reporters that the panchayat of Mehar's native village has demanded that a stadium in the area be named after the martyr.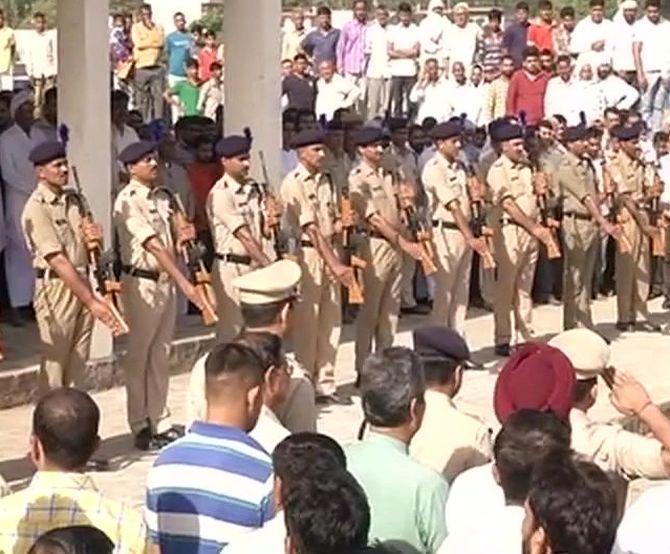 IMAGE: A gun salute was also given to Ram Mehar as a mark of respect. Photograph: ANI
The minister said the government will consider their demand.
Puran Chand, father of Mehar, said the government should give a free hand to the security forces to deal with Naxalites sternly.
"Enemies hiding within the country have been killing our soldiers. The government must tackle this issue with an iron hand," he added.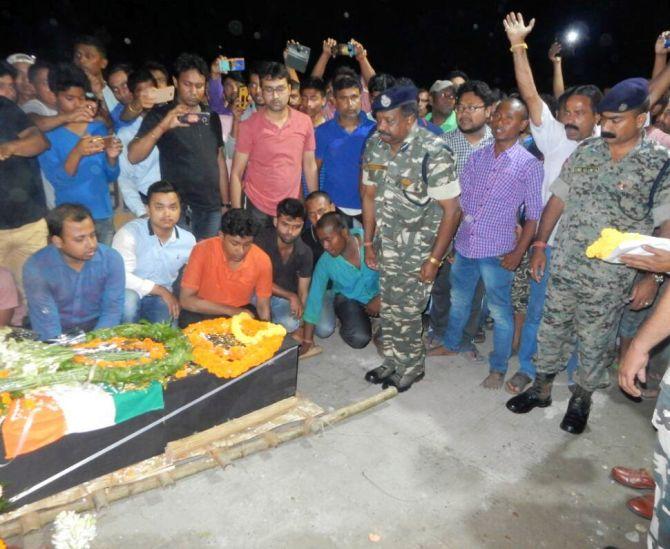 IMAGE: Last rites of CRPF jawan Binoy Chandra Barman performed at Cooch Behar, West Bengal. Photograph: text here.
Mehar is survived by wife and a minor son and daughter. Kumar is survived by wife Rajbala Devi, a daughter and two school-going sons.
Like Mehar's family, Rajbala asked the Union government to take strict action against perpetrators of the crime.
"If attacks by Naxalites are not stopped immediately they would keep inflicting heavy casualty on our forces," she said.