This might be the cutest thing that you will see on the internet on Wednesday.
A little girl who was transfixed by a portrait of Michelle Obama last week got to meet the real person on Tuesday -- and even danced with the former United States first lady.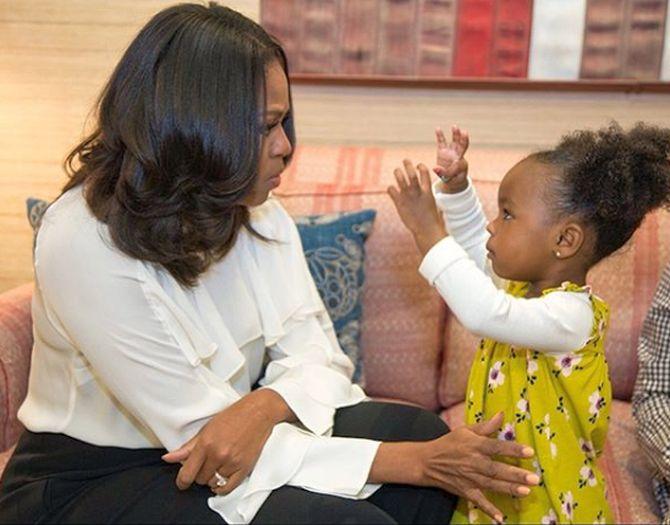 IMAGE: Former US First Lady enjoyed her time with two-year-old Parker Curry and said that she should keep dreaming big. Photograph:

michelleobama/Instagram
Parker Curry, a two-year-old Washington, DC resident, became an internet sensation when she was photographed with her mouth agape while staring in awe at the portrait of Michelle Obama which was recently hung in the National Portrait Gallery.
In a Tuesday tweet, Obama shared a video of Parker and herself dancing in her Washington office.
WATCH: Michelle and Parker groove to Taylor Swift's 'Shake it Off'
"Parker, I'm so glad I had the chance to meet you today (and for the dance party)! Keep on dreaming big for yourself... and maybe one day I'll proudly look up at a portrait of you," the tweet said.
Parker was visiting the National Portrait gallery last Thursday when Ben Hines snapped a photo of her looking at the painting.
He then posted the photo on Facebook, writing: "Donna Hines & I made a pilgrimage today and we were delighted to wait in line behind this fellow art lover & hopeful patriot."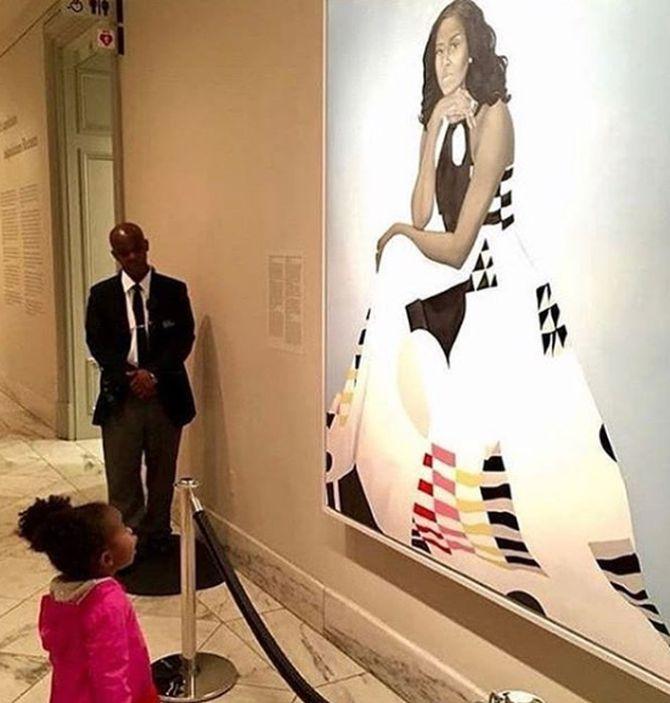 IMAGE: Two-year-old Parker Curry became an instant internet sensation when this photo of her watching Michelle Obama's portrait mouth agape when viral. Her mother later said that Parker thought Michelle was a queen. Photograph: _parkercurry/Instagram
In an interview with CNN, Parker's mother Jessica shared that Parker's awe-struck moment in front of Obama's portrait was extremely powerful because of why Parker loved the portrait so much.
"In further discussion with (Parker) yesterday and today, I realised that she believes Michelle Obama is a queen, and she wants to be a queen as well …," Jessica Curry said.
"As a female and as a girl of colour, it's really important that I show her people who look like her that are doing amazing things and are making history so that she knows she can do it."