This is the Nobel Peace Prize winner's first visit to Pakistan since she was shot in the head by Taliban militants more than five years ago.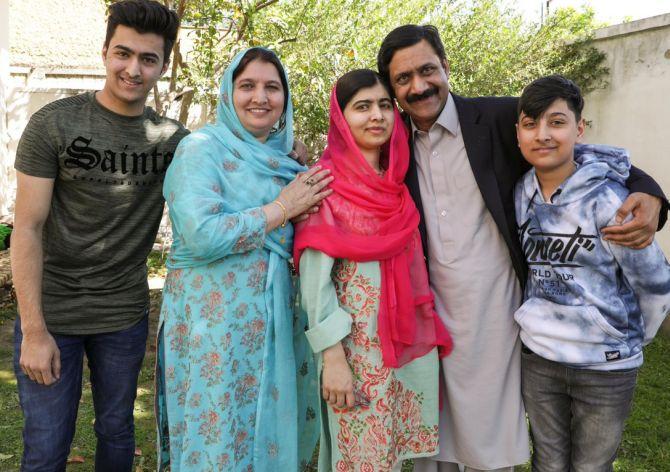 IMAGE: Malala Yousafzai in Pakistan's Swat Valley with her family. In an interview, she said she plans to return to her country once her studies are completed. Photograph: @Malala/Twitter
Malala Yousafzai, the youngest Nobel Peace Prize winner, on Saturday was in tears as she returned home in Pakistan's Swat Valley where she survived a near-fatal attack by Taliban in 2012 for advocating girls' education.
Malala, 20, reached her ancestral home in Makan Bagh in Mingora on a day-long trip along with her parents and two siblings, amid tight security, sources said.
Pakistan's State Minister for Information Marriiyum Aurangzeb also accompanied the education activist for the visit, during which she met her childhood friends and teachers after more than five years.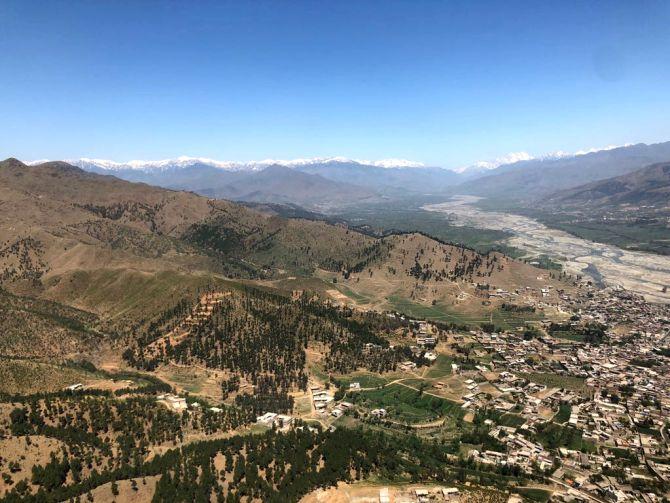 IMAGE: Malala posted this image of Swat Valley on her Twitter feed, calling it the most beautiful place on earth. Photograph: @Malala/Twitter
"Tears of joy rolled down Malala's eyes during her meeting with them. She was filled with emotions when she visited her home and met with her friends," the sources said.
After her brief stay at home, Malala, who on Thursday set foot in Pakistan for the first time since the 2012 attack, was airlifted to the Swat Cadet College where she is expected to address a ceremony, they said.
She is also expected to inaugurate a girls' school in Shangla district, they added.
In an interview to Geo News on Friday, Malala had said that she plans to return to Pakistan permanently after her studies.
"My plan is to return to Pakistan as this is my country. I have the same right on the country as any another Pakistani," she said.
She had reiterated her joy of being in Pakistan and her mission of providing education to children.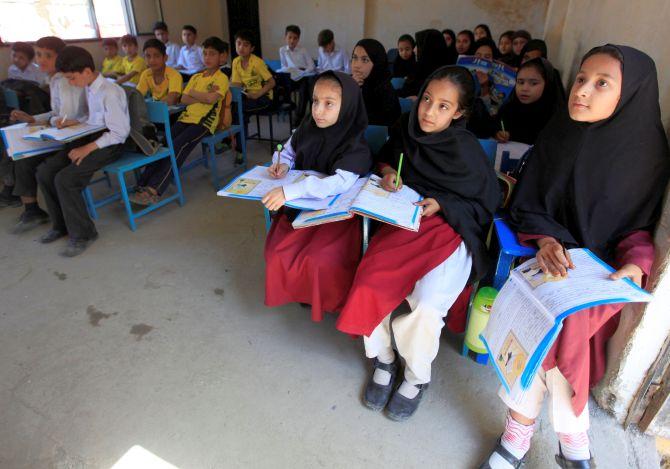 IMAGE: Children attend a class at Khushal school that Nobel Peace Prize laureate Malala Yousafzai used to attend, in her hometown of Mingora in Swat Valley, Pakistan. Photograph: Faisal Mahmood/Reuters
"We want to work for the education of children and make it possible that every girl in Pakistan receives a high-level education and she can fulfil her dreams and become a part of society," the Nobel laureate said.
Malala was shot at by a Taliban gunman in December 2012 for her female education campaigning in the Swat Valley in northeastern Pakistan.
Severely wounded, she was airlifted from one military hospital in Pakistan to another and later flown to the Great Britain for treatment.
Post the attack, the Taliban released a statement saying that they would target Malala again if she survived.
At age 17, Malala became the youngest recipient of the Nobel Peace Prize for her education advocacy in 2014 when she shared the coveted honour with India's social activist Kailash Satyarthi.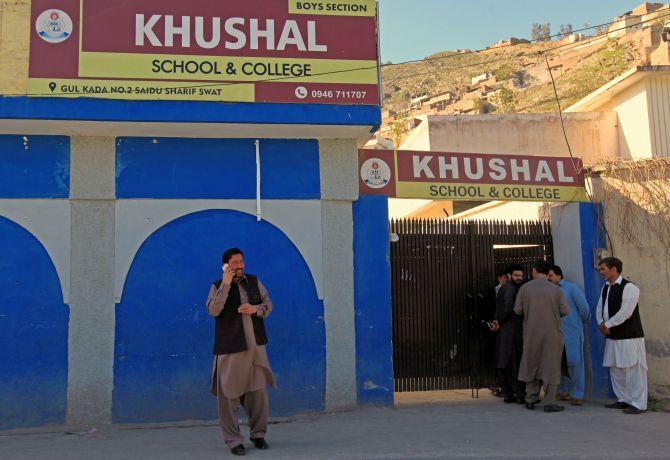 IMAGE: Security has been increased outside Khushal school that Nobel Peace Prize laureate Malala Yousafzai used to attend. Photograph: Faisal Mahmood/Reuters
Unable to return to Pakistan after her recovery, Malala moved to Britain, setting up the Malala Fund and supporting local education advocacy groups with a focus on Pakistan, Nigeria, Jordan, Syria and Kenya.
She is currently studying at the Oxford University.
Malala began her campaign aged just 11, when she started writing a blog for the BBC's Urdu service in 2009 about life under the Taliban in Swat, where they were banning girls' education.
In 2007, the Islamist militants had taken over the area and imposed a brutal rule. Opponents were murdered, people were publicly flogged for supposed breaches of the sharia law, women were banned from going to market, and girls were stopped from going to school.
The Taliban, who are opposed to the education of girls, have destroyed hundreds of schools in Pakistan.