On a day of mixed fortunes, the Jammu and Kashmir Police gunned down two dreaded terrorists of the Hizbul Mujahideen, including one of the Valley's oldest surviving terrorists, in Anantnag district on Wednesday but also lost four men in neighbouring Shopian.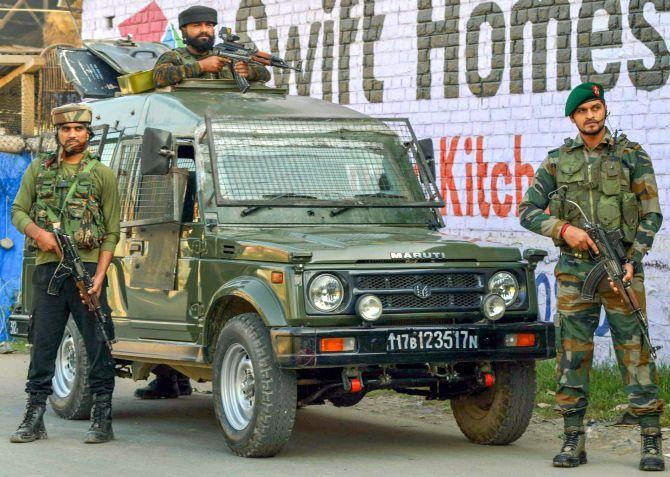 The day began with an encounter breaking out in Khanabal area of south Kashmir's Anantnag district when police and para-military forces cordoned off a house in Muniward village.
There was specific intelligence about the presence of Altaf Ahmad Dar, also known as 'Altaf Kachroo' alias Moin, considered to be the 'chief architect' of attacks on policemen in the Kashmir Valley.
"During the searches, terrorists fired on the police party, which retaliated leading to an encounter in which two terrorists were eliminated. They were identified as Altaf Ahmad Dar alias Ataf Kachroo alias Moin of Hawoora Mishipora and Omar Rashid Wani of Khudwani Kulgam," a police spokesman said.
It was a specific operation carried out swiftly by the security forces, Inspector General of Police (Kashmir Range) Swayam Prakash Pani said. "In the action both terrorists, who were involved in several cases of civilian atrocities and attacks on policemen, were eliminated," Pani added.
However, even before the dust of the gun-battle in Anantnag settled, news came in from Arhama in the neighbouring district of Shopian that terrorists had mercilessly pumped bullets into four policemen, leaving two dead on the spot. The other two were declared 'brought dead' by hospital authorities.
"The martyred policemen were identified as Constable Ishfaq Ahmad Mir, Constable Javaid Ahmad Bhat, Constable Mohammad Iqbal Mir and SPO Adil Manzoor Bhat," the police spokesman said.
Special Police Officer Bhat had turned 18 only this March.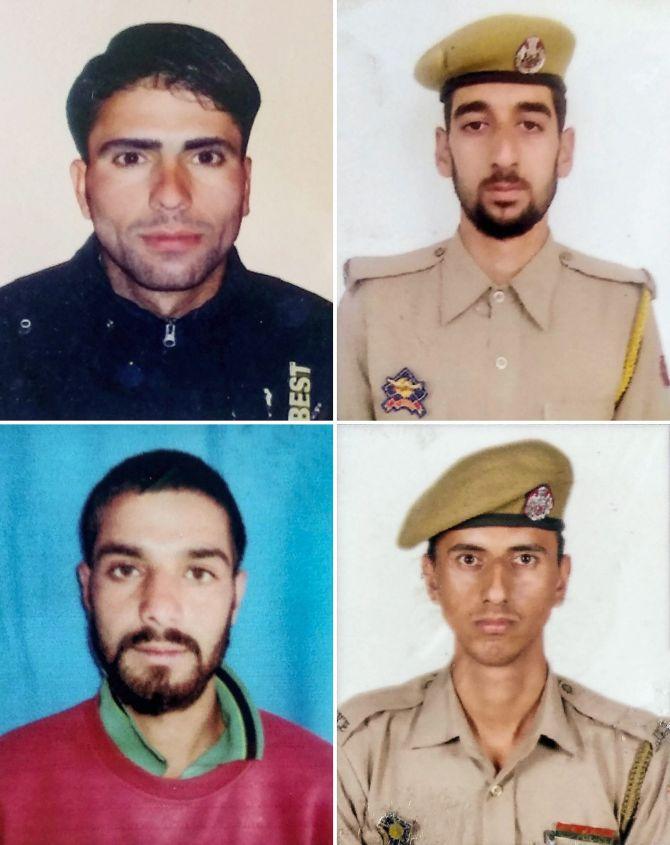 Director General of Police S P Vaid and Inspector General of Police Pani visited Shopian and paid tributes to the policemen who fell to the bullets of the terrorists.
"Terrorists in the afternoon fired indiscriminately upon a police party at Arhama in district Shopian," the spokesman said. The four ill-fated policemen were caught unaware as they were repairing their vehicle, he added.
Pools of blood were seen at several spots where militants carried out the attack.
Sharing details of the morning operation, the spokesman said, Dar, who hailed from Kulgam in south Kashmir, was operating as one of the most important terrorist commanders of proscribed terror outfit Hizbul Mujahideen and had a long criminal record since 2007.
Considered as one of the oldest surviving terrorists in the area, Dar was involved in series of terror crimes including attacks on the security forces, killings of civilians and policemen in south Kashmir.
The police spokesman said Dar along with associate Yasin Itoo played a major role in instigating people during the 2016 unrest following the death of Hizbul Mujahideen poster boy Burhan Wani.
The other terrorist killed in the encounter was Omar Rashid Wani, who was active since last year, the spokesman said. Wani was involved in many case of atrocities against civilians and attacks on security establishments, he added.
Wani was involved in the killing of policemen at Anantnag and recently carried an attack on CRPF in Srinagar and managed to escape from the Batmaloo encounter site recently.
The spokesman said though the two were part of the Hizbul Mujahideen, they kept close coordination with other outfits for unleashing terror.
Both bodies were laid to rest in which people participated in large numbers.
Significantly, Lashker-e-Tayiba terrorist Naveed Jhat, who made a dramatic escape from a hospital earlier this year, was also seen at the funeral of Dar, sources said.