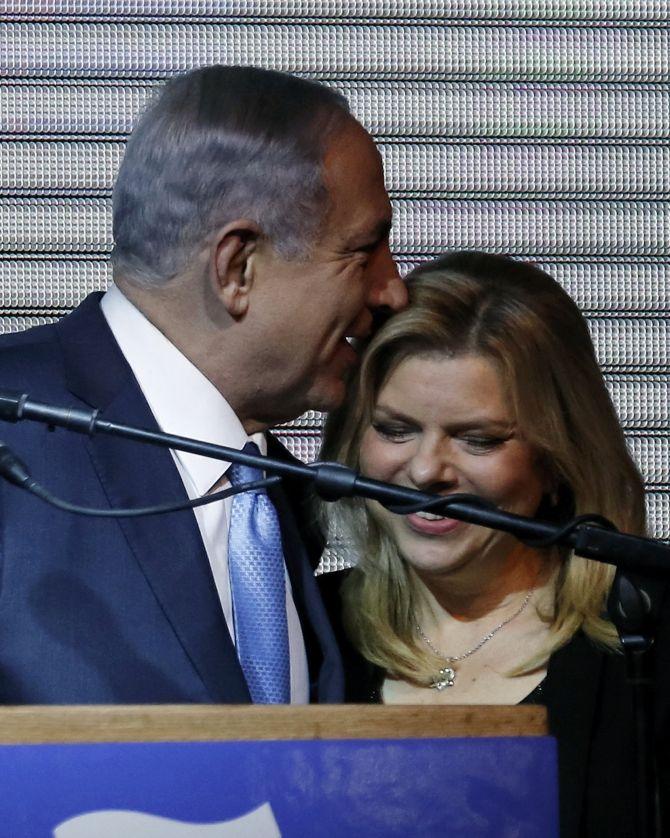 Israeli Prime Minister Benjamin Netanyahu kisses his wife, Sara, at party headquarters in Tel Aviv after claiming victory for his Likud party in a close-call election. Photograph: Amir Cohen/Reuters

In a dramatic victory against all odds, Prime Minister Benjamin Netanyahu on Wednesday secured a stunning win in Israel's closely-fought general election following a last-minute shift on Palestinian statehood, as he appeared set to become the country's longest-serving premier.
"Against all odds, we achieved a great victory for the Likud," Netanyahu told supporters, declaring victory even before final results were formally announced.
"I am proud of the people of Israel, who in the moment of truth knew how to distinguish between what is important and what is peripheral, and to insist on what is important," he said.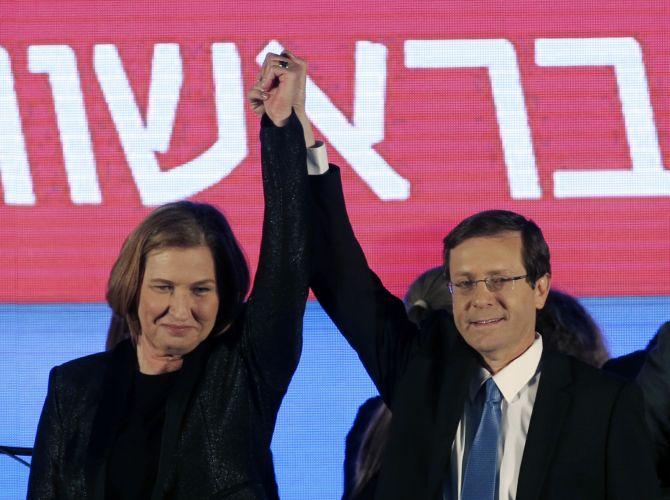 Isaac Herzog (right) and Tzipi Livni, co-leaders of Zionist Union, hold up their hands at party headquarters in Tel Aviv. Photograph: Amir Cohen/Reuters
With nearly all votes counted, Netanyahu's ruling Likud party had won at least 29 seats in the 120-member Parliament -- the Knesset, comfortably defeating the Zionist Union led by Isaac Herzog on 24 seats in a mandate considered a clear victory in the fractured Israeli polity.
Netanyahu, 65, fought an all-out battle for a record fourth term against a spirited, united opposition based on a campaign revolving around no compromise attitude on Palestine's statehood.
Netanyahu, who has been in power for nine years over three terms, was pitted against 54-year-old Herzog, who had promised to repair ties with the Palestinians and the international community and also deal with middle class issues such as price rise.
In a last-ditch effort to woo right-wing voters, Netanyahu ruled out a Palestinian state just a day before the election, backtracking from his own six-year-old policy. Analysts said Netanyahu's campaign seems to have worked as Herzog's centrist Zionist Union was ahead in the recent opinion polls by about four seats in the Knesset.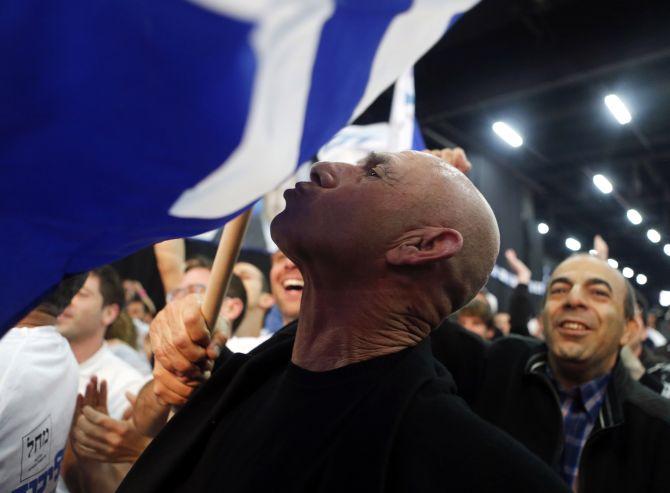 A Likud party supporter reacts after hearing exit poll results in Tel Aviv. Photograph: Nir Elias/Reuters

The Joint List of Arab parties emerged as the third-largest party with 14 mandates in the election in which 65.7 per cent of the nearly 5.89 million eligible voters participated
Israel's ballots are for political parties rather than individual candidates. No party has ever won a majority, but the victory goes to the party leader most suited to put together a 61-seat majority with coalition parties.
While a new government must be negotiated through the president's office, the results increase Netanyahu's ability to form a majority coalition out of the 120 seats.
Likud said in a statement that Netanyahu intended to form a new government within weeks and negotiations were already underway with leaders of smaller parties he saw as likely coalition partners. In the last parliamentary election, the Likud had managed to secure only 18 seats.
Herzog conceded defeat and called Netanyahu to congratulate him on his victory and wished him luck.
"I think that right now what Israel needs most of all is another voice, a voice that provides an alternative and a voice that still tells the truth -- our real truth, a truth that received truly huge support, a truth that has not won such support in nearly a generation," he told media persons.
The left of centre Zionist Union party leader said that his political formation would continue to provide an alternative to Netanyahu's right-wing Likud.
He also warned that the problems Israel faced regarding social justice and democracy still existed, pledging to keep working for the benefit of the country.
The Zionist Union's tally of 24 is by far the best by a left of centre party in Israel in decades and also comes close to the predictions of the opinion polls, but Netanyahu managed to shore up support for his Likud party during the last few days of campaigning mobilising overwhelming support from right-wing supporters.
Meanwhile, senior officials in the Palestinian Authority slammed Israelis for voting for the Likud party, saying Netanyahu's re-election, after declaring during his campaign that a Palestinian state would not be created under his rule and the Jewish settlements would remain largely in place, proves that 'there is no partner in Israel'.
"The international community must understand that and not defend Netanyahu or his policies," the officials told Ha'aretz newspaper.
"If Netanyahu does form a right-wing government, it will make it easier for the Palestinians to succeed in the international arena, with the picture of Israel's policies so much clearer," they added.
PA and its president Mahmoud Abbas have not yet released an official response to the Israeli election results, and sources close to Abbas have said that he would not say anything till a new coalition government is formed in Israel.
The Palestine Liberation Organisation's Executive Committee is slated to meet on Thursday to discuss the decision made two weeks ago in the Palestinian central committee regarding a halt in security coordination with Israel. The final decision on whether to implement that operationally will probably be left to Abbas to decide.
The election results assume significance given the high inflation, instability in the strategic region and Israel's public image following Netanyahu's challenge to US President Barack Obama over Iranian nuclear issue.
Netanyahu has constantly been at loggerheads with Obama and his recent efforts to undermine the US leader by addressing the Congress without coordinating with the White House has widened the rift.