The death toll due to severe heat wave sweeping Andhra Pradesh has risen to 852 with the scorching weather claiming 202 lives in Prakasam district alone, officials said.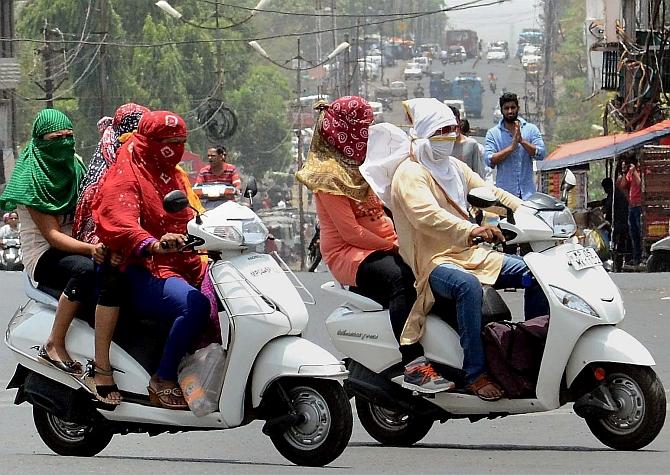 Commuters protect themselves from scorching heat on a hot day in Bhopal. Photograph: PTI Photo
In Guntur district, 130 persons have succumbed to the heat wave so far, followed by Visakhapatnam (112), Vizianagaram (78) and Nellore 74, according to the figures available on Tuesday evening, Special Commissioner for Disaster Management Tulsi Rani said.
Also Read: Why India is getting hotter by the year
The toll in other districts so far is: East Godavari 90, West Godavari 10, Krishna 49, Chittore 29, Kadapa 22, Kurnool 17, Anantapur 14 and Srikaukulam 25.
According to the MeT department, severe heat wave conditions prevailed on Tuesday over many parts including Vizianagaram, Visakhapatnam, East Godavari, West Godavari, Krishna, Guntur, Prakasham and Nellore districts of coastal Andhra Pradesh.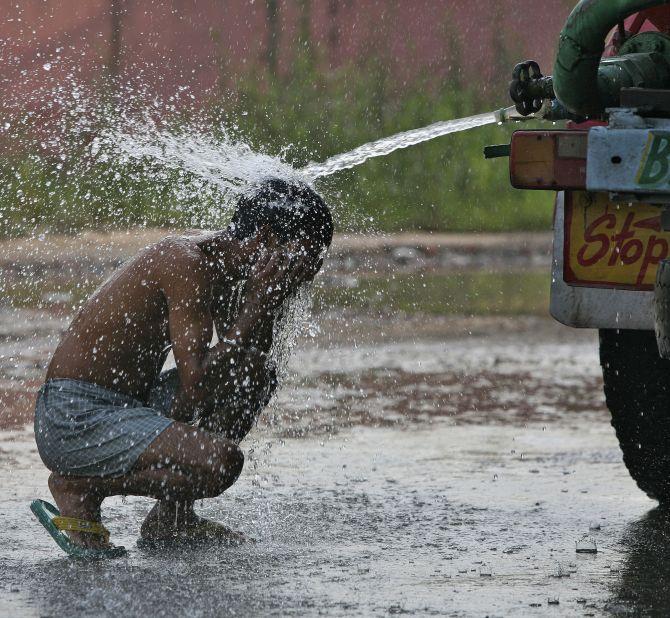 A man bathes while sitting under a water tanker on a hot summer day. Photograph: Mukesh Gupta/Reuters

The heat wave conditions would prevail in some parts of Kurnool and Chittoor districts of Rayalaseema, it predicted.
Andhra Pradesh Deputy Chief Minister and Home Minister N Chinna Rajappa said the state government will pay an ex-gratia of Rs 1 lakh to the kin of the victims.
Besides Andhra Pradesh and Telangana, sweltering conditions persisted in Delhi, Maharashtra, Rajasthan, Uttar Pradesh, Punjab, Haryana, Madhya Pradesh, Odisha and West Bengal with temperature hovering around 45 degree celsius in most places in these states.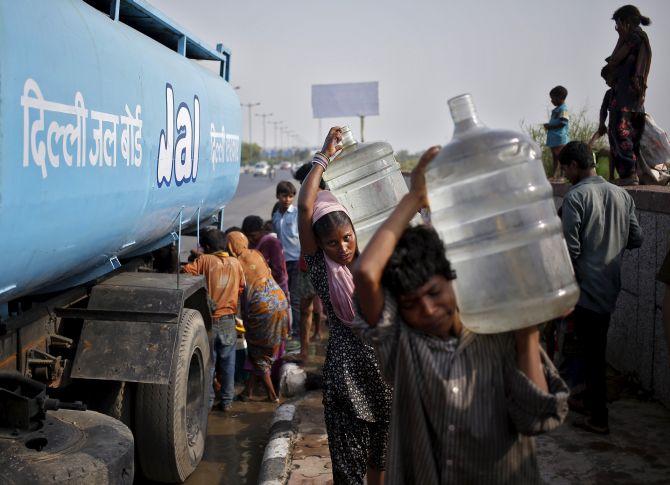 Slum dwellers carry drinking water containers which they filled from a water tanker provided by the state-run Delhi Jal Board. Photograph: Anindito Mukherjee/Reuters
According to Skymet, a private weather forecasting agency, Angul in Odisha recorded 47 degree, while Chandrapur and Wardha in Maharashtra witnessed 46.6 and 46.5 degrees, respectively.
Delhi recorded 45 degree celsius, 0.5 degrees less than Monday which was the hottest day.
There could be some respite from the sweltering heat as some parts of north and south India are expected to experience thunder storm in next two days, thus bringing down the temperature by a few notches.
Kashmir Valley, on the other hand, is witnessing pleasant weather with maximum temperature around 22 degree Celsius.