Voters in France have comprehensively snubbed the country's political establishment, sending far-right populist Marine Le Pen and political novice Emmanuel Macron through to the second round of the country's presidential election.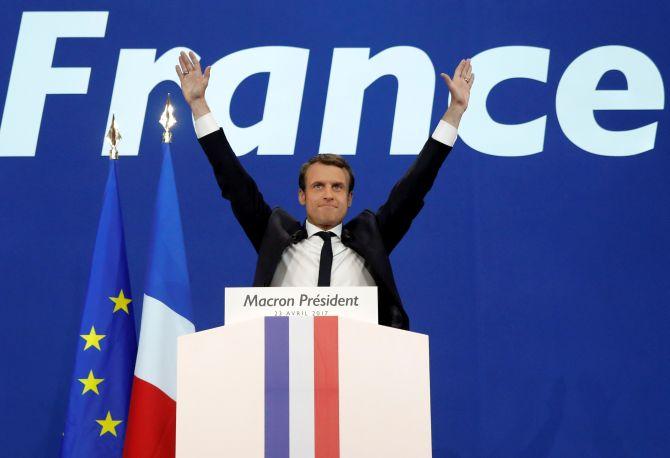 IMAGE: Emmanuel Macron, head of the political movement En Marche!, and candidate for the 2017 French presidential election, celebrates after partial results in the first round of 2017 French presidential election, at the Parc des Expositions hall in Paris. Photograph: Benoit Tessier/Reuters
With 96 per cent of votes counted from Sunday's first round, Macron has 23.9 per cent with Le Pen on 21.4 per cent.
The two fought off a strong challenge from centre-right Francois Fillon and hard-left Jean-Luc Melenchon.
Macron raced on to stage, hand in hand with his wife, Brigitte. "The French people have expressed themselves," he said. "It is an honour and a responsibility."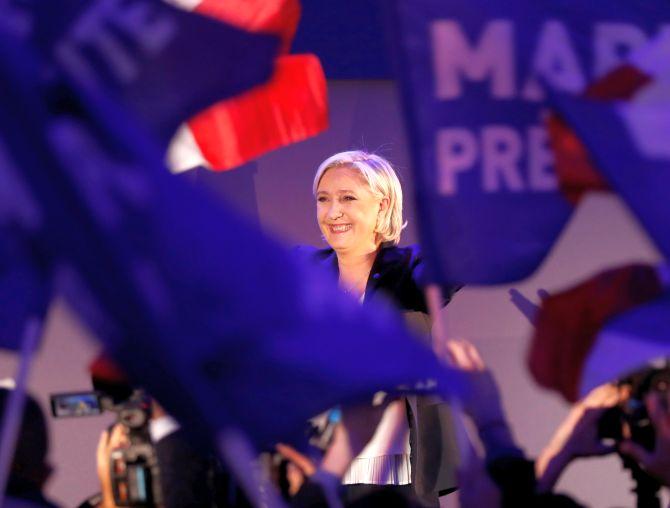 IMAGE: Marine Le Pen, French National Front political party leader and candidate for French 2017 presidential election, celebrates after early results in the first round of 2017 French presidential election, in Henin-Beaumont. Photograph: Charles Platiau/Reuters
He then paid tribute to the other candidates, naming them and thanking them for their messages of support after a campaign "marked by terrorism".
"In a year, we have changed the face of French politics," he said. "You have succeeded in convincing people that hope for our country is not a dream... In two weeks, I hope I will be your president, the president of the whole of France, the president of the patriots," - the term Le Pen uses to refer to her supporters.
At a rally on Sunday night, Le Pen told her supporters she is offering 'the great alternative' in the presidential race.
She said: "This is a historic result. The French must take the step for this historic opportunity. This is the first step to drive the French [people] into the Elysee Palace. It is time to liberate the French people from the arrogant [political] elite."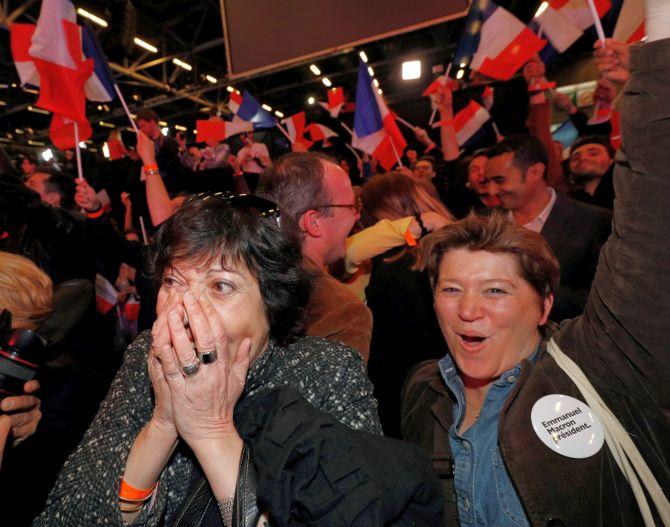 IMAGE: Supporters of Emmanuel Macron celebrate his victory. Photograph: Philippe Wojazer/Reuters
The outcome capped an extraordinary few months for a deeply divided France, which saw a campaign full of twists and turns and widespread anger at traditional parties.
It signals a stinging defeat for the Fillon and Socialist Benoit Hamon, meaning neither of France's mainstream parties will be in the second round for the first time in 60 years.
Macron, a 39-year-old who had never before stood for election and only started his independent centrist movement 12 months ago, will be the overwhelming favourite to win the second round on May 7.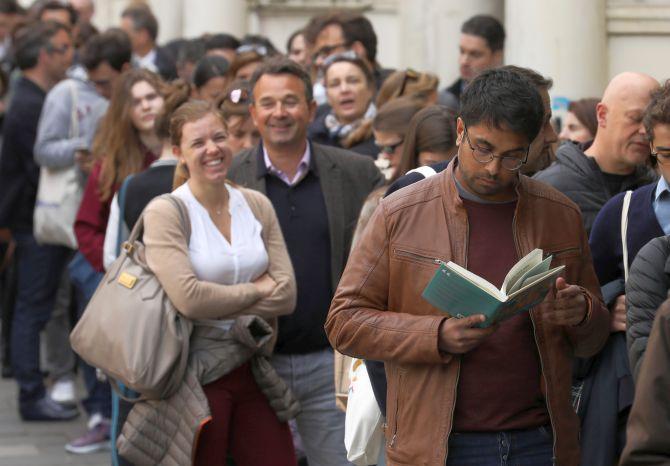 IMAGE: French queue along the street to cast their vote in a polling station inside the school, in the first round of the 2017 French presidential election. Photograph: Luke MacGregor/Reuters
He served as an economy minister under President Francois Hollande, ran without the backing of an established party, forming his own called 'En Marche!'
His wife Brigitte is 25 years his senior and taught him at school.
European Commission President Jean-Claude Juncker congratulated Macron on Sunday and wished the centrist well for the May 7 French presidential runoff against Le Pen.