Tropical storm Harvey continued to batter Texas on Wednesday with rain and floods leaving at least 20 people dead and submerging homes and turning streets, highways into lakes.
Thousands of emergency rescue teams officials remained on their toes, helping people affected by the deluge. Weather official said parts of state are expected to receive rainfall again.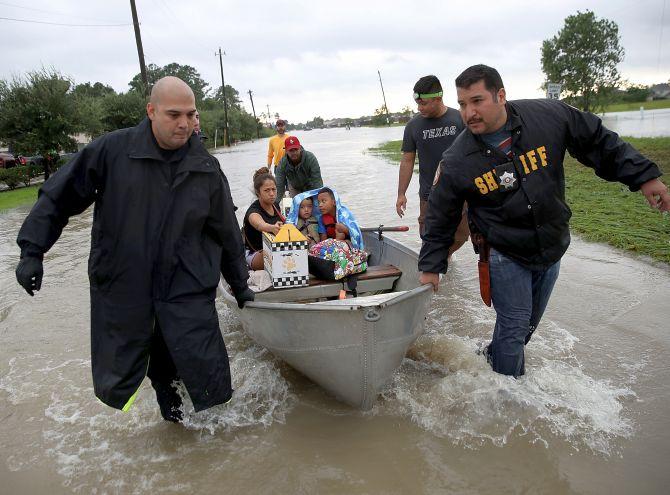 IMAGE: A family is evacuated from their home after severe flooding following Hurricane Harvey in north Houston. Photograph: Win McNamee/Getty Images
The remnants of deadly Hurricane Harvey menaced Texas and Louisiana, while a reservoir west of downtown Houston spilled over due to record-shattering rainfall.
Even as officials struggled to determine the storm's true impact, its scope appears to be staggering.
Officials said that as much as 30 per cent of Harris county's 1,777 square miles of area was underwater on Tuesday.
Officials in Houston were unable to determine the extent of the tragedy caused by the one of the most destructive storms in US history, authorities said it had hit close to home as the first responders are facing seemingly endless flooding. Houston Police Chief Art Acevedo on Tuesday said that a 60-year-old police officer drowned on Sunday while on duty in the flooded area.
Authorities recovered his body shortly after 8 am on Tuesday, an emotional Acevedo told a news conference.
Police officers in the city have rescued more than 3,500 people so far amid Harvey's flooding.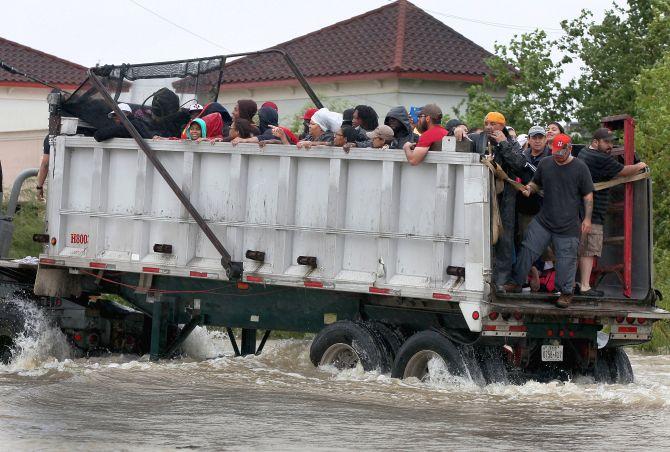 IMAGE: Rescue workers and volunteers help residents make their way out of a flooded neighborhood after it was inundated with rain water following Hurricane Harvey. Photograph: Scott Olson/Getty Images
The storm's full impact remains unclear, as Houston Mayor Sylvester Turner said officials are "still trying to assess" the number of missing people.
At least 20 people have died in storm-related incidents, officials said while warning that the toll could go could rise as they are pursuing reports of people lost in the torrential downpours unleashed since Friday, officials said.
Of the confirmed deaths on Tuesday, at least eight were in Harris County, which includes Houston.
Houston continued to reel under catastrophic flooding coupled with heavy rainfall, eve as people stocked up essentials or trudged through water in search of shelter.
The National Weather Service reported that Houston has already received more than 42 inches of rain due to Harvey.
Some parts of Louisiana have also seen more than a foot of rain, and the flash flood warnings were in effect for much of the Lake Charles region as the rainfall is expected to continue.
New Orleans is under a tornado and flash flood watch until Thursday.
IMAGE: A resident waits for rescue atop his car after it was flooded by heavy rains from Hurricane Harvey in the Bear Creek neighbourhood of west Houston, Texas. Photograph: Erich Schlegel/Getty Images
In Texas, one of the two massive storm water reservoirs to the west of downtown Houston began spilling over, despite the US Army Corps of Engineers efforts to release the water as the level in the reservoirs swelled.
The Army Corps of Engineers said that water was spilling out from around the dam gates of the Addicks Reservoir, and officials also said they expect the Barker Reservoir, to the south of Addicks, to also begin overflowing some time on Wednesday.
Near the Barker dam, helicopters were attempting to rescue families, while some people spent their morning hopping onto jet skis and into boats to help as well.
Officials in Brazoria County, south of Houston, also warned that a levee there had breached its danger level.
The tropical storm continued grinding towards the northeast, with its centre expected to be just off the upper Texas coast through Tuesday night, the National Hurricane
Center said.
The storm is likely to move inland on the northwestern Gulf Coast on Wednesday.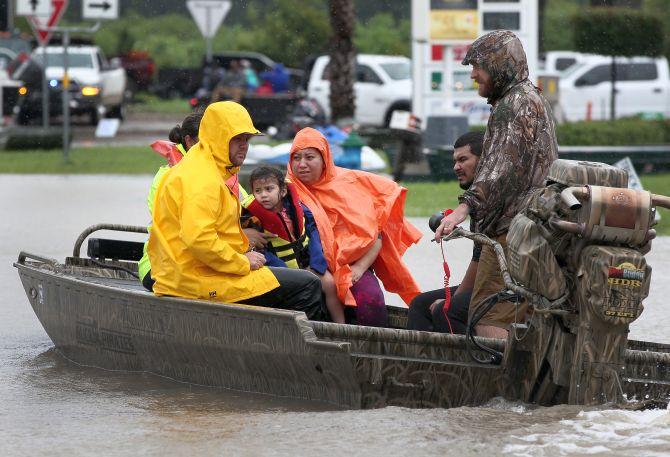 IMAGE: Rescue workers and volunteers help residents make their way out of a flooded neighborhood after it was inundated with rain water following Hurricane Harvey. Photograph:Scott Olson/Getty Images
Governor Greg Abbott said Harvey is one of the largest disasters America has ever faced and warned against expecting anything resembling recovery any time soon, or a return to the way things were.
"We need to recognise it will be a new normal, a new and different normal for this entire region," he said.
Forecasters said more than a foot of additional rain is still expected to fall through Friday over parts of the Texas coast, and Louisiana. The National Weather Service warned of potential flooding in southern Mississippi as well as southeastern Louisiana.
United States President Donald Trump along with First Lady Melania Trump arrived in Corpus Christi on Tuesday morning as he hailed the people of Texas for their efforts.
During a news briefing in Corpus Christi, he said, "This is historic, it's epic what happened, but you know what, it happened in Texas and Texas can handle anything."
The president is scheduled to visit the state capital of Austin.
His spokeswoman told reporters on Air Force One that Trump will visit "a different part of the state" on Saturday, while he has also discussed visiting Louisiana on the same day.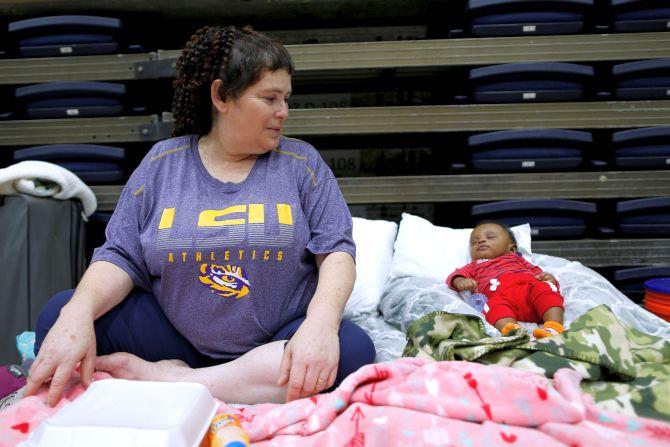 IMAGE: Denise Vital, who evacuated her flooded home from Tropical Storm Harvey, watches over her 3-month-old godson at the Lake Charles Civic Center in Lake Charles, Louisiana. Photograph: Jonathan Bachman/Reuters
The Department of Labor on Tuesday announced that it had approved an $10 million grant to help with the cleanup efforts in Texas.
Trump on Monday declared "emergency conditions" in Louisiana, and not long before that, federal authorities had warned Harvey could force more than 30,000 people from their homes by the time skies are expected to clear later this week.
Life across Texas is severely affected due to Harvey with hundred of schools shutting down and thousands of people piling into shelters in Houston and other places.
The George R Brown Convention Center in downtown Houston had taken in 9,200 people as of Tuesday morning, Charles Maltbie, a regional disaster officer for the Red Cross, said.
He said the number is nearly double the center's capacity of 5,000.
The convention center is the evacuation site for all air evacuations and bus evacuations are being diverted to other shelters around the city, he said.
Mayor Turner said that city officials have identified other "mega shelter locations" that will be set up to house people, though he did not name these facilities.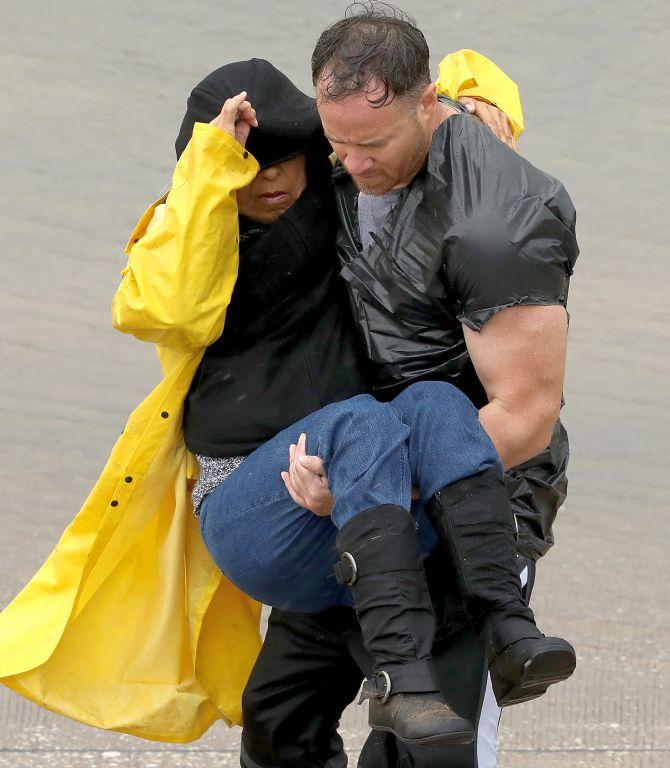 IMAGE: A volunteer carries a woman whose home was impacted by severe flooding following Hurricane Harvey in north Houston. Photograph: Win McNamee/Getty Images
Brazos Fort Bend County Judge John Hebert warned on Monday night that more than a hundred square miles along the river could flood as the river has swollen to unprecedented heights.
"They can guarantee we'll have a record flood in for Fort Bend County," he said.
The Fortbend county is home to thousands of Indian-Americans, majority of whom had to leave their homes for safe shelters or be with their friends or community
members in safer areas.
The Brazos River, which runs through the county, home to more than 7,16,000 people, has been swelling as the runoff from the storm collects in its banks.
The National Weather Service models showed the river rising to 59 feet by Tuesday, topping its previous record of 54.7 feet.
Authorities issued mandatory and voluntary evacuation orders for parts of that area and warned that anyone who ignores mandatory evacuation orders will not be aided by first responders when the waters rise.
But with virtually all the main thoroughfares already closed because of high water, many of the affected residents saw no way out.
Around 6,200 people are currently staying in shelters, having been evacuated from their homes as floods devastated the area and it is thought that a further 30,000 people could need to be given emergency accommodation.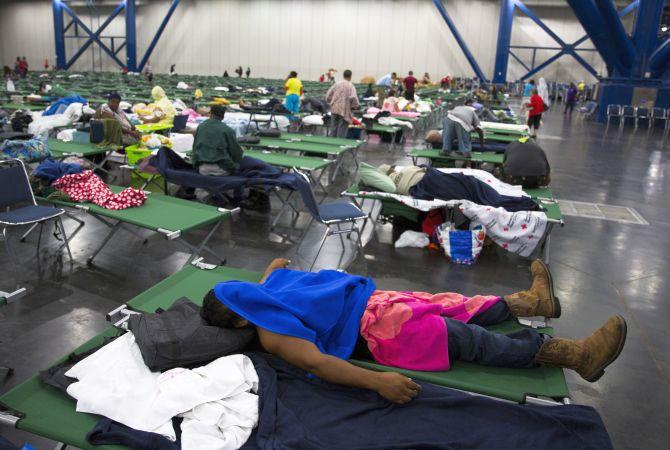 IMAGE: Evacuees fill up cots at the George Brown Convention Center that has been turned into a shelter run by the American Red Cross to house victims of the high water from Hurricane Harvey. Photograph: Erich Schlegel/Getty Images
Rescue shelters are reportedly overflowing and officials are desperately seeking alternative venues to house people who have been displaced.
The region received 30 inches of rain in just two days and had a year's worth of precipitation dumped on it in the space of one week.
Harvey is the most powerful storm to hit Texas in the past 50 years.
Meanwhile, flights "are limited to humanitarian flights and first responder support for Hurricane recovery," authorities of the two airports in Houston said.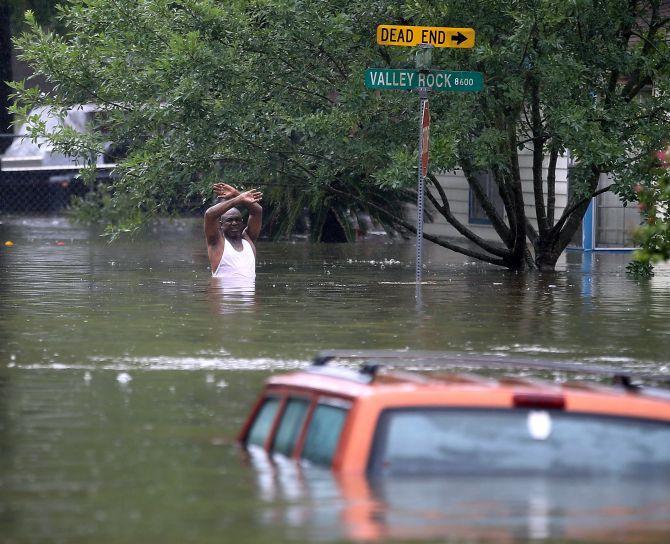 IMAGE: A man waves down a rescue crew as he tries to leave the area after it was inundated with flooding from Hurricane Harvey in Houston. Photograph: Joe Raedle/Getty Images
United Airlines, Southwest Airlines, Spirit Airlines and American Airlines each said that they've airlifted supplies into or out of the city since Hurricane Harvey hit on Friday.
With those limited exceptions, Houston's two airports -- George Bush Intercontinental Airport and William P Hobby Airport remained closed for passenger travel.
The Federal Aviation Administration issued flight restrictions over the greater Houston area.
These restrictions cover 1,200 square nautical miles over the city and are intended to keep airspace clear for search and rescue flights, the FAA said.