Torrential rain battered Mumbai and its suburbs for the second day on Wednesday, causing massive disruption in flight operations, delaying suburban train services and forcing a large number of people to stay indoors, officials said.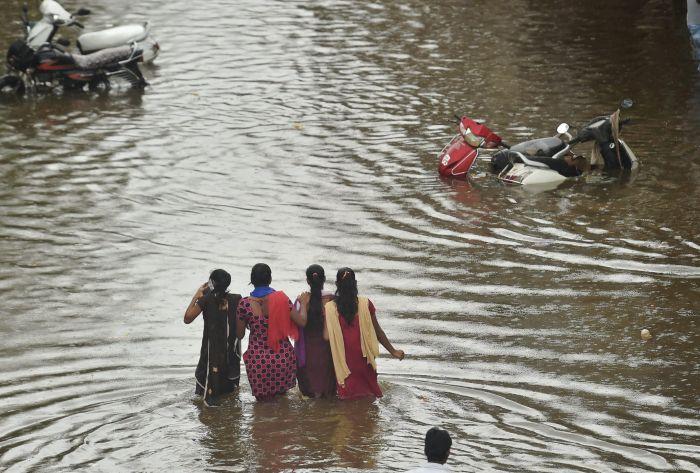 IMAGE: Women wade through a flooded street after heavy rains at Nalasopara in Thane district of Maharashtra on Wednesday. Photograph: Santosh Hirlekar/PTI Photo
However, no deaths or major damage to property were reported.
Schools and colleges in Mumbai metropolitan region were ordered closed in view of heavy rains.
"Several parts of the metropolis, including south Mumbai, Borivali, Kandivili, Andheri and Bhandup, received heavy rainfall. However, no untoward incident has been reported so far from any part of the city," an official of the Brihanmumbai Municipal Corporation, the city's civic, said.
Air services at the Mumbai airport were hit badly, with 108 flights cancelled and another 51 diverted to nearby airports due to heavy rain and closure of the main runway after a Spice Jet aircraft skidded, overshot
the runway and got stuck in mud, blocking it, an airport official said.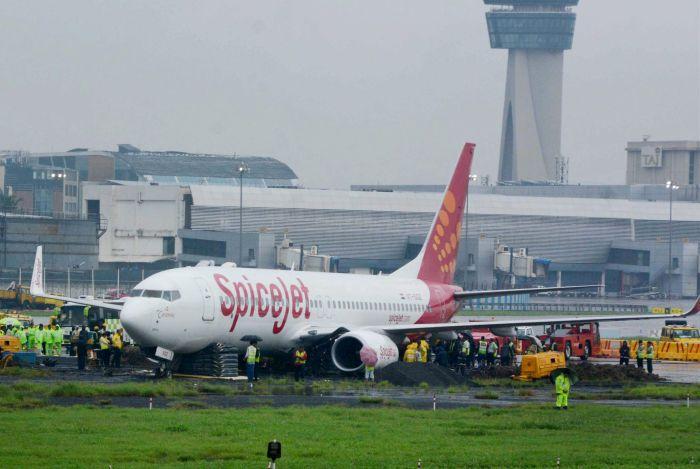 IMAGE: A SpiceJet passenger aircraft Boeing 737-800 is seen after it overshoot the runway while landing at Chhatrapati Shivaji International Airport in Mumbai. Photograph: PTI Photo
Efforts are on to tow the aircraft away and clear the runway for operations.
Following the downpour, several airlines issued travel advisories to passengers.
The Mumbai airport, the country's second busiest after Delhi's IGI airport, handles 930 flights per day. An average of 48 aircraft land or take off every hour.
The city's famed suburban railway system, which caters to about 70 lakh passengers every day, was also in a mess, with trains running late. Traffic on the low lying harbour line was suspended for a brief period.
Fewer people were seen travelling by trains as they preferred to remain indoors following the forecast about the downpour.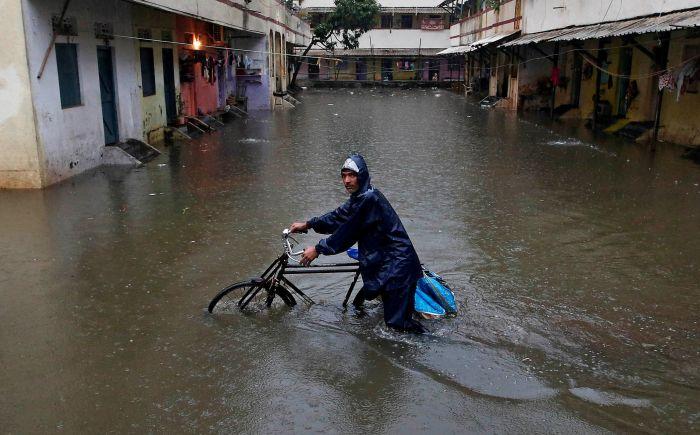 IMAGE: A delivery boy pushes his bicycle through a water-logged street after heavy rains at a residential colony in Mumbai on Wednesday. Photograph: Shailesh Andrade/Reuters

An India Meteorological Department official said that the Santacruz observatory recorded 225.3 mm rain from 8.30 am to 11.30 pm on Tuesday. Anything about 204.5 mm is categorised as 'extremely heavy rain', he said.
The IMD, which had forecast heavy to very heavy rainfall in parts of Mumbai region for Wednesday, in its forecast issued on Wednesday, said the city would receive intermittent rains. It said there would be heavy rainfall at a couple of places in the city.
From 8.30 am on Tuesday to 5.30 am on Wednesday, the Colaba observatory recorded 210 mm rain, while the Santacruz observatory recorded 303.7 mm rain in the period, according to the IMD.
The Mumbai Police had earlier warned of a high tide at 12.03 pm and 6.04 pm on Wednesday.
However, the effect of water logging due to high tide got over by the afternoon and water slowly started receding in many areas, getting drained into the Arabian Sea, disaster management cell officials said.
Fishermen have been warned against venturing into the deep sea following forecast of more rain, an IMD official said.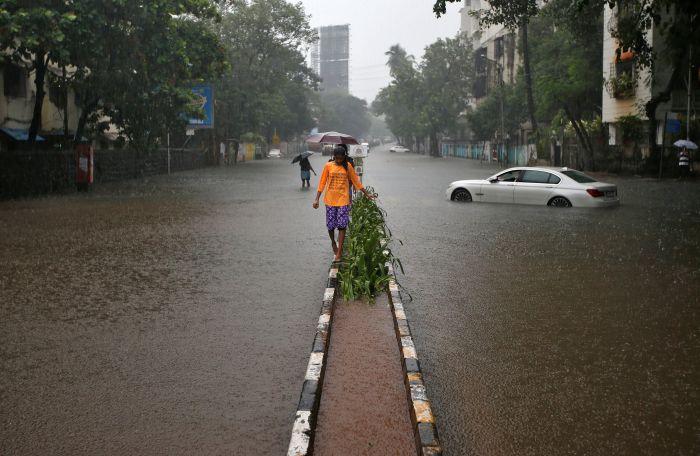 IMAGE: A girl walks on a road divider in a water-logged street. Photograph: Shailesh Andrade/Reuters
Central Railway's chief spokesperson Sunil Udasi said a few short destination trains had to be cancelled yesterday night to streamline the services.
"Since 10 pm yesterday, our services on the main and the harbour lines are running at regular intervals with lesser frequency and restricted speed in waterlogging prone areas. Our field staff and supervisors have been deployed to keep a tab on the water level," Udasi said.
Senior railway officers were keeping a watch on the situation and Railway Protection Force personnel roped in to manage crowds at the stations, he said.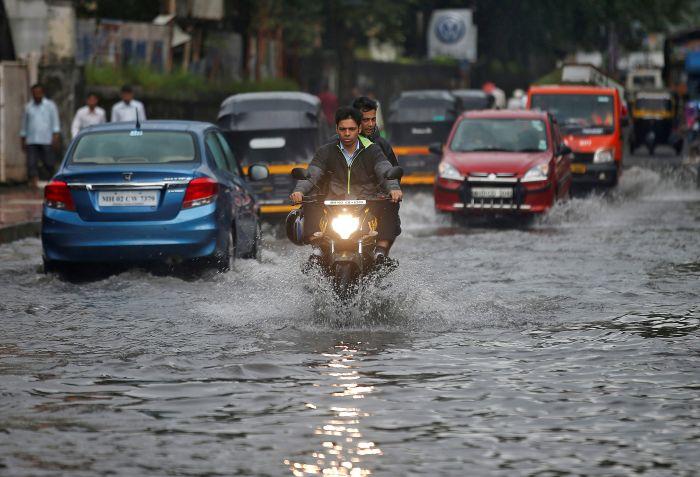 IMAGE: People commute through a water-logged road street. Photograph: Shailesh Andrade/Reuters
Some intercity trains like Manmad-Mumbai Express, Gujarat Express, Saurashtra Express, Bandra-Terminus Surat Intercity Express and Mumbai Central-Ahmedabad Shatabdi Express have been cancelled, officials of the Central and Western Railways said.
Vehicular traffic was moving but at a slower pace, including on the Eastern and Western Express Highway, the two major arterial roads in the metropolis.
The dabbawalas of Mumbai, famous for the clockwork precision with which they deliver over two lakh tiffin boxes to office goers, suspended their operations today as suburban railway services were in disarray.