On a journey to recreate history, and to script a new one, British aviator Tracey Curtis Taylor, on a stopover in Delhi on her way to Australia to relive a flight made 85 years ago, said her mission is to inspire young girls to strive to achieve their dreams.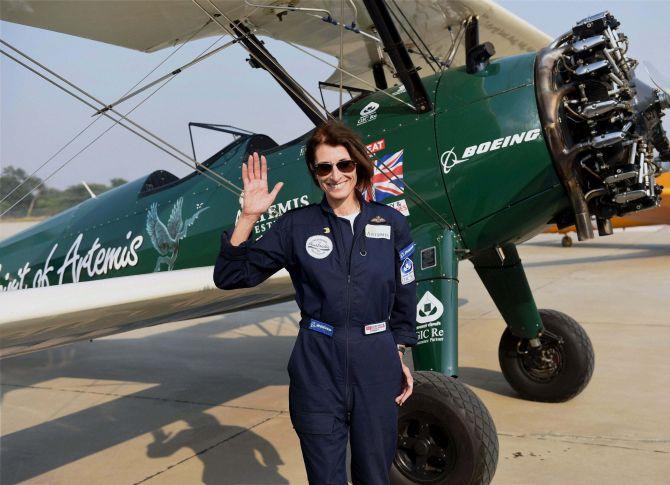 Adventurer: Tracey Curtis-Taylor, pictured with her biplane the Spirit of Artemis, plans to fly solo to Australia. Photograph: Subhav Shukla/PTI
British female aviator retracing the historic 1930 solo journey of pioneering pilot Amy Johnson from Britain to Australia in a vintage bi-plane completed the Indian leg of her journey after reaching the Indian Air Force base in Hindon, Uttar Pradesh.
Inspired by her compatriot's "strong determination" and "fathomless bravery", 53-year-old Tracey Curtis-Taylor is emulating Johnson's aerial odyssey in a restored open-cockpit 1942 Boeing Stearman, christened 'Spirit of Artemis'.
Calling herself a 'bird in a bi-plane', Tracey started her journey on October 1 from FarnboroughAirport in Hampshire in the United Kingdom and is scheduled to reach Sydney sometime early January next year.
"This is my first visit to India and I am thrilled about it, whatever I have seen so far, mostly from up there... Given, the Indo-British connection of several centuries, and
our joint aviation history, I consider this an exciting part of entire journey," she told reporters on her touch down in India.
"India is the centrepiece of my journey, and also geographically the heart of the space that I would be traversing, so, I have reached half-way through almost," Tracey said.
"After Delhi, I will fly over Agra and then Varanasi and Kolkata would be my last stop in India, before I move toward Myanmar. I want to see Taj Mahal and the Ganges from my biplane," she said.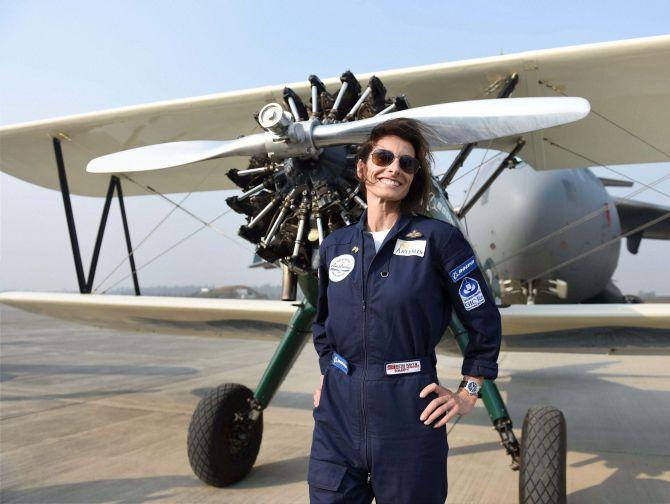 Her tribute journey almost replicates the one taken by Johnson from Croydon to Darwin 85 years ago, and her entire route spans 22,530 kilometre over 23 countries with 50 refuelling stops.
The British aviator, however, said there were many challenges and many more await further down the route.
"There wasn't the red tape and bureaucracy in 1930s that I had to face while traversing through different air spaces. While Johnson, flew through Syria, Iran and Iraq, I couldn't, so I flew over the Mediterranean and Saudi Arabia and face dust storms and other obstructions," she added.
Tracey, who got the vintage Boeing biplane restored in 2012, says, "I got it done for my Africa trip. It's a 30 horsepower, nine-cylinder engine and I have made some
modifications to it to suit my requirements."
A couple of years ago, she had reconstructed another epic journey from Cape Town (South Africa) to Goodwood (Britain), the 1928 trip by aviation pioneer Lady Mary Heath, who was the first woman to fly solo on across South Africa.
Acknowledging her feat, the Indian Air Force at the Hindon Air Base, also displayed two yellow-liveried 1940s-vintage Boeing biplanes, one of which, the Tiger Moth, flew alongside 'Spirit of Artemis', drawing cheers from the crowd and IAF's women pilots.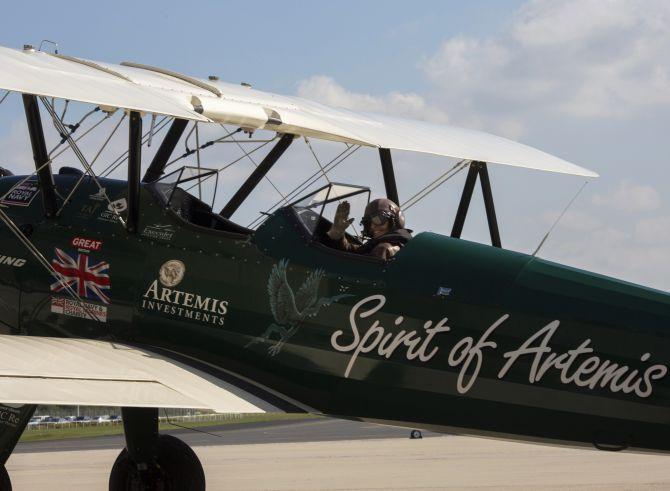 Tracey Curtis-Taylor waves as she taxis her Boeing Stearman bi-plane "Spirit of Artemis'' at Farnborough airport in Farnborough, Britain October 1. Photograph: Kieran Doherty/Reuters
'An inspiration for men and women'
Before meeting reporters at the Base, Tracey also held a private interactive session with a group of woman pilots of the air force, a defence official said.
Accompanying her in the sky in the Tiger Moth were Group Captain Kulshreshtha, the pilot, and Squadron Leader Kanwaljeet as the co-pilot.
Squadron Leader Poornima Ranade, who came for Sirsawa Base in Saharanpur, was thrilled to learn of Tracey's journey.
"It's so inspirational. She's 53 and yet she is determined to take this challenging journey. I am in awe of her. And, her herculean attempt will also inspire other women, not just pilots but persons from all fields, to take calculated risks and be a dreamer," Ranade said.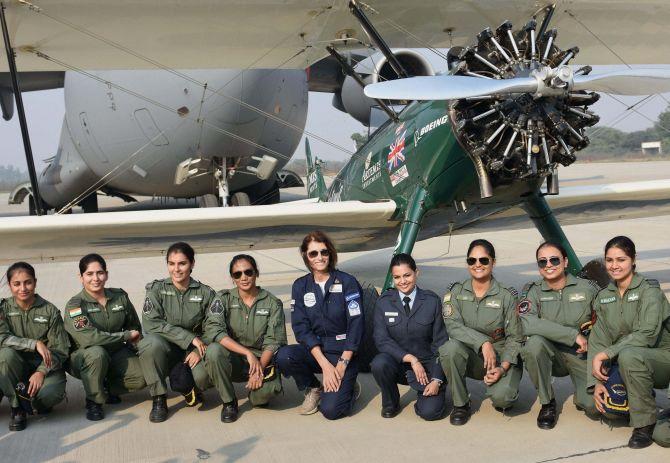 Tracey Curtis Taylor with other IAF women pilots at the Hindon air base. Photograph: Subhav Shukla/PTI
"It's an honour for me to meet her, and that she is flying a 1942 open-cockpit biplane, only raises the bar for us," she said.
Squadron Leader Kanwaljeet when asked, if she would like to undertake such arduous and challenging journeys, said, "Why not. We appreciate Tracey for having embarked on such an expedition. And, if a suitable chance comes, I would like to do it something like this."
Jayashri Devi Sharma, in her 70s now, and a doctor, who once served in the ArmedForcesMedicalCollege and also flew gliders, came especially from Gurgaon to the air base to "bless Tracey."
"I read about her coming to Hindon and so I came down to meet her and bless her for doing this courageous trip," Sharma said.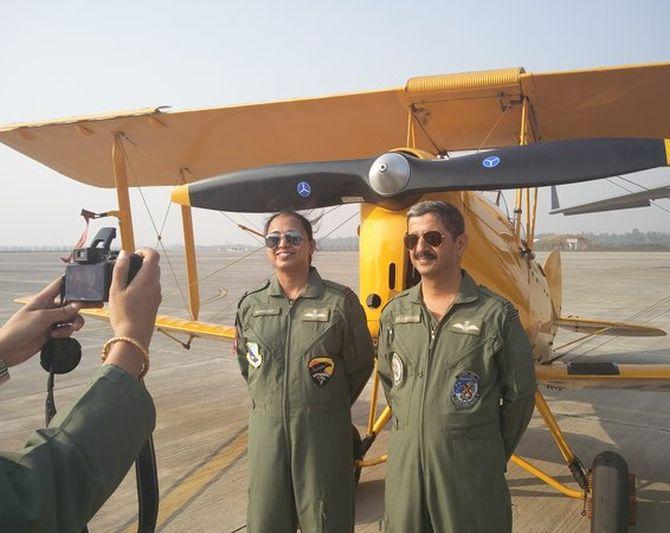 Kamaljeet Kaur - the first woman pilot to fly Tigermoth -- vintage aircraft of IAF. Photograph: SpokespersonMoD/Twitter
Air Commodore Sabharwal of the air base, who also cheered Tracey, standing along with other IAF staff and women pilots, said, "Her journey is a brave and courageous one and will inspire women and men in all fields of life."
The expedition besides celebrating the legacy of Johnson, who was the first woman to fly solo from Britain to Australia, the trip also pays tribute to pioneering days of early aviation in the 1920s and 1930s.
The expedition has been supported by American aviation major Boeing and Artemis Investment, Royal Air Force, Royal Navy of the UK, among others.
Among her other sources of inspiration to undertake this perilous but adventurous journey, Tracey counts the film, 'Those Magnificent Men in Their Flying Machines'.