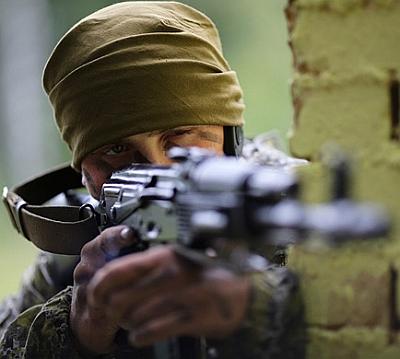 The joint Indo-Russian military exercise codenamed INDRA-2015 ended on Wednesday at the Mahajan field firing ranges of Rajasthan.
During the two-week intense and exacting military training, the two countries' contingents conducted focused training to understand the functioning of each other.
Inter-operability procedures were high on the agenda for both the armies.
Here are some glimpses of the tactical exercise. For more defence news, click HERE
---
Troops being inserted during the final operation of INDRA 2015 during which the consolidated group of forces of the two countries, acting under the auspices of United Nations, assisted the government of a third country in combating armed terrorists in a semi-urban terrain. Photograph: Indian Army
---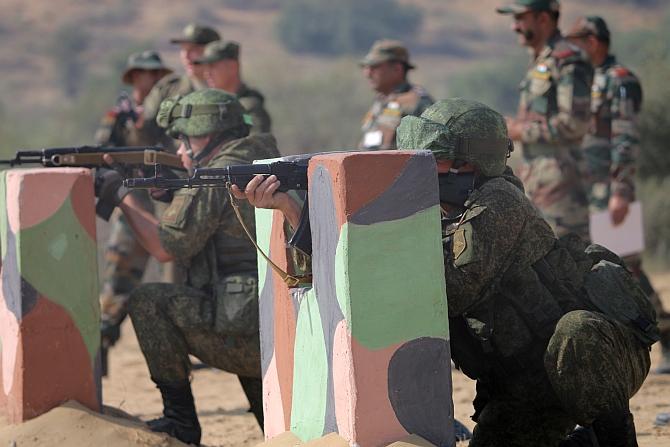 Soldiers, drawn from a motorized rifle formation of the Southern Military District of Russia, take aim at the Mahajan field firing range. Photograph: Indian Army
---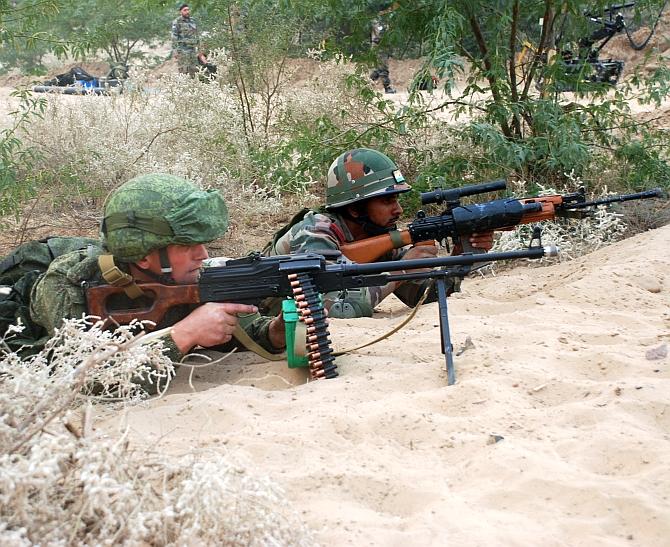 Taking aim together: Indian and Russian soldiers undergo combat conditioning and tactical training. Photograph: Ministry of Defence of the Russian Federation. Photograph: Indian Army
---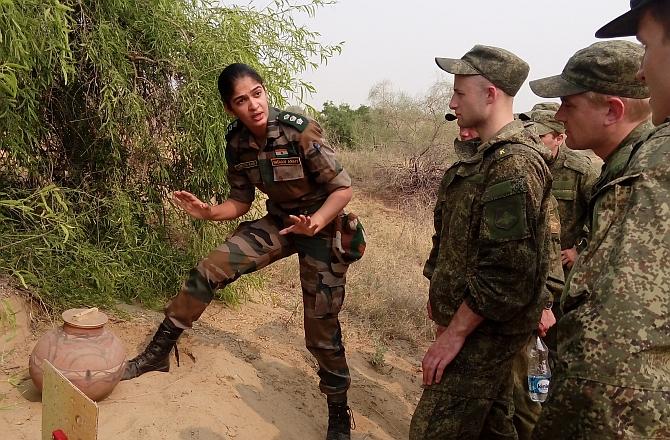 A lady officer briefs the Russian contingent about disarming an improvised explosive device. Photograph: Indian Army
---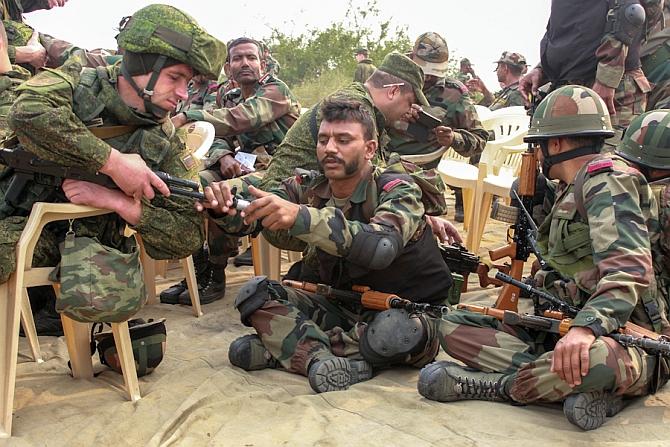 Indian servicemen familiarize themselves with the features of Russian weapons like RPG-7 grenade launchers, AK assault rifles, PK machine guns and SVD sniper rifles. Photograph: Ministry of Defence of the Russian Federation
---
An Indian soldier explains the area of operation before the two armies embark on a combat mission. Photograph: Ministry of Defence of the Russian Federation
---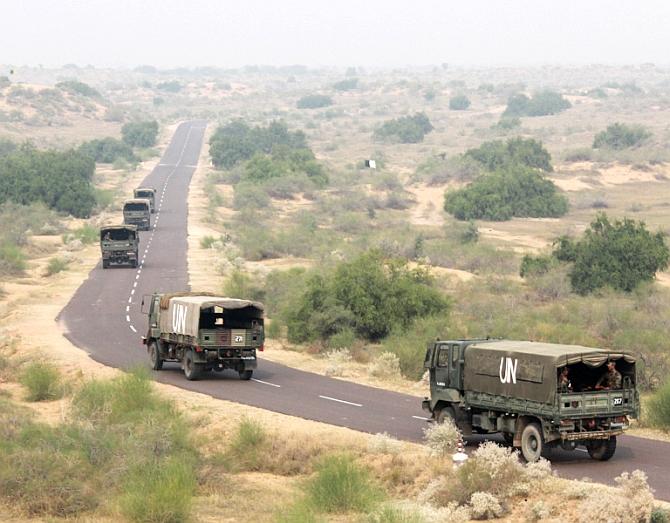 Indian and Russian soldiers head out on a UN-mandated mission exercise. In order to establish conditions those close resemble combat ones, a large amount of imitating means were used. Servicemen of the Indian Special Task Force simulated the terrorists. Photograph: Ministry of Defence of the Russian Federation
---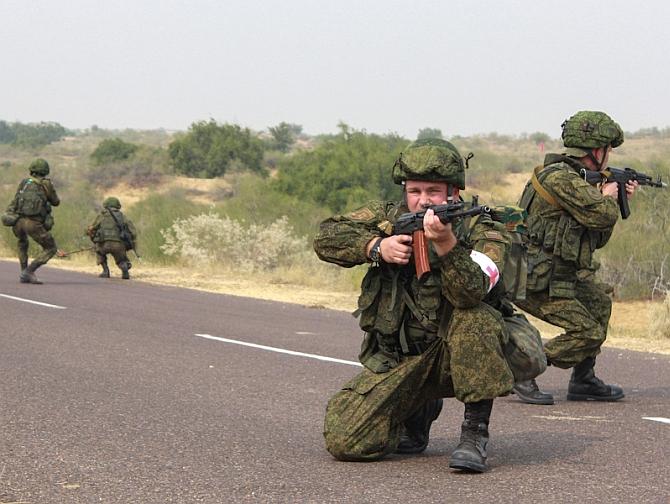 Special attention was paid to improving cooperation between the Russian and Indian servicemen acting in small tactic groups within blocking and liquidating simulated illegal armed groups. Photograph: Ministry of Defence of the Russian Federation
---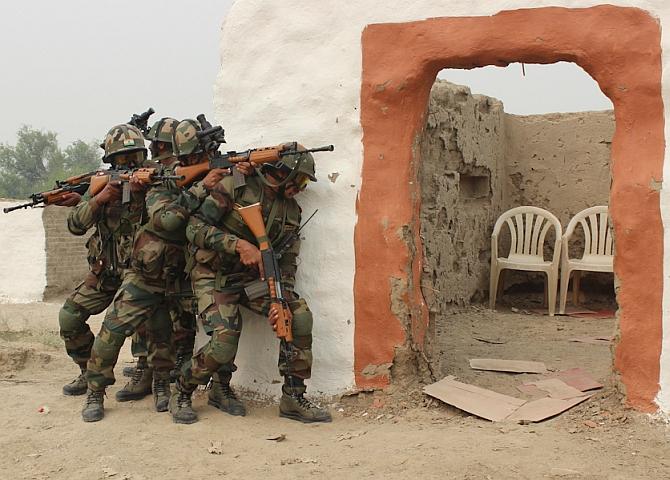 Indian armymen get ready to storm a terrorist hideout. Photograph: Ministry of Defence of the Russian Federation
---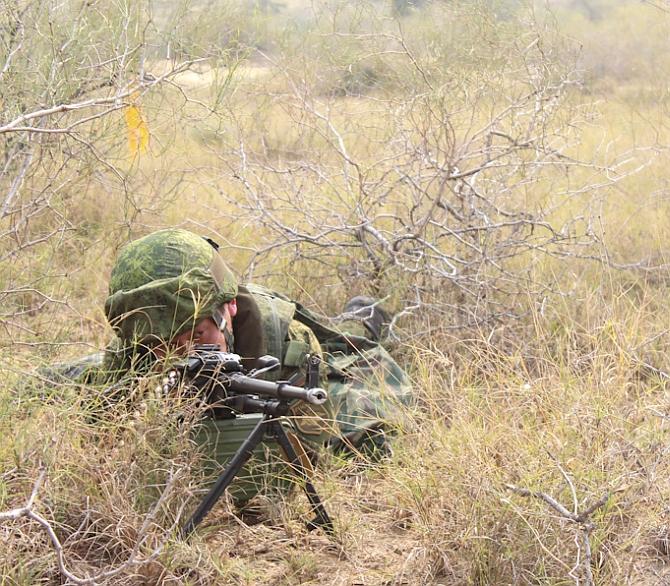 The joint exercise participants also practiced equipping ambushes and observation points, personnel camouflaging in conditions of actions held by the simulated enemy reconnaissance and sabotage groups. Photograph: Ministry of Defence of the Russian Federation
---
In the course of the reconnaissance actions, the servicemen conducted engineer reconnaissance of roads, overcame mine fields, repelled attacks of simulated sabotage groups as well as defined the presence of civilians in the operation zone. Photograph: Ministry of Defence of the Russian Federation
---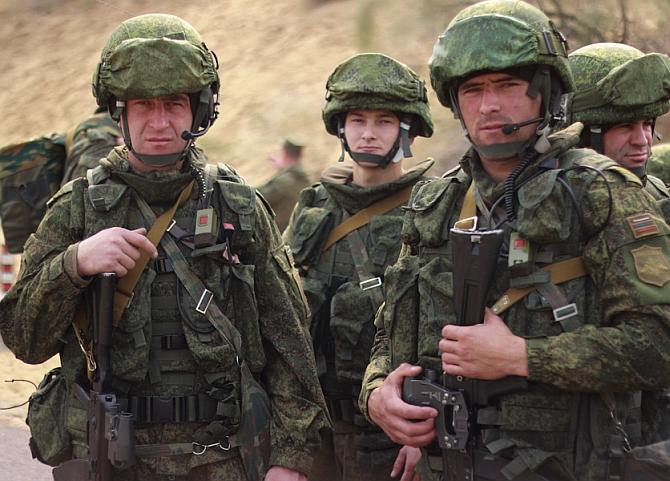 One of particularities of the exercise is the fact that the reconnaissance and search group of the Russian contingent included a platoon of infantry grenadiers, while the Indian one contained a Russian motorized rifle platoon. Photograph: Ministry of Defence of the Russian Federation
---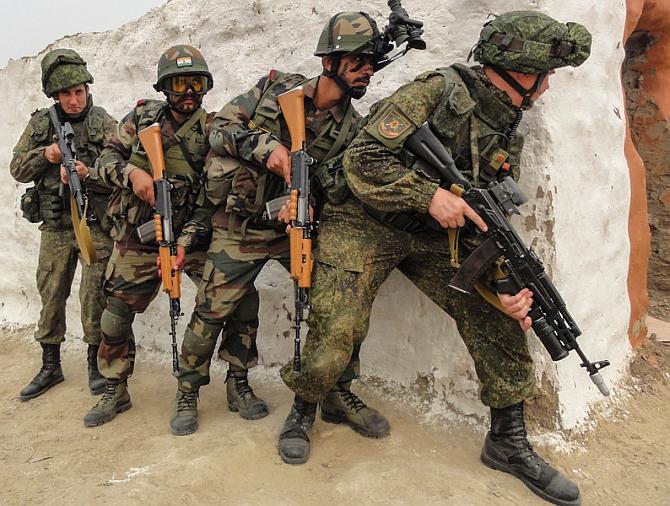 A tactical group of Russian and Indian servicemen surround a terrorist hideout. Photograph: Ministry of Defence of the Russian Federation
---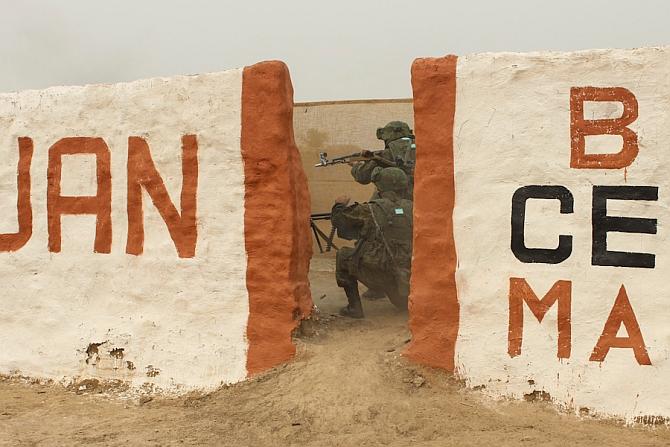 Mission accomplished. The terrorists are neutralised. Photograph: Ministry of Defence of the Russian Federation
---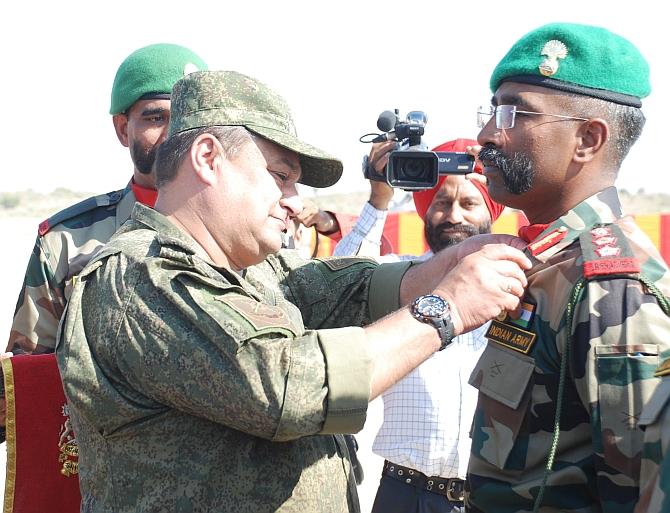 Russian General Sergei N Legotin presents a medal of honour to Indian Commanding Officer Colonel S Prashanth. Photograph: Indian Army
---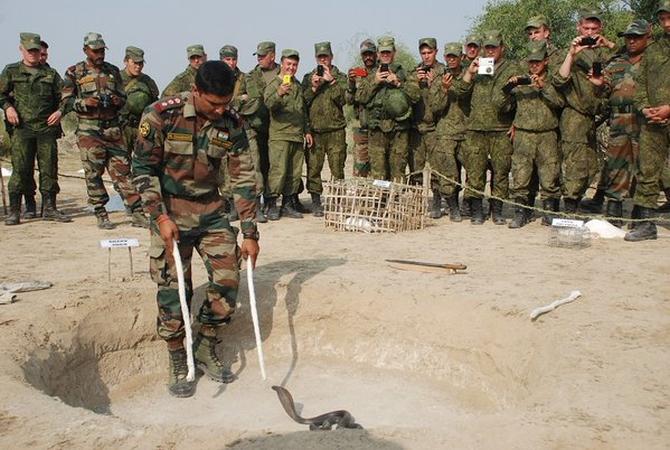 An Indian soldier demonstrates jungle survival training to the Russian contingent. Photograph: Indian Army
---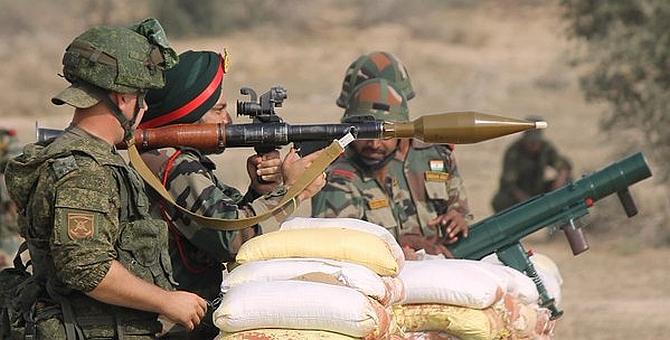 An Indian officer tries out a Russian RPG at the Mahajan field firing range. During the course of the training, the snipers and grenadiers developed skills in choosing and equipping firing positions, conducting stealth maneuvers, observation and reconnaissance of targets and shooting at different ranges. Photograph: Indian Army