Prime Minister Narendra Modi on Saturday visited the mausoleum of Sheikh Mujibur Rahman and paid floral tributes to him, becoming the first-ever foreign Head of State or Head of Government to pay homage at the grave of 'Bangabandhu' at Tungipara in southwestern Bangladesh.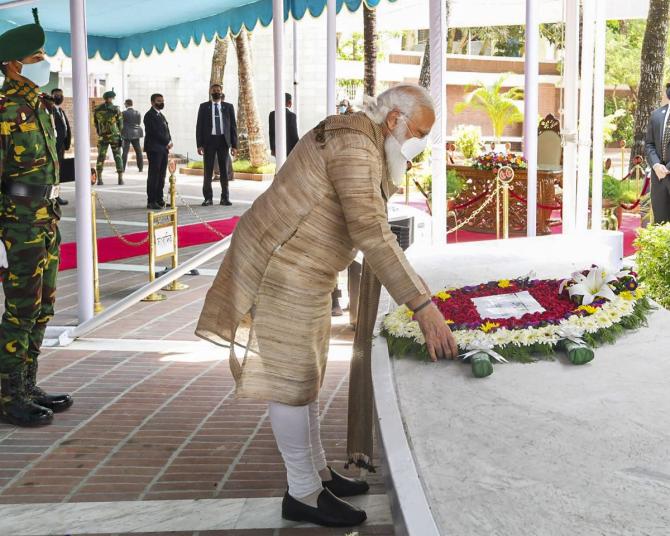 Prime Minister Modi was received at the mausoleum by his Bangladesh counterpart Sheikh Hasina, who is the daughter of Rahman.
Sheikh Rehana, the youngest daughter of Rahman was also present.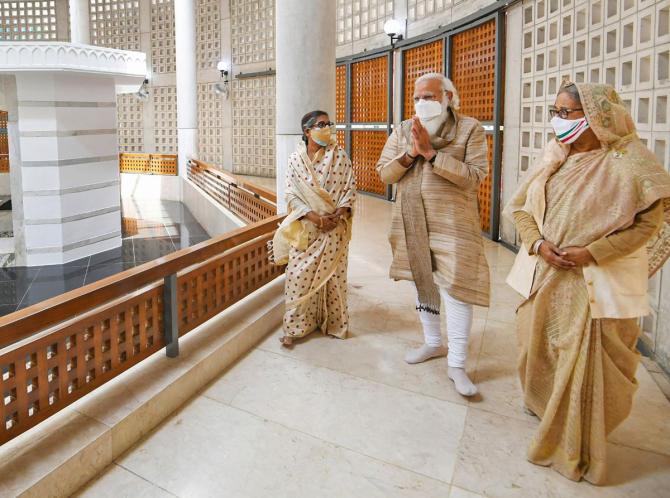 Modi, who was covering his face with a mask, paid floral tributes to 'Bangabandhu' and stood in silence for a few minutes while Hasina and her Cabinet colleagues offered 'Fatiha'.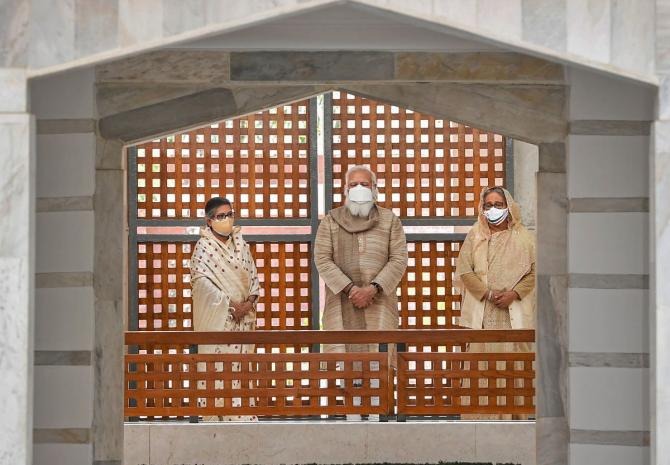 Prime Minister Modi is the first-ever foreign Head of State or Head of Government to pay homage at Bangabandhu Mausoleum Complex, the Ministry of External Affairs said in a press release.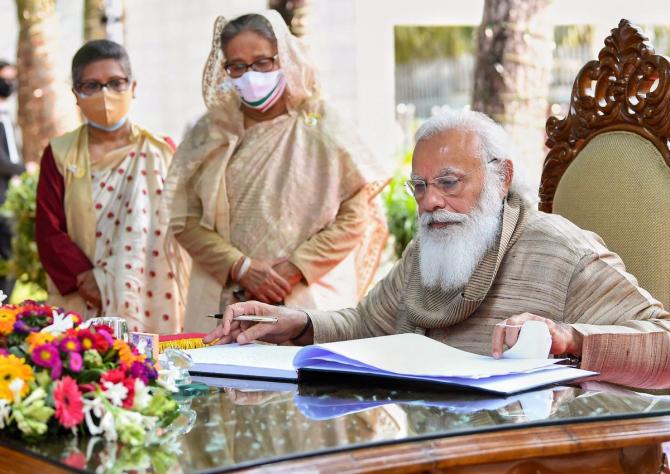 'The life of Bangabandhu epitomized (sic) the freedom struggle of the people of Bangladesh for their rights, for the preservation of their inclusive culture and their identity,' Modi wrote in the visitor book at the Mausoleum complex.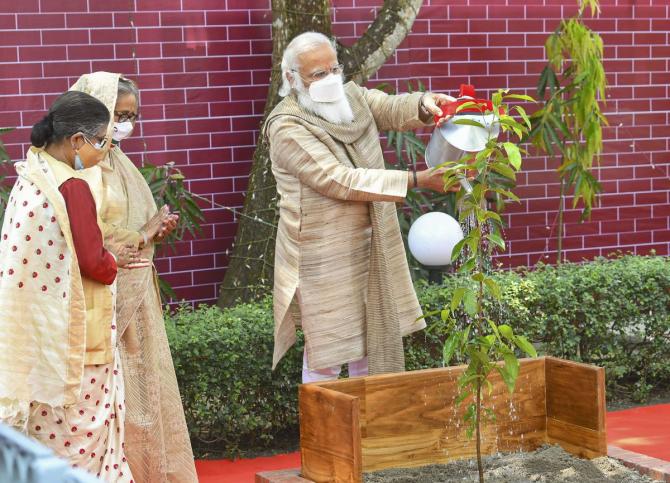 Prime Minister Modi also planted a Bakul tree sapling at the Mausoleum complex to commemorate this historic event.
India's prestigious Gandhi Peace Prize 2020 was conferred on Bangabandhu this week.
On the second day of his two-day visit to Bangladesh, Prime Minister Narendra Modi also offered prayers at the centuries-old Jeshoreshwari Kali temple in Ishwaripur village in southwestern Bangladesh.
The PM announced that India would construct a community hall-cum cyclone shelter attached to the temple.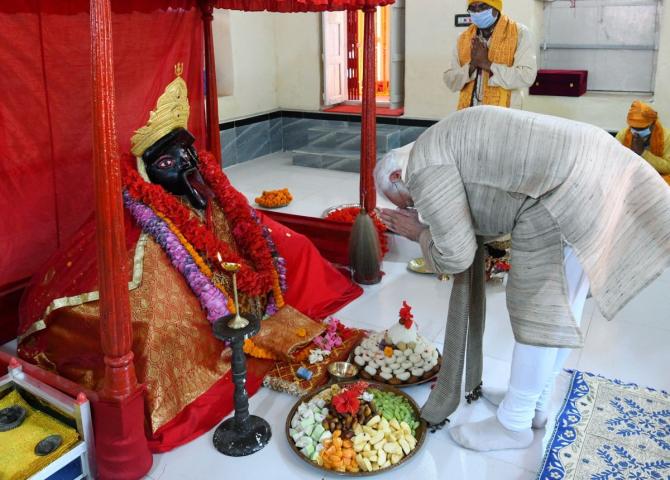 Modi performed pooja at the temple in Satkhira, which is one of the 51 Shaktipeeths in the Puranic tradition.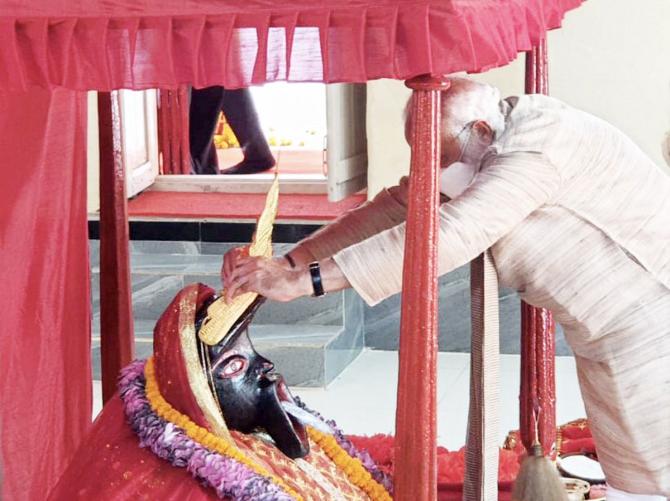 Modi also placed handmade mukut, made of silver with gold plating on Goddess kali.
This mukut was handmade over three weeks by a local artisan.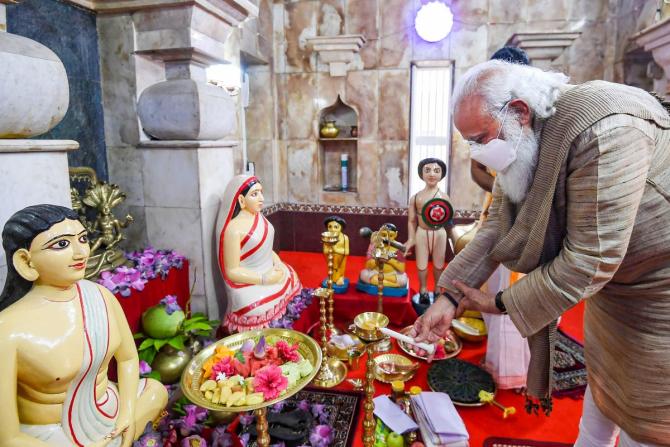 Modi also offered prayers at a Matua temple in Bangladesh's Orakandi, the birthplace of Hindu mystic figure and Matua community's spiritual guru Harichand Thakur.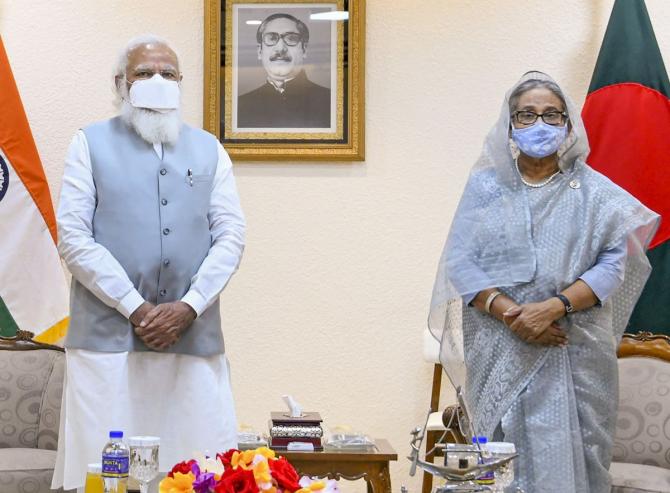 Modi later met Hasina and discussed the progress achieved in areas like connectivity, energy, trade, health and developmental cooperation following which the two countries signed five MoUs covering a number of areas of bilateral cooperation.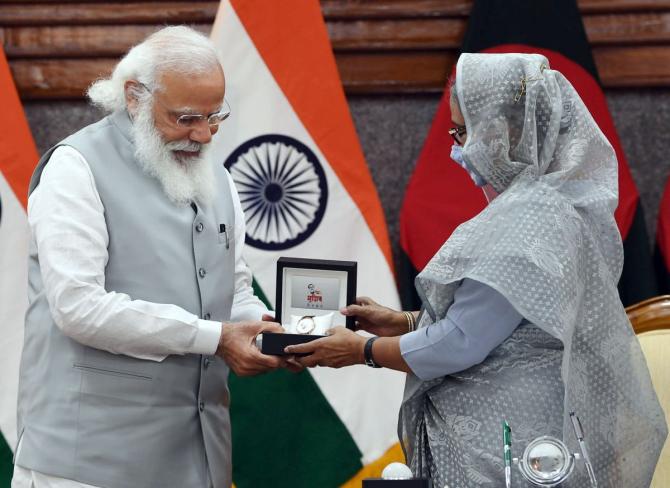 Hasina presented a gold and a silver coin released on the occasion of the birth centenary of her father and Bangabandhu Sheikh Mujibur Rahman to Modi.
She also handed over a silver coin released on the occasion of the 50th anniversary of Bangladesh's Independence.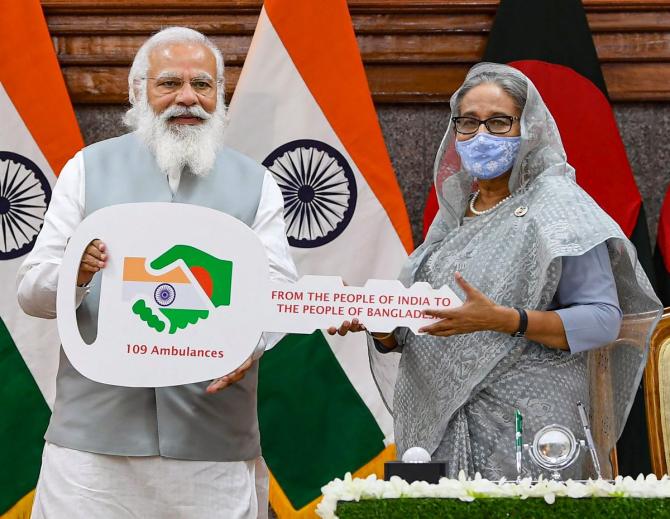 In a humanitarian gesture, Prime Minister Modi handed over a representational key of 109 ambulances to Hasina.
He also handed over a representational box to her as a symbol of India's gift of 1.2 million COVID-19 vaccine doses to Bangladesh.
The two leaders also jointly opened some projects virtually.