The South Asian nations could script a new history of cooperation and prosperity that could serve as an example for other nations, notes Dr Rahul Mishra.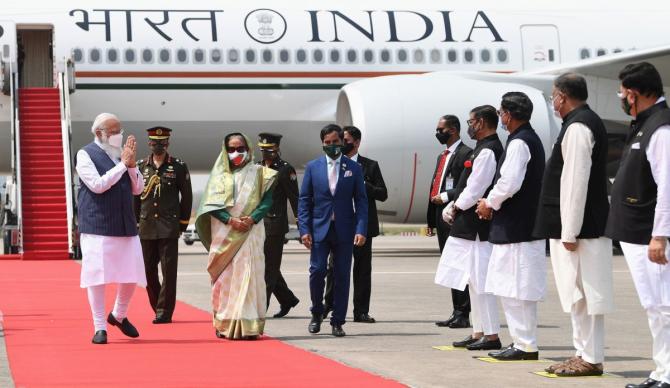 In the South Asian region, if there is a dark horse that has impressed the world with its growth in a short span of time -- it is Bangladesh.
Fifty years ago, on March 26, 1971, Bangladesh achieved its independence after months of violent struggle against Pakistan.
Unlike Pakistan, of which it was a part between 1947 and 1971 as East Pakistan, Bangladesh has not only come out of the clutches of abject poverty and economic underdevelopment over the past five decades but is also considered one of the major manufacturing hubs in the Indo-Pacific region today.
Under Prime Minister Sheikh Hasina, the Bangladeshi economy has made quantum leaps on both qualitative and quantitative aspects, achieving under her its golden decade of prosperity between 2010 and 2020.
However, as Bangladesh celebrates its 50th anniversary as an independent nation, and the centenary birth celebrations of Sheikh Mujibur Rahman, the father of the Bangla nation, it should also take note of the fact that its struggle for greater peace, prosperity, and attempts to restore the glorious past are not over.
With its historical and civilisational roots tied with India, the task cannot be completed by Bangladesh alone; India too will have to play its part in achieving this common goal.
This is perhaps the reason why Prime Minister Narendra Modi is on a two-day visit to Bangladesh. During his visit, a range of critically important issues including bilateral and regional connectivity, possibility of a free-trade engagement etc, are in the list of agenda items.
Much before the era of colonialism, Chittagong, Mongla (earlier known as Chalna) and Dhaka (Dacca) used to be important trade nodes in the pre-industrialised world. For instance, Chittagong port, whose earliest inhabitants are believed to be from more than two millennia ago, lived in advanced social and economic societies that were as impressive as those from the Egyptian civilisation.
During the times of Pundra, Gauda, Pala, Sena, and Deva dynasties, the Bay of Bengal region was regarded as one of the key hubs for regional and global trade and commerce. The Bay of Bengal was also one of the nodal points for ancient India's eastward engagement, especially with regard to Odisha and Bengal's links with today's Indonesia, Malaysia, Singapore, and Thailand.
Even during British rule, Dhaka and Chittagong remained important trade centres with Calcutta (now Kolkata) as British India's capital (till 1911) and a military command centre for the British empire's colonies in the Southeast Asian region (Southeast Asia command).
It is in this context that Bangladesh and India should work together to revive their shared history and heritage. India considers Bangladesh its gateway to Southeast Asia whereas Bangladesh has been affectionate enough to term India as its most important neighbour and a friend.
India played a crucial role in Bangladesh's war of independence. As a matter of fact, it was the second country after Bhutan to recognise Bangladesh as an independent nation on December 6, 1971.
The unprecedented bonhomie between the two neighbours has not come easy and there still are some unresolved issued. That said, the two countries have crossed several milestones which are beyond imagination for several other Asian countries that are marred by security dilemma and mutually overlapping territorial claims.
Of particular significance is the 2015 India-Bangladesh land boundary agreement, as a part of which India gave away more than 17,160 acres of territory to Bangladesh and agreed to swap enclaves as part of the boundary settlement. This created a new wave of engagement between Bangladesh and India.
Overcoming the past difficulties and working together for a brighter future has been the guiding spirit for the Bangladesh-India relationship. Several other issues such as the Teesta river water sharing await similar amicable solutions, which would demand maturity on the part of both India and Bangladesh.
At the regional level, Bangladesh made an important contribution with then prime minister Zia-ur Rahman suggesting to create a South Asian regional cooperation platform. This was realised on December 8, 1985, with the idea of a South Asian regional cooperation mechanism taking shape in the form of the South Asian Association of Regional Cooperation, SAARC.
Unfortunately, however, that relationship has been held hostage to India-Pakistan relations with Pakistan raising bilateral issues with India in violation of the SAARC charter.
As SAARC kept lagging behind, India has begun to work more closely with neighbours on its eastern seaboard and the Bay of Bengal Initiative for Multi-sectoral, Technological, and Economic Cooperation (BIMSTEC) was created.
BIMSTEC is a zone of confluence for India and Bangladesh where not only their rivers and peoples meet, but also where the potential for their new sub-regional cooperation lies.
The strongest plus point for BIMSTEC lies in the fact that it links the South Asian countries Nepal, Bhutan, and Sri Lanka with Myanmar and Thailand from the Southeast Asian region.
Going forward, BIMSTEC should include countries such as Maldives and Mauritius from South Asia, and Indonesia, Malaysia, and Singapore from the Southeast Asian region.
India is well aware of the fact that Bangladesh and the Bay of Bengal could serve as a gateway to Southeast Asia. While Bangladesh is growing at a fast pace, India is still the largest economy in South Asia.
According to the World Bank report, if Bangladesh and India manage to sign a free trade agreement, Bangladesh's exports might increase by 182 percent, and Indian exports by 126 percent of the current level.
In that regard, one of the most important fields of cooperation between India and Bangladesh is trade, and economic cooperation.
Understanding the vitality of promoting bilateral and sub-regional cooperation, India is working extra time to build stronger multimodal connectivity.
It has also been reported that greater connectivity coupled with bilateral free trade arrangement may help the Indian national income go up by 8 percent and more than double it for Bangladesh.
Connectivity has the potential to turn the region into an economic powerhouse. Recently completed and newly launched railway and road, port and waterway projects indicate India's strong desire to build greater connectivity. The Akhaura-Agartala rail link is a prominent example in that context.
Bangladesh has expressed interest in joining the India-Myanmar-Thailand trilateral highway, and is already a part of the BBIN (Bangladesh Bhutan, India, Nepal) Motor Vehicles agreement, and BCIM (Bangladesh, China, India, Myanmar) or the Kunming initiative.
Protocol on Inland Water Transit and Trade (PIWTT) is another key bilateral arrangement that can work wonders in ensuring greater bilateral and eventually sub-regional connectivity.
Comparisons have been drawn between Bangladesh and Vietnam which, one may argue, are not fair either to Bangladesh or Vietnam. Politically, these are two completely different systems with Bangladesh being a robust democracy and an open economy, while Vietnam is a socialist country with its own system.
While it is true that Vietnam has shown remarkable economic growth over the past few years, its growth has been driven by an outward looking economy, which has benefitted greatly from both the ASEAN economic dynamism and the US-China trade war.
Bangladesh, on the other hand, has become one of the manufacturing production houses for Western companies, offering material and human resources at cost-effective rates.
Like India, Bangladesh too is not a member of any extra-regional or mega-regional trade arrangements such as the RCEP (Regional Comprehensive Economic Partnership) or CPTPP (Comprehensive and Progressive Agreement for Trans-Pacific Partnership).
Perhaps the situation is not ripe yet for both India and Bangladesh to engage in such mega-trade blocs, and that opens up new vistas for their own economic cooperation frameworks in the Bay of Bengal. The BIMSTEC FTA could serve greatly in that context.
Dr Rahul Mishra is Senior Lecturer, Asia-Europe Institute, and Associate, Centre for ASEAN Regionalism, University of Malaya, Kuala Lumpur.