Very severe cyclonic storm Vardah, the most intense to have hit the Tamil Nadu capital in two decades, claimed four lives, flattened homes, snapped power, communication lines and threw into disarry rail, road and air traffic as it crossed the coast, pounding Chennai, Tiruvallur and Kanchipuram with heavy rain and squall.
IMAGE: People walking on road holding umbrellas during heavy rainfall as cyclone Vardah made landfall near Chennai coast on Monday. Photograph: R Senthil Kumar/PTI Photo
No flight landed or took off from Chennai Airport as NOTAM (notice to airmen) was issued on Monday morning after strong cyclonic winds and poor visibility hit Chennai and other parts of the state, throwing life out of gear.
NOTAM, is a notice filed with an aviation authority to alert aircraft pilots of potential hazards along a flight route or at a location that could affect the safety of the flight.
Thousands of people were evacuated as roaring wind clocking speed of 100 km an hour uprooted trees, tore off hoardings and toppled cars.
IMAGE: The movement of traffic on several arterial roads including the famous Anna Salai, Grand Southern Trunk road were largely affected while several trees were uprooted as cyclone Vardah made landfall. Photograph: R Senthil Kumar/PTI Photo
Two fishermen were reported missing off the Andhra Pradesh coast in Kakinada and the Coast Guard has deployed ship for search and rescue operations. Though no major loss of life or property has been reported from Andhra Pradesh so far, heavy rains lashed Chittoor and SPS Nellore district, affecting normal life.
Public transport came to a standstill in Chennai with buses and suburban trains suspended and airport shut. Rail, road and air traffic, official sources said, were likely to be restored by Tuesday.
Most commercial establishments downed shutters in Chennai, Tiruvallur and Kancheepuram districts.
"After 1994, this is the first very severe cyclonic storm to hit Chennai coast. The storm has completely crossed the coast as expected (on Monday evening)," a senior Met Official said.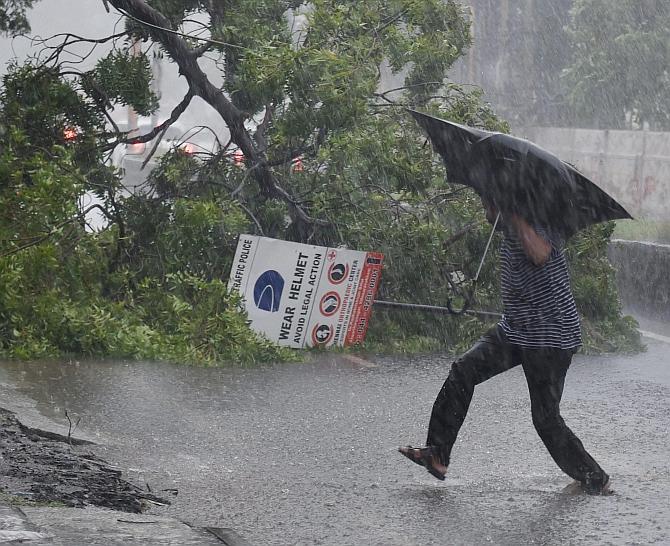 IMAGE: A man runs for safety as an uprooted tree blocks the road during heavy rainfall. Photograph: PTI Photo
Personnel from the National Disaster Response Force and State Disaster Response Force were deployed for rescue efforts as army was put on standby.
A home ministry spokesperson said in Delhi that four people were killed in the storm in Tamil Nadu, while six teams of NDRF and four of SDRF were engaged in rescue efforts.
About 8,000 people from low-lying areas in north Chennai, Pazhaverkadu in Tiruvallur district and villages off Mamallapuram, in Kanchipuram district were safely evacuated to 95 relief shelters, officials said.
In Andhra Pradesh, over 9,400 people living along the Bay of Bengal were evacuated to relief camps amid heavy rain.
Also, separate teams of personnel drawn from the health, sanitary and electricity departments were deployed for relief operations in low-lying areas of the three storm-hit Tamil Nadu districts.
The Met department said the intensity of wind and rainfall would recede after 'Vardah' made landfall near Chennai between 2.30 pm and 4.30 pm.
Coastal regions of northern Tamil Nadu -- Chennai, Tiruvallur and Kancheepuram -- continue to be on high alert even as people in low-lying areas were accommodated in relief centres.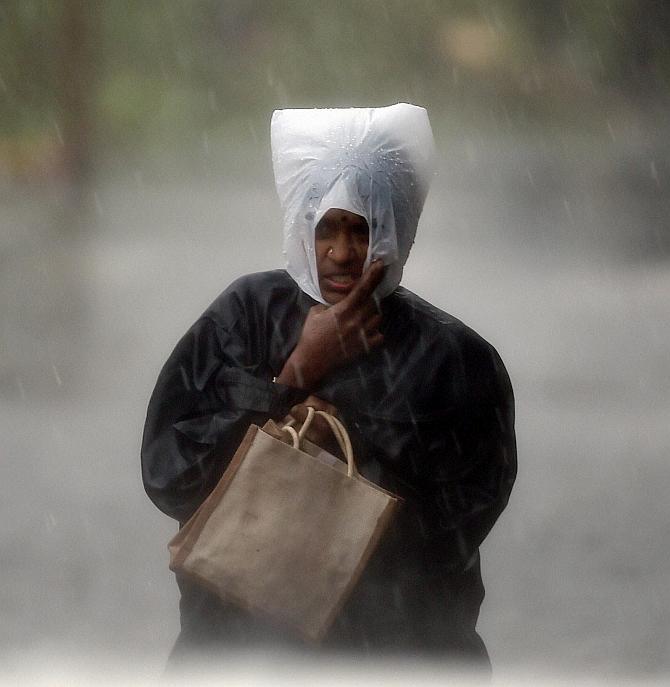 IMAGE: A person walks on road during heavy rainfall as cyclone Vardah made landfall. Photograph: R Senthil Kumar/PTI Photo
Tamil Nadu Chief Minister O Panneerselvam and his Andhra Pradesh counterpart N Chandrababu Nadu apprised Union Home Minister Rajnath Singh of the damage caused by the cyclone and steps taken for the rescue and relief.
Panneerselvam was constantly monitoring the situation as state ministers were visiting relief centres to oversee relief distribution.
The Southern Railway said the cyclone had caused severe impact to its infrastructure and prompted cancellation, diversion and suspension of rail services.
"The intensity of the cyclone has had a severe impact on the infrastructure of Chennai Division, resulting in considerable damage. Overhead electrical lines have been damaged at several locations," Anupam Sharma, Divisional Railway Manager, Southern Railway said.
"As a result of disruption of overhead electrical lines, 16 trains have been held up in Jolarpettai -- Chennai Central section and four trains in Villupuram -- Chennai Egmore section. Several Chennai-bound trains have been regulated at various stations of Chennai division," he said.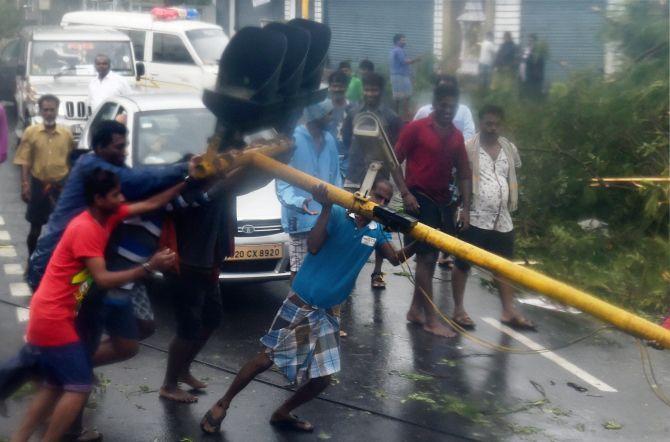 IMAGE:

People lift uprooted poles in Chennai on Monday

. Photograph: R Senthil Kumar/PTI Photo
Although all efforts were being made to restore normalcy as early as possible, full assessment for restoration work was possible only after the cyclone has finally ebbed away, he added.
Urgent steps were being taken to ensure movement of all mail/express trains which were held up mid-section. Passengers of all such trains were given maximum facilities so as to obviate the hardships to the extent possible, Sharma said.
Operations at Chennai airport were suspended for the entire night, with nearly 170 services being disrupted through the day even as 10 flights were cancelled.
A total of 44 international and 123 domestic services were affected as they were diverted to nearby airports like Bengaluru even as many stranded passengers were still waiting at domestic and international terminals.
Steps were being taken to distribute food to them, they said.
Departing flights to cities including Delhi, Mumbai and Bengaluru were cancelled.
Subsequently, there was no possibility of resuming operations, which were earlier announced suspended till 5 pm, officials said.
Airports Authority of India reviewed the situation at the Chennai airport at around 9 pm and decided to extend the NOTAM till 11 pm on Monday, sources said.
Arrival of all flights and departure was cancelled on Monday.
"As of now, operations at the Chennai airport remain suspended. There is no damage to the runway, but we have shut radars because of the high speed winds. There is some power supply issue at the ATC complex, which the local authorities are trying to restore. But we have all other contingency measures in place," a senior AAI official in Delhi said.
The strong winds damaged seven glass panels and roof at three places at the airport, officials said.
A car was damaged after an uprooted tree fell on it.
In the three affected districts, skeletal bus services were being operated on select routes.
The social media was also abuzz with discussions on Vardah, with people sharing information and pictures on the cyclone.
Videos and pictures of damage to property including huts and even a starred hotel in Chennai and uprooting of trees gave a glimpse of the magnitude of the storm.
A report from Amravati in Andhra Pradesh said as many as 18 fishermen from Tamil Nadu, who strayed into the Bay of Bengal on Sunday despite warnings, were rescued from near the Sriharikota high altitude range in afternoon.
Chief Minister N Chandrababu Naidu announced that Andhra Pradesh was ready to extend all necessary help to neighbouring Tamil Nadu that bore the brunt of Vardah.
With forecast of heavy rains for the next 24 hours in Nellore, Chittoor, Prakasam and Anantapuramu districts, the official machinery has been asked to remain on alert, mostly to prevent breach of tanks.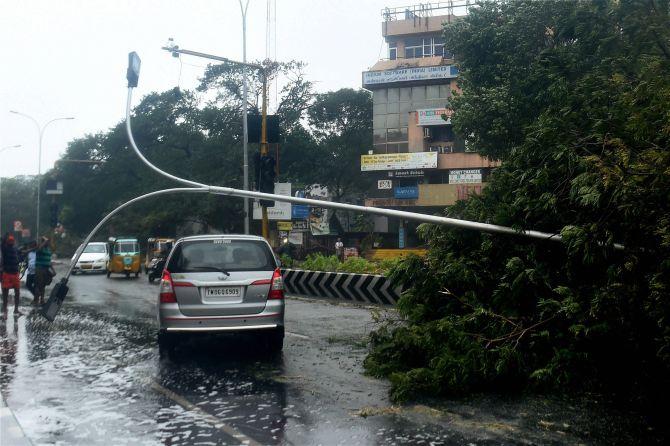 IMAGE: A car moves past an uprooted lamp post and tree following a storm in Chennai on Monday. Photograph: R Senthil Kumar/PTI Photo
Meanwhile, the regional meteorological department in its latest bulletin said Chennai recorded highest rainfall of six centimetres followed by various places in neighbouring Thiruvallur and Kancheepuram districts.
During the last 24 hours, rainfall occurred at various places over North Coastal Tamil Nadu and at isolated places over remaining Tamil Nadu, coastal Andhra Pradesh and Rayalaseema.
In its forecast for the next 24 hours, the MeT office said rainfall at most places with isolated heavy to very heavy over south coastal Andhra Pradesh, Rayalaseema, North Coastal Tamil Nadu was 'very likely'.
Heavy to very heavy rainfall (between seven and 19 centimetres were expected) at a few places and extremely heavy rainfall of over 20 cm were 'very likely' over Chennai, Thiruvallur and Kancheepuram districts.
Gale wind speed reaching 100-110kms per hour gusting to 120 kmph was very likely to prevail during the next 12 hours along and off Chennai and Thiruvallur districts of Tamil Nadu, Nellore and adjoining areas of Prakasam districts of Andhra Pradesh.
The tidal waves of about one metre height and above was 'very likely' to inundate the low lying areas of Chennai and Thiruvallur districts of Tamil Nadu, it said.
A government release said schools and colleges in Chennai, Kancheepuram and Thiruvallur districts would be remained closed on Tuesday as well.
Meanwhile, private carrier Jet Airways has said it has put in place arrangements to fly those passengers whose flights were diverted due to the Chennai airport closure.
'To this end, airline's Guests booked on domestic flights diverted to Bengaluru and Hyderabad will be flown back to their cities of origin, so as to minimise their inconvenience,' Jet Airways said in a statement.
In view of the prevailing inclement weather due cyclonic conditions in Chennai and in the interest of safety of its guests, crew and aircraft, all Jet Airways flights to/from Chennai stand cancelled up to Monday midnight (23.59 pm), it said.
Furthermore, Guests may cancel or rebook/change their itinerary as required, without any penalty for the affected flights only, the airline said.
Budget carrier IndiGo has offered full refund, for those passengers affected to and from Chennai due to severe weather conditions between December 12 and 13.
'We are also waiving off change fee for those who wish to reschedule/edit their itinerary. Along with that we are and will be providing refreshments to those passengers stranded at the airport,' IndiGo said.
'We are constantly assessing the situation and will extend the relief to affected passengers till required,' the airline said.
Air India has said it has decided to waive off the cancellation charges for all its flights to and from Chennai for Monday and Tuesday.
******
State government announces ex gratia
The Tamil Nadu government announced a solatium of Rs four lakh each to the next of the kin of the people who lost their lives due to the cyclone.
Expressing deep condolences to the bereaved family members, Chief Minister O Panneerselvam said 'a sum of Rs four lakh each will be given from the State Disaster Relief Fund'.
Stating that 13 senior IAS officers were sent to Kancheepuram, Thiruvallur and Villupuram to monitor relief and precautionary measures, he said, 16 officials were monitoring the relief efforts in Chennai and six NDRF teams for Chennai, Thiruvallur and Kancheepuram districts were kept on standby.
The services of Army and other Central forces were also requested, he said.
Noting that winds at the time of Cyclone crossing the coast reached up to 130 km per hour, he said power supply at various places have been affected.
'Nearly 4,000 personnel from state electricity board are continuously working to restore power supply. However, it is expected to take one or two days to restore (the power supply) in North Chennai, Kancheepuram and Thiruvallur districts,' he said.
On the steps taken to provide medical emergencies, he said 100 mobile medical teams have been formed, and added that 113 ambulances have been kept on standby in Chennai, Kancheepuram and Thiruvallur districts.
About 4,000 trees have been uprooted in the cyclone, he said, adding, 275 electric wood cutters and more than 100 earth movers were removing them.
About 8,400 workers were involved in removing the uprooted trees and a major portion of them removed, he said.
In order to monitor the relief measures, he said a team of six Ministers each have been sent to Chennai, Thiruvallur and Kancheepuram districts, respectively.
******
Rajnath speaks to CMs of Tamil Nadu, Andhra Pradesh
Home Minister Rajnath Singh spoke to chief ministers of Tamil Nadu and Andhra Pradesh to take stock of the situation in the two states following the landfall of cyclone Vardah and assured them of all help.
During the telephonic conversations, the chief ministers -- O Panneerselvam (Tamil Nadu) and N Chandrababu Nadu (Andhra Pradesh) apprised the home minister of the damage caused by the cyclone and steps taken for the rescue and relief operations.
Singh told the two chief ministers that the central government is ready to provide all possible help to the states affected by cyclone Vardah.
Panneerselvam told Singh the state's administrative machinery is kept in readiness to face the cyclone, even as senior IAS officers have been posted in the affected districts to oversee rescue and relief operations, a state government statement said.
The home ministry is also closely monitoring the situation and is in constant touch with top officials of the two states.
******
Battery-run woodcutters being used to remove uprooted trees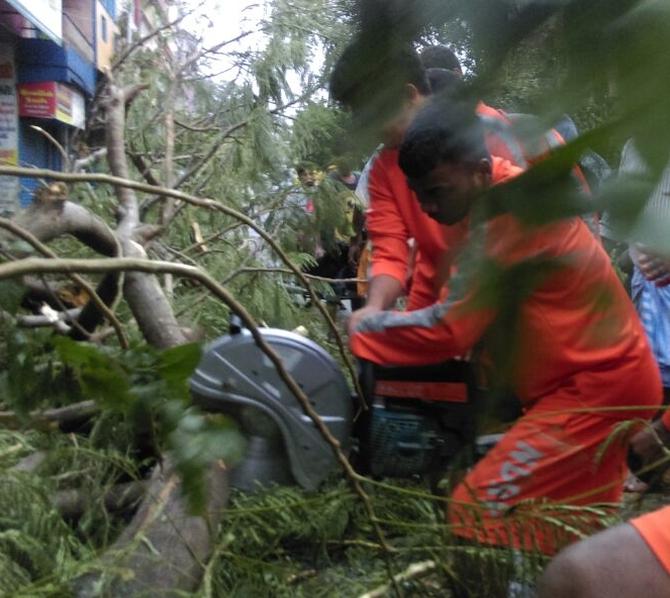 Battery-run electric woodcutters are being used by civic workers in Chennai, Tiruvallur and Kanchipuram districts to swifty clear roads by removing trees which have been uprooted under the impact of cyclone Vardah.
Officials said a large number of trees have been uprooted so far in the three affected districts and efforts were on to quickly remove them.
Huge trees, several of them decades old, were uprooted in various locations here, including War Memorial on Kamarajar Salai, Madhavaram Market, Royapettah, Kodambakkam and Anna Nagar Welcome Colony Park.
Call centres for 108 (ambulance) and 104 (health advisories) are now "zero call waiting" to ensure unhindered help to people and Health Minister C Vijaya Baskar inspected a call centre, they said.
A government statement said 100 mobile medical teams and several teams of food safety officials are in service and steps have already been taken to prevent spread of endemic diseases.
Adequate number of pumps and generators are being used to pump out water in low-lying areas and inundated subways, the release said.