Democratic presidential nominee Hillary Clinton has won the third and final presidential debate with her Republican rival Donald Trump by an impressive 13 percentage points after a feisty fight, according to a latest poll.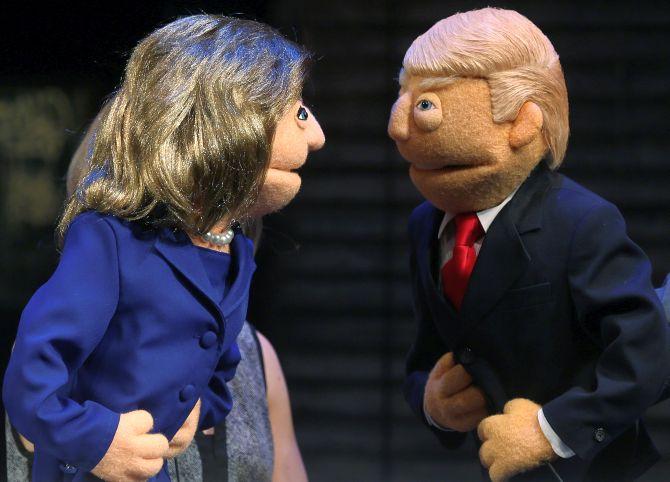 IMAGE: Puppets in the likeness of Democratic presidential nominee Hillary Clinton and Republican presidential nominee Donald Trump face-off in the debate. Photograph: Carlo Allegri/Reuters
Overall 52 per cent of those who watched the debate said Clinton did the best job, while 39 per cent said Trump was the winner, CNN said, releasing the results of its unscientific poll.
As per CNN, Clinton has won all the three presidential debates. But it noted that the victory margin was narrowest for Clinton in the third and final debate in Las Vegas.
She won the first debate in New York by a 35 point margin and the second debate in St Louis with 23 points.
Clinton also won the Breitbart online poll, according to which she had the support of 59.3 per cent of the respondents, while 40.65 backed Trump.
This is interesting because Trump's campaign CEO is former Breitbart chairman Steve Bannon.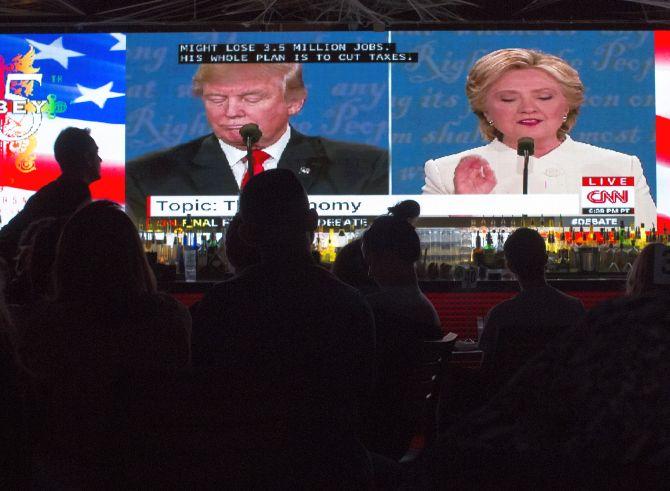 IMAGE: People at The Abbey bar watch the third and final presidential debate in West Hollywood, California. Photograph: David McNew/Getty Images
Meanwhile, both the camps declared victory for themselves.
"Tonight, Donald Trump succeeded in reminding the American people once again that Hillary Clinton's actions have disqualified her from being our Commander-In-Chief," said Congressman Bill Johnson in a statement issued by the Trump campaign.
"During tonight's final debate, the American people again saw the stark contrast in this presidential election. Trump is an outsider businessman who is helping hard working Americans get from payday to payday," said Senator David Perdue from Georgia.
"The third and final presidential debate has ended, and it can now be said: Clinton crushed Trump in the most effective series of debate performances in modern political history," Vox said.
The Democratic National Committee interim Chair Donna Brazile said this was Trump's last real chance to give undecided voters a reason to vote for him.
"Instead, he imploded, saying he might refuse to accept the results of the election if he loses, making a mockery of our democracy," she said.
"He threw empty slogans at serious questions, made grossly false claims about his 'respect' for women, and sided with Vladimir Putin and the Russian government instead of accepting the facts as laid out by the American Intelligence Community. Trump is simply unfit for the presidency," Brazile alleged.
Trump tweeted a Washington Times poll in which he won the debate.
The Washington Times, which conducted an online poll, said 77 per cent supported Trump while just 17 per cent backed Clinton.