What do Muhammad Ali, Mike Tyson and Justin Trudeau have in common?
They've all laced up their boxing gloves at Gleason's Gym, the Brooklyn, New York, training ground for many of boxing's brightest stars.
IMAGE: IMAGE:

Heartthrob Canadian Prime Minister Justin Trudeau got hearts swooning on Thursday as he stepped into the boxing ring. All photographs: Carlo Allegri/Reuters
Canadian Prime Minister Trudeau stopped at the gym and stepped into the ring for a photo op on Thursday, during his three-day trip to New York. The PM is slated to sign the Paris climate change agreement on Friday.
With a mix of gym faithful and media members looking on, the 44-year-old Trudeau, who was accused during last year's election campaign of being a political lightweight, spent most of his hour-long workout sparring with professional boxer and former WBA super welterweight champion Yuri Foreman.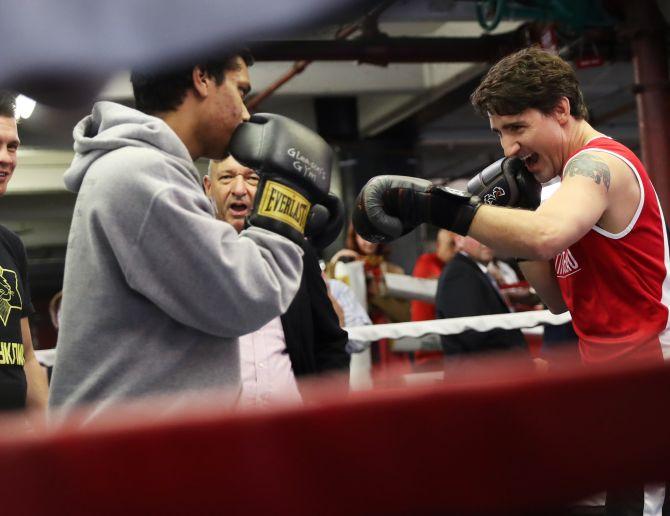 Trudeau was visiting the famous Gleason's Boxing Gym in Brooklyn, where greats like Muhammad Ali and Mike Tyson have trained.

When Trudeau was asked how he felt as his workout came to a finish, he first caught his breath and then replied with his trademark smile, "Good! Oh, yeah."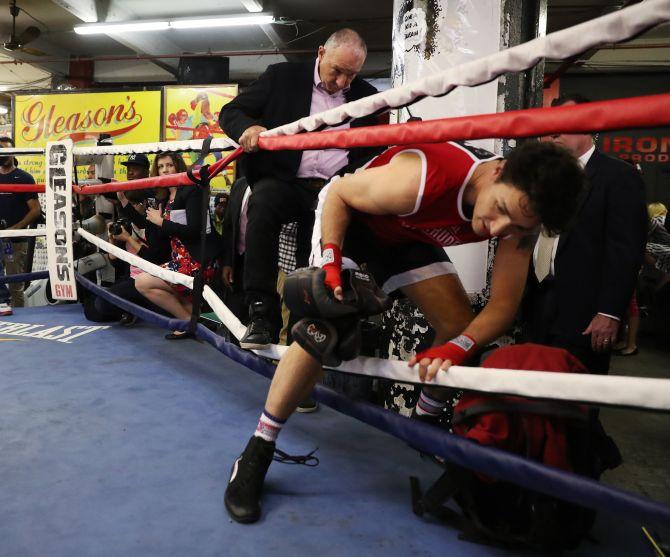 IMAGE: Trudeau's love for boxing is hardly a secret, especially to those who have followed his political career in Canada
On Wednesday, GQ magazine awarded Trudeau a spot on its list of "Most Stylish Men Alive Right Now", calling him a real-life version of a Disney prince and a "snowboarding John Mayer doppleganger."
IMAGE:

On display was Trudeau's infamous Haida raven tattoo. Trudeau revealed that he had gotten a tattoo of the planet Earth when he was 23, adding the raven - designed by renowned Haida artist Robert Davidson - for his 40th birthday