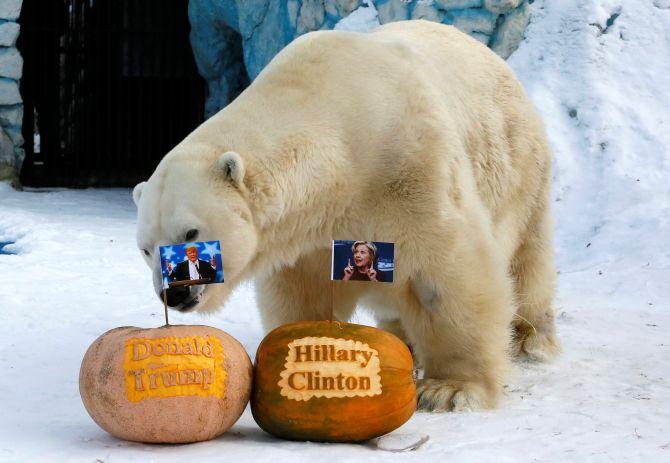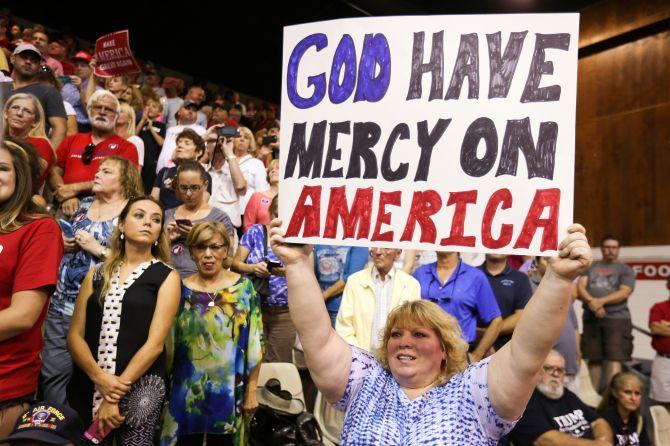 IMAGE: A supporter holds up a sign during a campaign rally in Sarasota, Florida. Photograph: Carlo Allegri/Reuters

Hillary Clinton and Donald Trump on Monday scrambled to make their final pitch to voters in the high-stakes United States presidential polls that will see the election of America's first woman president or the sensational win of a political outsider.
As the countdown began for the most bitter and divisive presidential election in the US history, Democratic candidate Clinton, 69, and her running mate Tim Kaine's campaign received a last-minute boost by news that the Federal Bureau of Investigation had found no new troublesome e-mails in a review of the former secretary of state's private server and she will not face criminal charges.
Seeking to become the first female president of America, Clinton, relieved by the latest development, will end her campaign with a rally in the battleground state of North Carolina at midnight local time.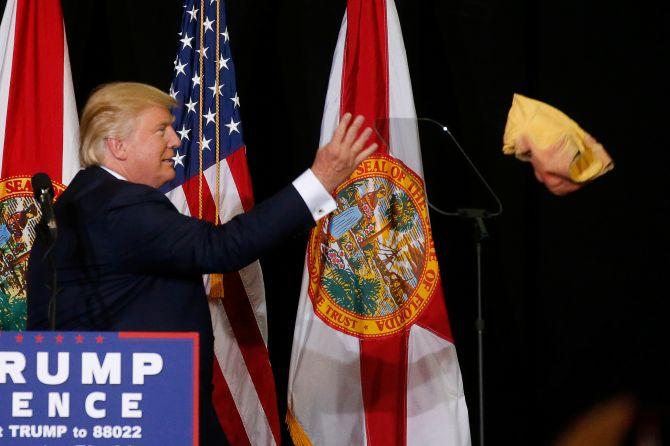 IMAGE: Republican presidential nominee Donald Trump tosses a mask of himself as he speaks during a campaign rally in Florida. Photograph: Carlo Allegri/Reuters

Republican candidate Trump will close his campaign with an event in Grand Rapids, Michigan, a state where he is hoping to pull off a huge surprise.
Trump, 70, called the vote on Tuesday a final chance to turn back foreign forces menacing American identity, while Clinton said the country's long journey toward equality for women and minorities was at risk of being reversed in a day's balloting.
Trump claimed that he is leading in battleground states and is headed to win the White House race, much to the surprise of the pollsters and the media.
IMAGE: Yunona, a four-year-old female Amur tiger, stands near pumpkins with faces of US presidential nominees Hillary Clinton and Donald Trump as it predicts the result of the presidential election at the Royev Ruchey zoo in Krasnoyarsk, Siberia. Photograph: Ilya Naymushin/Reuters

"You have to get everyone you know to the polls. We are going to win. We are going to have one of the greatest victories of all time. This is going to be Brexit times 50," Trump told cheering supporters in Leesburg, a suburb of Washington DC in Virginia.
"I think, we are up in Colorado. We are doing very well in Nevada. Doing really well in North Carolina. I hear, we are going to do very well in the State of Virginia. We are winning Florida. I think, we are doing very well in Pennsylvania," he said.
Trump promised a raucous crowd that he would end trade deals supported by 'crooked Hillary', scrap the Affordable Care Act and dramatically restrict the arrival of refugees in communities that don't want them.
IMAGE: An officer with the New York Police Department Transit Bureau K-9 unit walks through Times Square in New York. Photograph: Shannon Stapleton/Reuters

He also addressed rallies in Iowa, Colorado, Minneapolis, Michigan and Pennsylvania.
Clinton, meanwhile, campaigned in Pennsylvania, where she maintains a lead, and in Ohio and New Hampshire, two battleground states that could go either way.
"This election is a moment of reckoning," Clinton told a crowd in Manchester.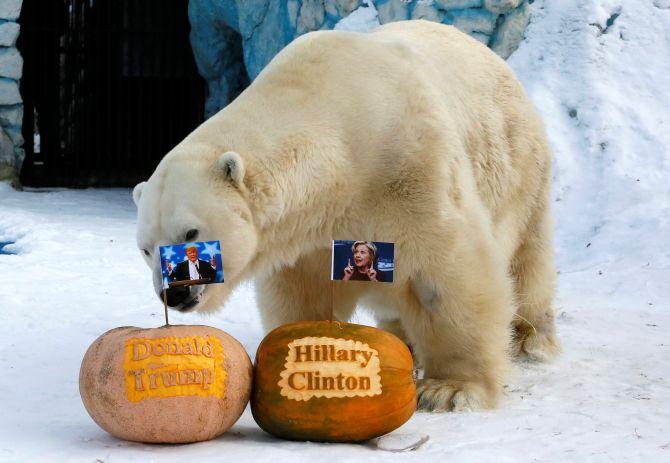 IMAGE: Felix, a male polar bear, stands near pumpkins with portraits of Clinton and Trump as it predicts the result of the election at the Royev Ruchey zoo in Krasnoyarsk, Siberia. Photograph: Ilya Naymushin/Reuters

"It a choice between division and unity. ... What's really on the ballot is what kind of country we want for our children and grandchildren," she said.
Clinton was introduced at the rally by Khizr Khan, the Gold Star father of slain American Muslim Army Captain Humayun Khan, who died while serving in the 2004 Iraq War.
Folk singer James Taylor performed at the rally ahead of Clinton's appearance.
Major polls on the final weekend before the election day showed the race for the White House was too close to call.
However, a poll published yesterday by NBC News and The Wall Street Journal found Clinton ahead of Trump by four percentage points nationally, and she maintains a clear upper hand in the Electoral College.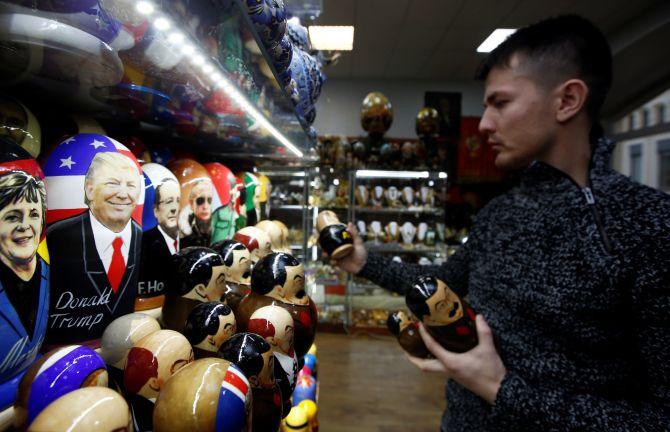 IMAGE: Painted Matryoshka dolls, or Russian nesting dolls, bearing the faces of Trump and other political leaders are displayed for sale at a souvenir shop in central Moscow. Photograph: Sergei Karpukhin/Reutres

Clinton has a 65 per cent chance of winning the US presidential election, according to a leading opinion poll website which said her decline in poll numbers has leveled off and her lead has held steady over the past several days.
The website FiveThirtyEight said that Clinton has a 65.3 per cent chance of winning the presidency, according to its polls-only forecast, which is less than the 81 per cent that had been forecast for her just before Federal Bureau of Investigation director James Comey had told Congress in October that he was reviewing additional emails pertinent to the case of Clinton's email server.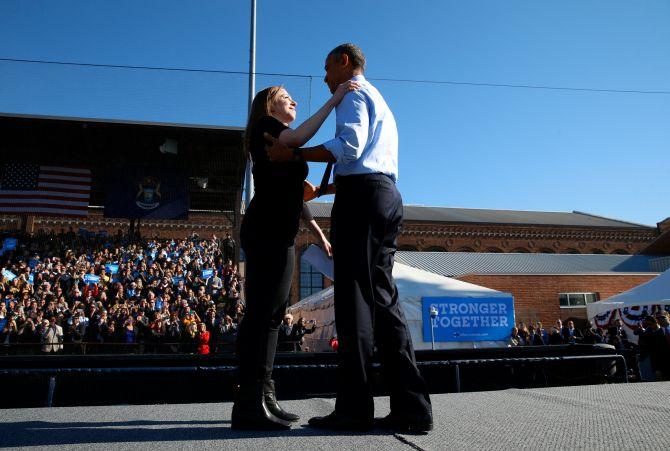 IMAGE: US President Barack Obama hugs Chelsea Clinton as he campaigns for Hillary at the University of Michigan in Ann Arbor, Michigan. Photograph: Kevin Lamarque/Reuters

While the percentage declined for Clinton it is still ahead of Trump's who has a 34.6 per cent chance of winning the presidency.
In total, there are currently 538 electors, corresponding to the 435 members of the House of Representatives and 100 senators, plus the three additional electors from the District of Columbia.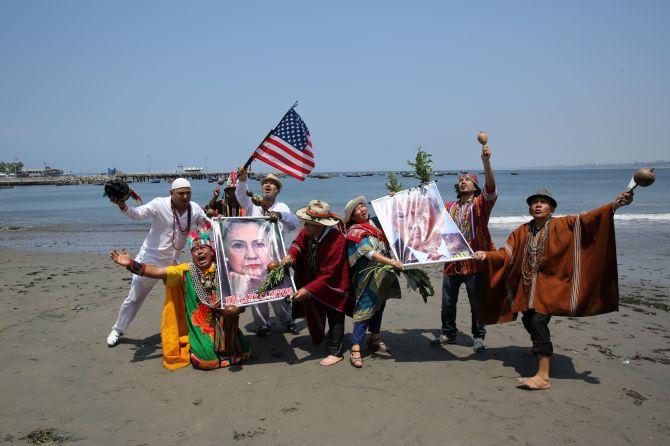 IMAGE: Peruvian shamans with posters of Clinton and Trump perform a ritual of predictions ahead of the elections, at Lima, Peru. Photograph: Mariana Bazo/Reuters

A candidate needs at least 270 electoral votes to clinch the White House race and Clinton is expected to get 291.9 electoral votes as compared to 245.3 for Trump.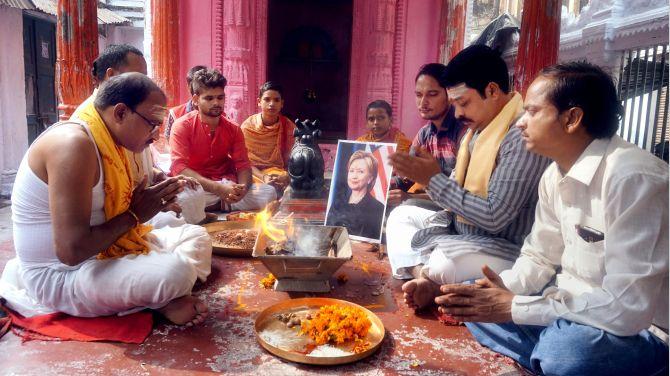 IMAGE: Clinton supporters conduct prayers for the Democrat's victory in Varanasi. Photograph: PTI Photo
The analysis predicted that Clinton could get 48.3 per cent of the popular vote while Trump 45.4 per cent.
Supporters of Clinton and Trump also went into full throttle to urge the voters to cast their ballots on the poll day as well as rally support for their presidential candidates.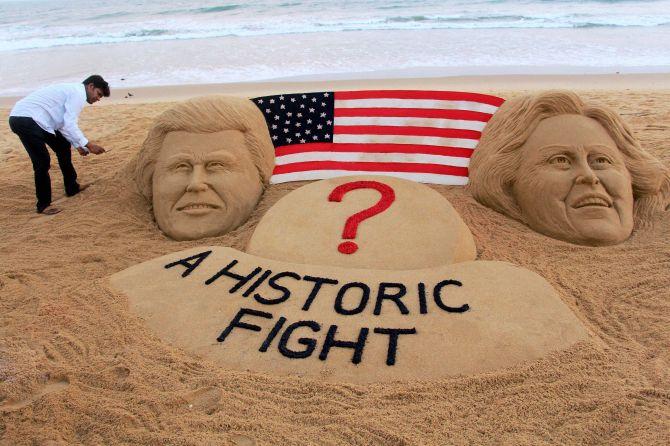 IMAGE: Sand sculpture of Clinton and Trump with message 'A Historic Fight' on Puri beach of Odisha. Photograph: PTI Photo
Nearly 42 million Americans have already voted for president, casting their ballots before the FBI announced it stands by its July position to not recommend charges over Clinton's use of a private email server.
At the Clinton campaign headquarters in Brooklyn, volunteers turned out in large numbers, urging voters to go and cast their ballot on and before November 8.