Masked youths pelt stones at security officials in various parts of the Valley after Eid prayers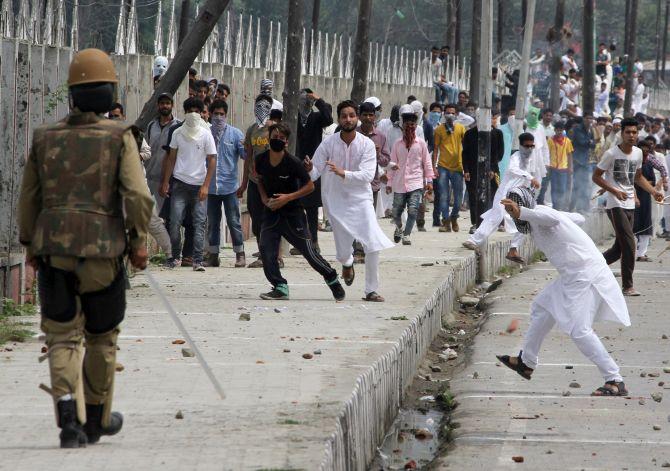 Protesters clash with police officials in Srinagar. Photograph: Umar Ganie

Protests rocked parts of Kashmir Valley including Srinagar on Saturday where Pakistan and Islamic State flags were yet again displayed by masked youths after Eid prayers.
Authorities placed senior separatist leaders including the moderate All Parties Hurriyat Conference chairman Mirwaiz Moulvi Umar Farooq, hardline separatist leader Syed Ali Shah Geelani and pro-independence Jammu and Kashmir Liberation Front chairman Yasin Malik under house arrest. They were not allowed to offer Eid prayers as the atmosphere was volatile.
Slogan shouting youths took to streets in the Eidgah area of Srinagar immediately after the prayers and indulged in heavy stone pelting. They clashed with the police and Central Reserve Police Force troopers.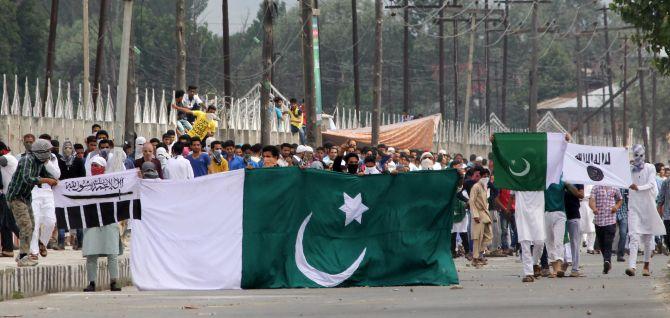 Youths demonstrated the Pakistan flag during the agitation. Photograph: Umar Ganie

Eidgah was the venue of the largest Eid congregation and was supposed to be addressed by Mirwaiz Moulvi Umar Farooq.
Security force fired dozens of tear smoke shells and resorted to repeated baton charges to disperse the protestors who, however, continued to regroup.
Protests also erupted in Lal Chowk and uptown Barzalla area of Srinagar prompting police to use baton charges to restore order.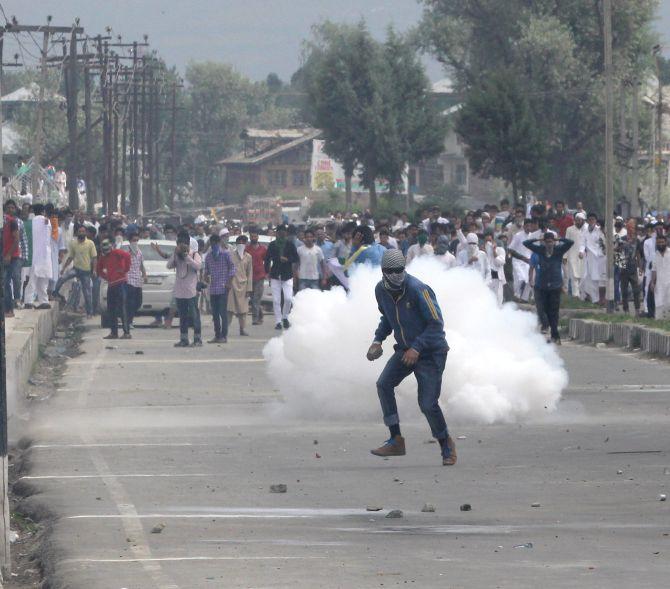 In south Kashmir's Anantnag town, angry protestors clashed with security forces after the prayers. Sources said some vehicles were damaged. Police had to resort to tear gas shelling in the town. Protestors were lathi-charged in north Kashmir's Sogam town of Kupwara district.
Jammu and Kashmir Chief Minister Mufti Mohammad Sayeed and opposition National Conference working president Omar Abdullah offered prayers at the Hazratbal shrine.