The historic peace talks are aimed at ending their decades-long conflict and come weeks before Kim is due to meet United States President Donald Trump.
Kim Jong-un has become the first North Korean leader to cross into the South since the end of the Korean War in 1953 for a historic summit with his southern counterpart.
South Korean President Moon Jae-in personally greeted Kim with a hand shake at the border truce village of Panmunjom in the demilitarised zone between the countries.
The leaders posed for a photo together before crossing the demarcation line hand in hand, kicking off the first leadership summit between the divided countries in more than a decade.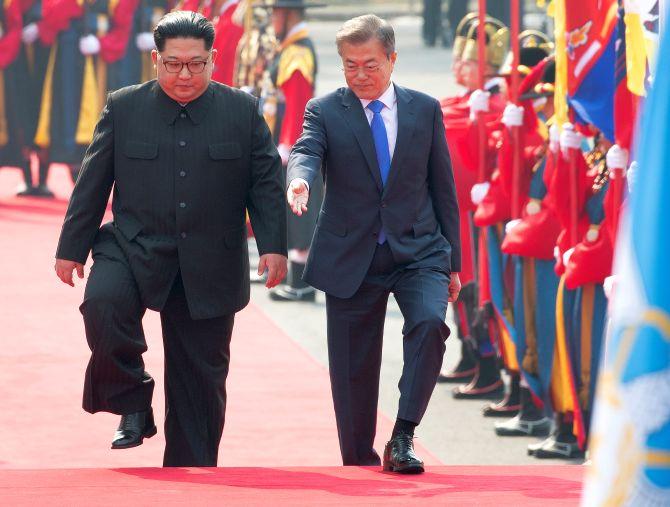 The meeting, aimed at ending their decades-long conflict and easing tensions over the North's nuclear weapons program, comes weeks before Kim is due to meet United States President Donald Trump.
Moon greeted Kim at the military demarcation line at 9:30am (local time).
Official talks were scheduled to start at 10:30 am at the Peace House, which was recently updated for the summit.
Kim was accompanied by nine officials, including his sister Kim Yo-jong, who led the North's delegations to the Winter Olympic Games in South Korea earlier this year.
The South's delegation included Moon's ministers for foreign affairs, defence and unification.
Kim invited Moon to step briefly across the demarcation line into North Korea, before the two leaders crossed back into South Korea holding hands.
The two were handed flowers by a South Korean boy and girl from a village in the demilitarised zone.
Walking on a red carpet rolled out for the two heads of state, the pair were met by a South Korean honour guard in historical costumes and playing traditional music.
Kim stopped to sign a guest book in the South's Peace House before the two leaders met for a private discussion.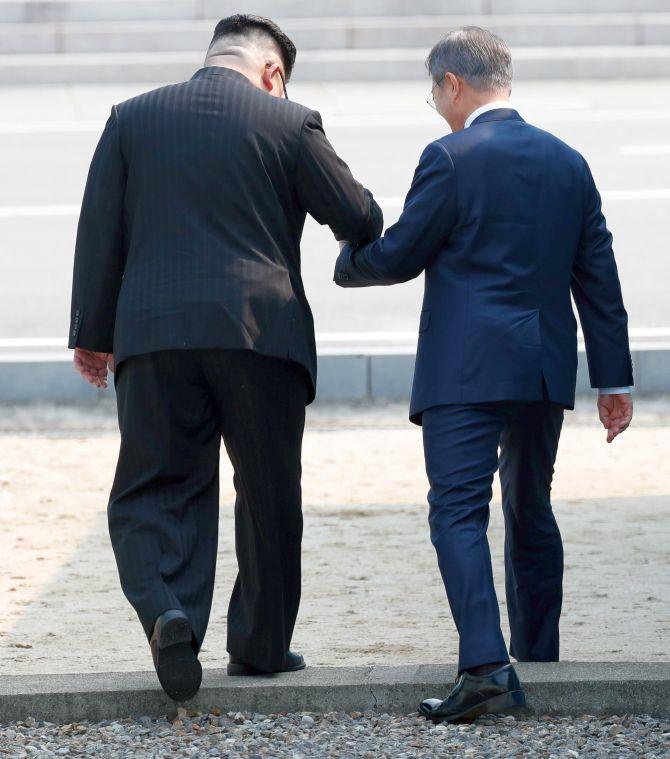 "A new history starts now. An age of peace, from the starting point of history," Kim wrote in Korean in the book, dating and signing the entry.
Moon and Kim are expected to talk denuclearisation and exchanges between the Koreas, and will also plant a memorial tree at the border truce village.
The United States is hopeful talks between Kim and Moon will make progress on achieving peace and prosperity, the White House said in a statement as the two men began their summit.
The White House also said it looked forward to continuing discussions with South Korea in preparation for the planned meeting of Trump and Kim in the coming weeks.
Kim and Trump are expected to meet in late May or June, with Trump saying on Thursday he was considering several possible dates and venues.
Photographs: Korea Summit Press Pool/Pool/Reuters