Bullet proof vehicles were pressed into service on Friday night to evacuate over 400 people rattled by the sound of Pakistani mortar bombing and firing in border hamlets.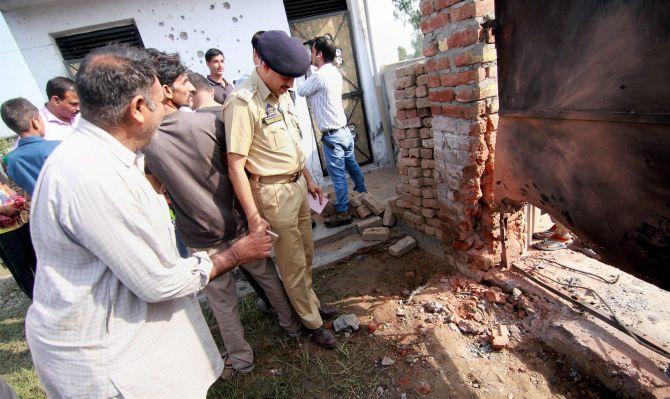 IMAGE: Jammu and Kashmir DSP inspecting the damage caused by shelling from across the LoC in Vidipur Jatta village of RS Pura sector. Photographs: PTI Photo
Border dwellers in Bobiya and adjoining hamlets in Hiranagar sector in Kathua district have been experiencing sleepless nights due to the intensified shelling and firing by Pakistani Rangers on October-20 and 21.
Police armed with bullet proof vehicles criss crossed the shell-hit hamlets particularly Bobiya on Friday night carrying loads of scared villagers. They were ferried to the camps setup by the district administration at
government higher secondary school in Hiranagar and another school at Chhan Khatrian.
"Due to heavy firing and shelling for two days and the fear psychosis among the border residents, we pressed into service bullet proof vehicles to evacuate them", Deputy Commissioner Kathua, Ramesh Kumar told PTI.
Over 400 people from IB hamlets were evacuated and shifted to the safer areas in camps set up by the government, the DC said.
"We have asked the authorities to ensure safety of the people as firing and shelling exchanges have increased. We don't want civilian to suffer", IG BSF Jammu Frontier, D K Uphadayaya said.
Deputy Commissioner, Kathua Ramesh Kumar and SSP Kathua Pawan Parihar village and joined the evacuation operation of 232 people.
They were accommodated in Government Higher Secondary school, Hiranagar while 145 people of Londi and Rajgrain Brahamana were lodged in Government Middle School, Chhan Khatrian. Some families had left for the houses of their relatives, DC said.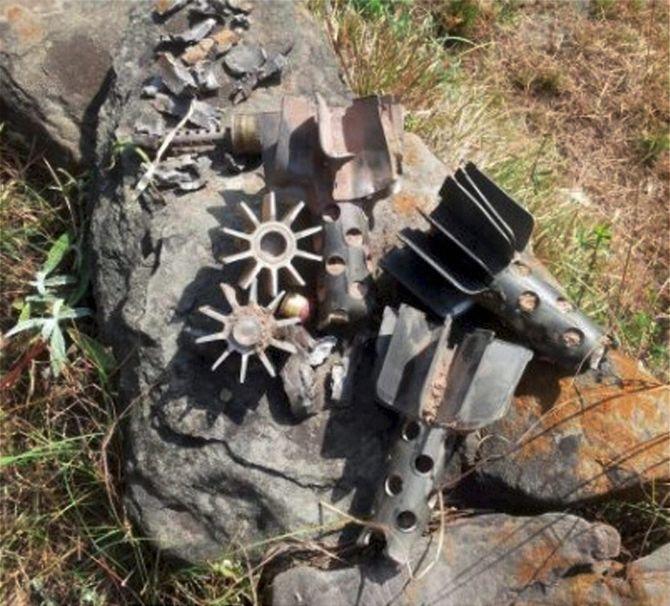 IMAGE: Parts of mortar shells found after heavy shelling from across the LoC in Manjakot Sector of Rajouri district in Jammu.
"We were very terrorised this time due to heavy shelling and firing by Pakistan", Manak Chand of Bobiya said at camp in Kathua.
Chand said, "The windows of our houses were shaking with the sound of mortar bombs and firing of heavy weapons. It as unbearable to stay in home after being witness to the two days of firing.
Like him, Sukho Devi migrated from the hamlet several times and this is another exodus from her border home.
"We have fled homes several times in the past few decades and before that in wars.It is now a routine for us as border people live in the jaws of deaths.You never know what is going to happen next moment," she adds.
Some people returned to their villages this morning leaving behind the elderly, women and children in migrant camps in Hiranagar because they have to take care of the harvest season.
"We were engaged in harvesting when Pakistani firing forced us to abandoned it.Even moving outside in open is now dangerous as Pakistani snipers and troops are awaiting to hit us", Sham Singh said.
The administration has once again put the Contingency Plan in place for the border migrants as shelling and firing also extended to Samba and Jammu.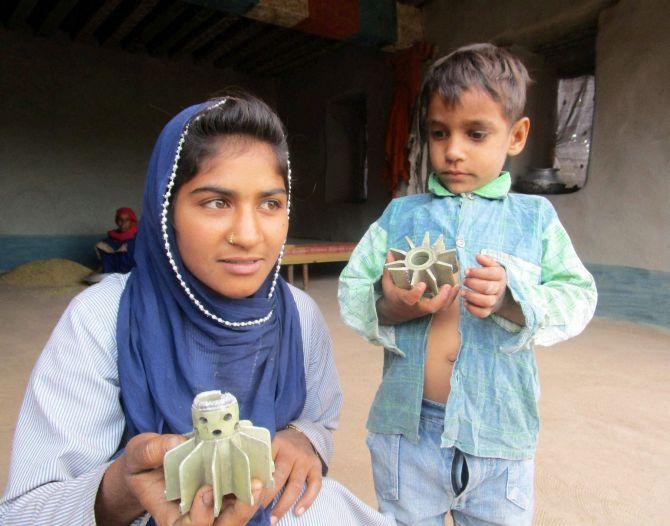 IMAGE: Children show remains of mortar shells fired from across the LOC by Pakistan in village Panjgrain, Rajouri district in Jammu
The shelling and firing from Pakistan also took place in adjoining areas of Bobiya in Samba sector, Abdullian-Karotana-Bidipur in R S Pura and Nikowal in Pargwal sector of Akhnoor tehsil in Jammu district since Friday.
Bobiya was the same spot where BSF had on the intervening night of October 19 and 20 thwarted major infiltration attempt by six Pakistani militants killing one of them and injuring couple of others and forcing them to retreat.
There have been two incidents of sniping yesterday in which one Border Security Force jawan was critically injured.
Pakistan troops had violated the ceasefire six times on Friday.
The IG of Border Security Force Jammu Frontier, D K Uphadayaya said a befitting reply has been given to Pakistan firing and heavy losses have been inflicted to them.
In five ceasefire violations in the day, Pakistani troops targeted five sectors of R S Pura (Jammu), Hiranagar (Kathua), Samba, Pargwal (Jammu) along IB and Rajouri and Mendhar (Poonch) along LoC by resorting to small arms firing and mortar shelling resulting in serious injuries to a BSF jawan.