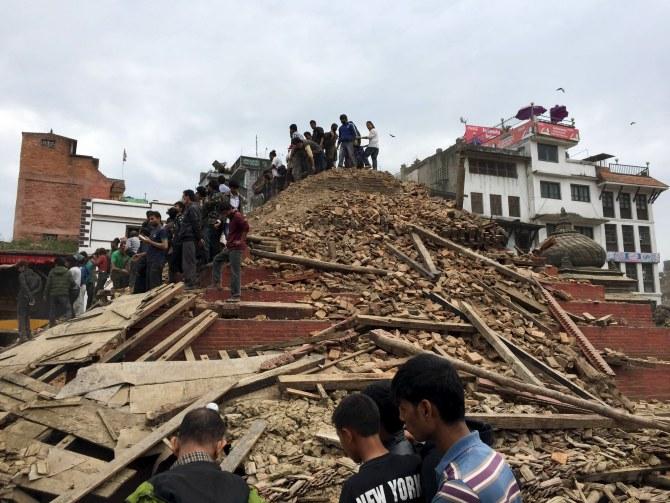 After returning from Nepal, a group of 12 pilgrims on Thursday narrated their "near-death" experience as they recalled the April 25 earthquake due to which colossal structures fell like "pack of cards".
They all had a tearful reunion with their families which were anxious about their safety since the earthquake hit the Himalayan nation killing thousands.
One of the members of the group, Amar Singh Malhotra, said that they had started on pilgrimage on April 20 and after visiting Haridwar and other religious places they reached Nepal on April 24.
On the next day, they held 'puja' at Pashupatinath temple in Kathmandu and later returned to the 'dharamsala' where they were staying.
Recalling the horror, Malhotra said as they were standing in queue for breakfast the earthquake struck on the morning of April 25.
"We were standing out on road, waiting for breakfast, when we first felt mild tremors which later turned into big jolts, forcing everybody to run out.
"Women of our group Kanta Tewari, fell. So did others. Then two buildings in the neighbourhood came crashing down, resulting in clouds of dust, roads started ripping apart and people started running," he said.
"It was really a life and death experience, a kind of brush with death," he said emotionally.
"Earth was shaking, vibrating and shifting away from under our feet, buildings were coming crashing down, craters were appearing on roads, colossal structures were falling like pack of cards, people were scrambling for open spaces-- all in a matter of a few seconds," he recalled.
Owner of a computer shop in Phagwara, Malhotra said that they remained stranded there for two days after the earthquake.
They stayed in the bus in which they had gone to Nepal for two days as everyone feared to go inside the 'dharamsala', though it had not caved in.
"We also tried to get flight at the TribhuvanInternationalAirport there but there was a long queue of hundreds of tourists and our turn would have come after 2-3 days. So we decided to venture back by the same bus upto Gorakhpur. From there, we took train upto Ambala and then another to Phagwara," he said.
"On way, we faced a lot of difficulties as roads were blocked by boulders and uprooted trees. We have to wait for long for clearance of the road and it was quiet taxing," he said.
However, Malhotra was all praise for Indian rescuers, especially Army, Airforce and NDRF.