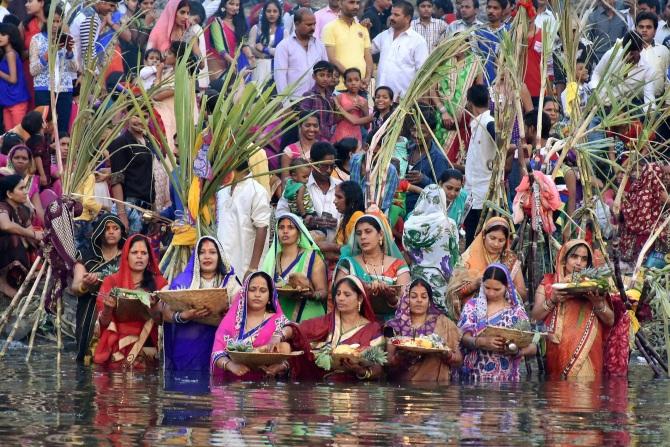 Devotees perform rituals on the occasion of Chhath Puja at River of Tapi in Surat. All photographs: PTI
Braving early morning chill, hundreds of devotees in Bihar and across North India thronged river banks to worship the Sun God by offering prayers, standing waist-deep in water for the longevity and well-being of their family members on the occasion of the four-day Chhath festival came to an end on Wednesday.
The four-day celebrations mark the tradition of worshipping the Sun God and its radiant energy, references to which are found in sacred Hindu texts and centuries-old paintings and other artwork.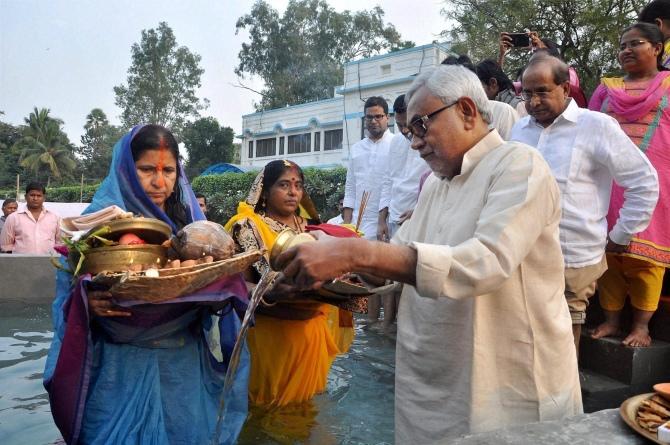 Bihar Chief Minister Nitish Kumar performs offer prayers in Patna.
Devotees prepared ritual offerings and prayed before the Sun god on the banks of the river Ganges in Bihar and eastern Uttar Pradesh, river Yamuna in New Delhi and various sea beaches in Mumbai.
'Chhath puja is a festival of faith. We observe fast for the well-being of our husband, children and the entire world. We hope everyone to be happy by seeking blessings of Sun god. We do it with a lot of happiness and follow all rituals,' said a devotee, Usha Srivastava.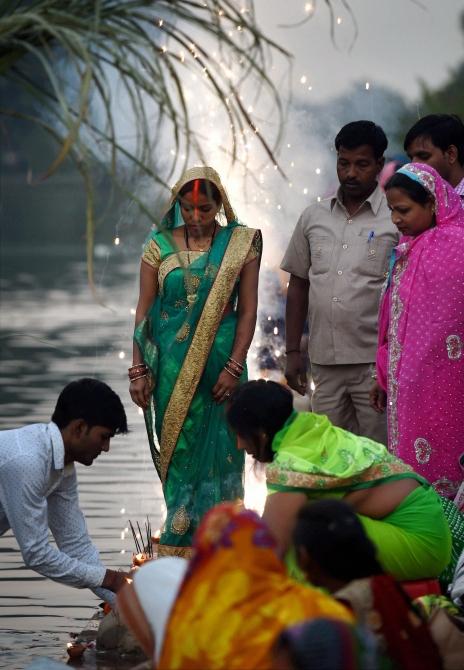 Devotees offer prayers during Chhath puja in New Delhi.
Preparations for this festival start a month ahead. Devotees believe that their wishes come true after performing rituals.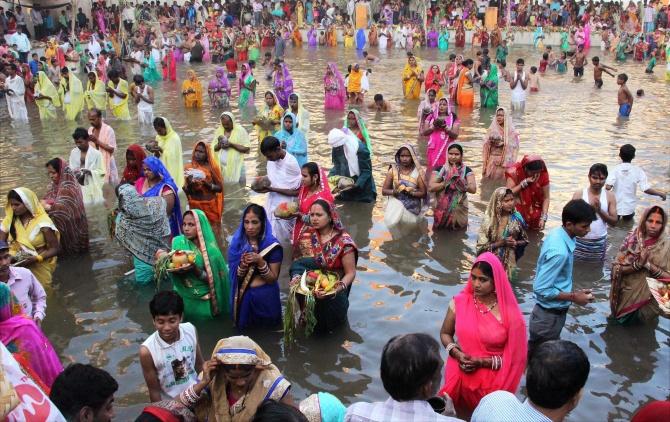 Devotees perform prayers during Chhath Puja at Sheetala Mata Mandir in Gurgaon.
"We believe in the power of Chhath puja, whatever we wish for comes true. We believe a lot in Chhath puja that is why everyone celebrates it. Today, we will worship the setting sun and tomorrow we will worship the rising sun," said another devotee, Anjali Srivastava.
Crowds of devotees had gathered on the banks of the rivers and at lakes and canals to offer prayers to the setting sun. At some places, temporary shallow pits were dug out and filled with water, especially in parks for convenience of people.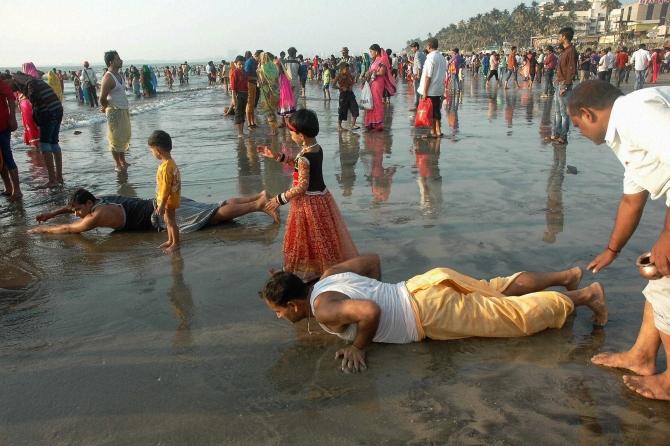 Devotees celebrate the Chath Puja festival at Juhu Chowpati in Mumbai
In Mumbai, thousands of devotees, especially those from Bihar, offered puja at Juhu beach.
Meanwhile in Bihar, seven traders died and four injured after live electric wire fell on them as they were selling fruits and vegetables to the devotees on the occasion of Chhath Puja.