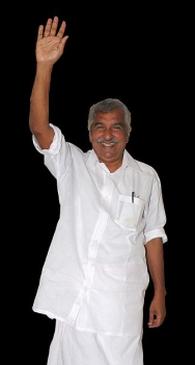 Beleaguered Kerala Chief Minister Oommen Chandy, who is under attack from the Communist Party of India – Marxist-led Left Democratic Front opposition ever since the solar scam broke out in June, has got a breather after the Front called off its two-day secretariat siege on Tuesday.
The manner in which the government handled the agitation, which passed off peacefully, has also caught the eye of political observers, who feel it is a partial victory for Chandy.
CPI-M leaders have made it clear that their stir for Chandy's resignation would continue. They have demanded that the Chief Minister's Office be brought under the purview of the proposed judicial probe by a sitting high court judge.
Chandy had already indicated that his office would not come under the probe's ambit.
"The opposition has pointed out numerous allegations, but they have not been able to bring in any evidence to support the charges. Hence the chief minister will not come under scrutiny," Chandy had said.
Political observers feel Chandy has consolidated his position in the Congress and among United Democratic Front partners by warding off a major challenge.
Though the Congress in the state saw the emergence of factionalism after a futile attempt for a cabinet re-shuffle by inducting Kerala Pradesh Congress Committee chief Rmaesh Chennithala, the party closed ranks and gave full support to the government to deal with the stir.
Both Chandy and Chennithala are scheduled to meet the high command next week to apprise them of the latest political situation in the state. The strategy for improving the image of the UDF government is also likely to be discussed with the party leaders, party sources said.
For LDF, the government's decision to hold a judicial probe is seen as a battle half-won, as one of their main demands was finally accepted after a two-month long struggle.
The LDF managed to activate its state-wide cadres and prepare them for the forthcoming Lok Sabha polls. For the CPI-M in particular, the agitation has enabled it to come out of the 'dark cloud' of the murder of RMP leader T P Chandrasekheran and its aftermath.
Chandrasekharan, a former CPI-M leader from the party stronghold of Onchiyam in Kozhikode district, was murdered at Vallikkad in 2012. He was expelled a few years ago after falling out with the CPI-M leadership. He later floated RMP and many accused in the case included CPI-M leaders.
The solar scam is connected to a fraud perpetrated by accused Biju Radhakrishnan and Saritha Nair, both under arrest, by offering clients solar energy solutions. They allegedly flaunted their clout with the CM's office to dupe unsuspecting clients of huge sums.
The case took a political turn after the arrest of a personal assistant of Chandy for his alleged links with the accused. A gunman of the chief minister was also suspended for his alleged association with the fraudsters.