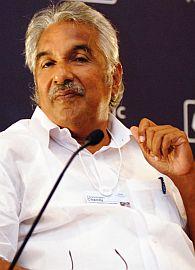 Group rivalry in the Kerala Congress unit has intensified further as the political mission of chief minister Oommen Chandy to induct Pradesh Congress Committee chief Ramesh Chennithala into the cabinet has failed.
The I group took out rallies in various parts of the state against Chandy and there was a clash between it and the A section in Kollam. In Ernakulam, the I group had decided to boycott A faction MLA and a close aide of Chandy, Benny Behanan.
The 'group war' in the Congress has also damaged the unity in the ruling United Democratic Front (UDF) as Ramesh (of the I group) has openly criticised the secret moves of the Indian Union Muslim League (IUML) and the Kerala Congress (M) aiding Chandy.
Though the high command has asked both the groups not to go public with their opinions/ grievances, second-rung leaders are battling it out in Malayalam news studios.
Besides, the Chandy ministry has failed to address various issues like price hike of essential items, infants deaths in tirbal areas of Attappadi and poor condition of roads.
Moreover, Congress president Sonia Gandhi has allowed Ramesh to continue as KPCC chief till next Parliament elections. This was so because Chandy was not ready to give Home to Ramesh and hence offered him the deputy chief minister post and Revenue. However, he told the Congress chief IUML and KC(M) should be consulted before granting the deputy CM post to Ramesh. This was rejected by the Congress high command who then decided there would be no change in the Kerala unit of the party till elections.
Though the I faction wants a change in the leadership, it will not openly express this now.
Meanwhile, Opposition leader VS Achuthanandan is planning to move the high court seeking a judicial inquiry into the solar scam. The LDF also plans to intensify its campaign against the ministry and has planned to block the Secretariat from August 12.