While taking a dig at Donald Trump, Manohar Parrikar hails India's plurality and diversity.
Aziz Haniffa/Rediff.com reports from Washington, DC.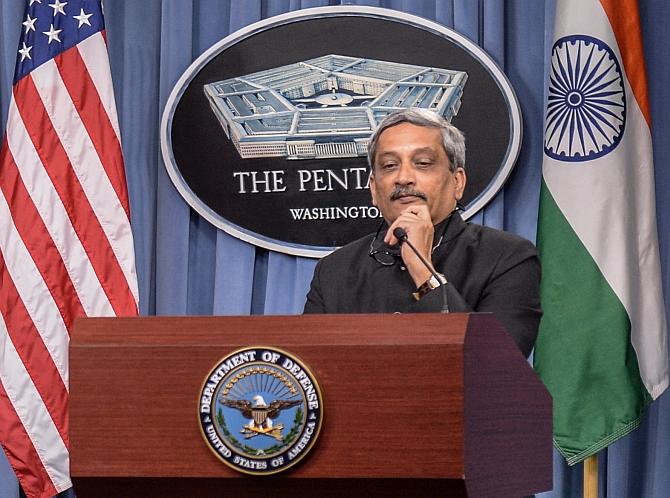 Defence Minister Manohar Parrikar on Thursday, December 10, joked that asking him to provide India's take on remarks by Donald Trump -- the Republican frontrunner in the United States presidential campaign -- calling for a blanket ban on Muslims seeking entry to the US, had the "potential for a nuclear bomb."
Appearing at a press conference with US Defence Secretary Dr Ashton Carter at the Pentagon after their discussions, Parrikar then quickly made a strong defence of India's plurality and diversity and a commitment of equality toward all communities in the country, saying that New Delhi keeps acts of terrorism and radicalisation separate.
He implied that India does not tarnish an entire community with a broad brush of suspicion, as Trump has done.
Parrikar was responding to a question by CNN's Chief Pentagon Correspondent Barbara Starr, who asked him for "India's reaction to the proposal of Donald Trump regarding people of the Islamic faith."
The defence minister in reply, quipped, "I think your question to me has the potential for a nuclear bomb," and everyone in the briefing room burst out in laughter.
While stating that he "will not comment on what has been talked about in the US," Parrikar noted, "As far as India is concerned, we believe we are the second-largest Muslim population (in the world) and we jell well -- we believe that everyone has an equal opportunity toward rights."
"Yes, there may be a few pockets of extremism, radicalization," he acknowledged,"but they are too few to treat different sections of society differently."
"In India," Parrikar declared, "we have equal rights for everyone and we don't look toward communities with suspicion. Those who are radicalised are a different issue. We tackle them separately."
When Dr Carter was asked if Trump's proposal makes the war against ISIS easier or difficult and if it adds to US national security or harms national security, he was circumspect.
"This is a department that stands apart from politics," he said. "It is national security and I am not going to comment while I am secretary of defence on anything that is going on in the campaign trail."
"The President has said that in the fight against ISIS," Dr Carter pointed out, "this is not a fight with Muslims or Islam."
"This is an extremist, violent, movement, which threatens America and needs to be defeated," he said, and added, "We are working on accelerating the defeat of ISIS -- that's the important thing."
IMAGE: Defence Minister Manohar Parrikar at the press conference at the Pentagon. Photograph: US Department of Defence