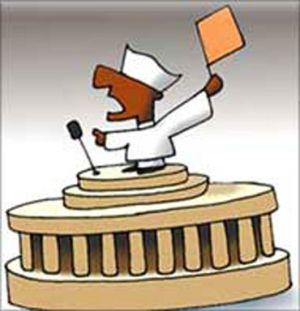 A parliamentary panel has pitched for 100 percent hike in salary and daily allowances of MPs and 75 percent raise in pension of ex-MPs apart from facilities for their "companions" in place of "spouses".
In far-reaching recommendations, the panel, headed BJP MP Yogi Adityanath, has sought doubling of the existing Rs 50,000 salary of MPs and favoured increasing the pension of former parliamentarians from Rs 20,000 to Rs 35 thousand.
The panel has also recommended that the daily allowance of MPs of Rs 2,000 for attending the House during Parliament sessions should be doubled to Rs 4000.
It is learnt that some ex-MPs, who appeared before the panel rued that while they are given a First Class Ticket to travel on train, their companions, even if it is the spouse, can travel only second class.
The panel is learnt to have recommended that both the ex-MP and the "companion" should get First Class tickets.
Besides, the panel is of the view that ex-MPs should be allowed to travel by air five times a year in economy class. The sitting MPs are allowed to fly executive class around three dozen times in a year.
The panel also noted that since MPs are considered above the rank of cabinet secretary, their privileges should also match their status. It also pitched for health care benefits to married children of MPs.
Sources said some of these recommendations recorded in the minutes of the meeting of the committee have already been submitted to Parliamentary Affairs Ministry, while some others will be finalised in the next meeting on July 13.
The salaries and perks of the MPs were last revised in 2010. Once the current panel submits its recommendations, the next revision will be carried out after another five years.
Communist Party of India-Marxist member K N Balagopal has, however, suggested that MPs themselves should not decide their salary and allowances and that should be done through an independent mechanism.
JD-U, which is represented on the panel by Rajya Sabha MP K C Tyagi, is also of the view that an independent body should be constituted to decide the salary and perks of MPs keeping in mind the benefits announced by various boards and commissions appointed for revision of wages.
Some members of the panel contended since India is a member of the Commonwealth of Nations, the salary and allowances of its MPs should be at par with their counterparts in the member countries.
The reason put forward for replacing the word 'spouse' with 'companion' was that many MPs are unmarried or spouseless otherwise.
According to the rules, MPs are allowed to travel first class on trains and draw TA, DA equivalent to the cost of a single AC 2nd class ticket.
Panel members felt since there is no First Class in trains now, they should be given AC 1st class fares as allowance.