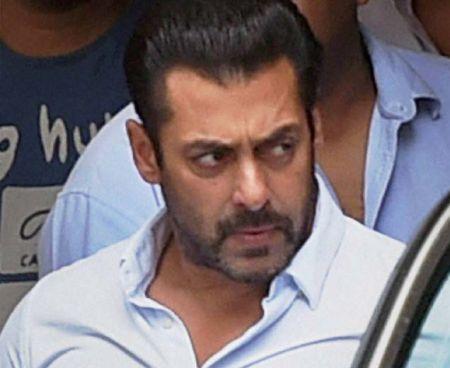 The actor confessed that he has been meaning to express his feelings for quite sometime now, but couldn't due to the sensitivity of the case.
Bollywood actor Salman Khan has come out in defence of death row convict in the 1993 Mumbai blast case Yakub Memon, saying the wrong man is being hanged for the crimes of his brother Tiger Memon.
"Get Tiger hang him. Parade him not his brother," the actor tweeted.
Tiger Memon is one of the prime suspects in the 1993 Mumbai bomb blasts case. Khan said he had wanted to tweet about the issue for some days but was afraid.
"Been wanting to tweet this for three days and was afraid to do so but it involves a man's family. Don't hang the brother, hang the lomdi (fox) who ran away," he tweeted.
"One innocent man killed is killing the humanity," the actor said.
The star also asked Pakistani Prime Minister Nawaz Sharif to send Tiger to India if he was in his country.
"Sharif Saab ek darkhaust hai ki agar yeh aap ke mulkh mein hai toh please iktila kar deejiyeh. Kidhar chupa hai tiger? Tiger ki hi to kami hai India mein. Tiger ko Lao. Hum toh upne family par mar jaaaeen. Tiger tumhaara bhai kuch dino mein tumhare liyeh. Get Tiger hang him. Parade him not his brother," he said in a series of tweets.
Following his controversial tweets, police have beefed up security outside the actor's residence in suburban Bandra.
"We have tightened security outside Salman Khan's residence to prevent any untoward incident," Deputy Commissioner of Police (detection) Dhananjay Kulkarni said.
Political parties in Maharashtra including Shiv Sena and Bharatiya Janata Party have condemned Salman's remarks.
BJP's Sambit Patra said that the hanging of 1993 Bombay blasts convict Yakub Memon should not be communalised, adding that terrorism has no religion.
"Yakub Memon's hanging is being politicised, a communal colour is being given to it. This is not right. Attempts are being made by some people to create a sense of sympathy for Yakub Memon.....The verdict of the Supreme Court should be respected."
"If terrorism has no religion, how is it possible that a terrorist can be ascribed a religion... Everyone should respect the law of the country and no one is above the law," he added.
Amidst all the criticism, one which has raised eyebrows the most is Salman's father's ire. Salim Khan said that whatever Salman has written is ridiculous and meaningless, adding that his son is ignorant of the issue and, therefore, people should not take him seriously.
However, he also said that Yakub should be kept in jail rather be hanged because by keeping him alive, he was being given a bigger punishment.
Meanwhile, Special Public Prosecutor Ujjwal Nikam has urged Salman to withdraw his tweets, saying that he should try to understand the agony of people and should not interfere in the judicial process.
"Does it not mean that by making such remark he is insulting the departed souls of 257 people who lost their lives in the attack on the city and (doesn't he know that)
court of law has held Yakub guilty for such a terrorist conspiracy?" asked Nikam.
Yakub, 53, will hang on the same day as his birthday, July 30.
Memon, whose curative petition against the death sentence awarded by special TADA court was dismissed by the Supreme Court earlier this week, is lodged in Nagpur Central Jail.
After his curative petition was dismissed, Memon has submitted a mercy petition to Maharashtra governor. The president had earlier rejected his mercy petition.
As many as 257 people were killed and over 700 injured in the serial blasts in Mumbai on March 12, 1993. Memon was the only convict in the case whose death penalty was upheld by the apex court.
---
BJP seeks cancellation of Salman's bail
With Bollywood superstar Salman Khan's tweets defending Yakub Memon, the death row convict of 1993 Mumbai blasts case, drawing severe flak from different quarters, the Maharashtra Bharatiya Janata Party unit demanded the cancellation of the actor's bail in the 2002 hit-and-run case.
Mumbai BJP president Ashish Shelar on Sunday met Maharashtra Governor Ch Vidyasagar Rao and submitted a letter requesting cancellation of bail granted to Salman by the Bombay high court.
"I submitted a letter to the Governor requesting cancellation of bail of convicted Salman Khan for supporting a convict," said Shelar.
"Very disappointing to see Salman Khan ask for release of Yakub Memon. His (Salman's) bail should be cancelled on the basis of the support for crime," he said in a tweet.
"Yakub Memon worked on the mission of mass murder. His sympathy can only come from fellow convict who fails to appreciate mercy shown to him," Shelar added.