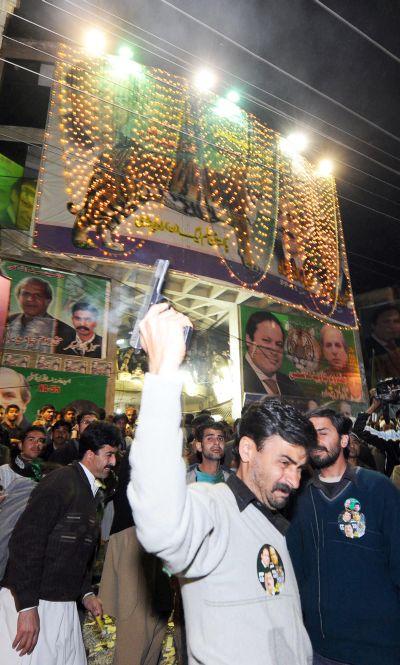 Initial results in Pakistan's general elections, marred by low voters' turn-out, went against President Pervez Musharraf with three of his former ministers losing while opposition Pakistan People's Party and Pakistan Muslim League-Nawaz winning in their strongholds.
Coverage: Pakistan Votes
PML-Q leader Shujaat Hussain, who was prime minister under Musharraf, was defeated by his PPP rival Choudhry Ahmed Mukhtar in the national assembly constituency in Punjab province.
Musharraf's confidante and high-profile former minister Sheikh Rasheed Ahmed, also of PML-Q, lost to PML-N leader Makhdoom Javed in a prestigious Rawalpindi constituency.
Rasheed, a seven-time winner from his constituency and a former railway minister in the Musharraf government, is also contesting for another Rawalpindi seat.
Zubaida Jalal, a former minister in Musharraf's cabinet, was defeated as an independent candidate for the National Assembly from Kech-Gwadar in southwestern Balochistan province by Yaqub Bizenjo of Balochistan National Party-Awami.

She was the education minister during 1999-2001.
Initial trends showed PPP of its slain leader Benazir Bhutto and Nawaz Sharif's PML-N doing well in their respective strongholds Sindh and Punjab respectively while Muttahida Quami Movement was faring well in Karachi as counting of votes was underway.
Well past mid-night, Chief Election Commissioner Qazi Muhammad Farooq announced the first official results of two National Assembly and one provincial assembly seats, which were won by independents and PPP respectively.
According to other unofficial results aired by domestic television channels, PPP's Najmuddin Khan won from Dir district in the North West Frontier Province.
Sharif told an Indian television channel that he was happy with the election trends.
The CEC said Shaukatullah and Syed Akhuzada Chitan, both independent candidates from the north-western tribal regions, were elected to the National Assembly.
Pakistan People's Party candidate Shafiq Ahmed Khan was elected to the provincial assembly of Balochistan from a seat in Quetta, Farooq told a news conference.
Earlier in the day, the balloting saw low turn-out of the electorate apparently due to fear and apathy under the shadow of violence.
No official figures about the turnout were available but observers said it would be less than the 42 per cent recorded in the 2002 polls. A large number of people went to polling stations in the final hours before the voting ended at 5 pm (5.30 IST) to exercise their franchise.
Though the fear of violence had loomed large over the elections to the national and four provincial assemblies, the process was largely peaceful in most parts of the country, barring stray incidents of violence involving workers of political parties in Sindh and Punjab provinces and sporadic militant attacks in the north-western areas.
At least six people were killed in Punjab province, the political heartland of Pakistan, in political clashes. One person was killed in a bomb blast in Quetta while another died in a clash in North West Frontier Province.
Image: A supporter of the Pakistan Muslim League-Nawaz fires in the air in celebration after hearing the preliminary results in Rawalpindi.
Reportage: PTI | Photograph: Aamir Qureshi/AFP/Getty Images

Also Read:
Musharraf heading for a painful end: Hamid Mir
PPP awaits results with fear and expectation
Inside Karachi: 'Election won't change anything'
Pakistan elections: Keeping fingers crossed