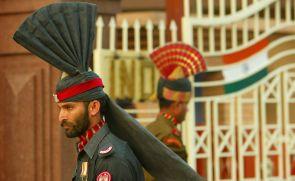 Pakistan on Friday released 45 Indian prisoners as a gesture of goodwill though confusion surrounded the move as Indian authorities in New Delhi were not informed about it.
"We have freed 45 Indian prisoners and they will be repatriated via Wagah tomorrow," Foreign Secretary Jalil Abbas Jilani told a news briefing at the Foreign Office.
The prisoners, most of them fishermen, were freed from a jail in Karachi and put on a bus to take them to the eastern city of Lahore.
However, official sources said Pakistani authorities had not formally informed the Indian High Commission about their release till Friday afternoon.
The verification of the identity of several of the fishermen had not been completed while others had not completed their jail terms, the sources told PTI.
Several formalities have to be completed before the fishermen can be allowed to cross over to India via the Wagah land border crossing tomorrow, the sources said.
Footage on television showed the fishermen coming out of Malir Jail in Karachi and boarding the bus.
On May 7, caretaker Prime Minister Mir Hazar Khan Khoso announced that Pakistan would release 51 Indian fishermen who had completed their jail terms.
The figure was subsequently revised to 49 and later, 45 prisoners were freed.
India and Pakistan frequently arrest fishermen for illegally crossing the maritime boundary.
There are currently 482 Indian prisoners in Pakistani jails while 496 Pakistanis are in Indian jails.
When Khoso announced the release of the Indian fishermen, he expressed the hope that the Indian government would reciprocate by freeing Pakistani prisoners.
The move to release the prisoners came after Indian death row prisoner Sarabjit Singh died in Lahore on May 2 following a brutal assault within Kot Lakhpat Jail.
Following his death, Pakistani prisoner Sanaullah Ranjay was assaulted in a jail in Jammu and died later in a hospital in Chandigarh.
Image: The 45 freed Indian prisoners will be repatriated via Wagah border on Saturday, Pakistani officials said.
Photograph: Scott Barbour/Getty Images